H&R BLOCK Franchise Complaints
H&R Block tax franchise is experiencing turbulent times.

Yet despite undergoing a "broad strategic realignment," that includes the elimination of hundreds of jobs and the closing of 200 underperforming company-owned offices, H&R Block continues to recruit new franchisees.
Are you familiar with the H&R Block franchise opportunity?  What challenges do H&R Block franchisees face?  Share an opinion below.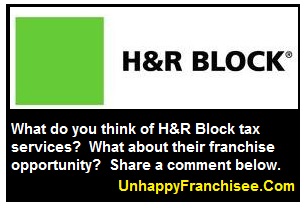 According to H&R Block franchise marketing, "no one knows the tax industry like we do, and no competitor can offer a better franchise opportunity.
"So you can rest assured that our long history with the franchise business model will work to your advantage.
"We'll supply the tools you need to help you effectively beat the competition and to help you ensure your franchise's success.
"There are many benefits to becoming an H&R Block franchisee.
Learn about the advantages of working with the No. 1 brand in tax preparation.

Over 55 Years of Experience

Largest Tax Network in the United States

Low Initial Investment

Available Business Financing

Strong Support to Help Expand Your Business

Unmatched Industry Training and Technology

Superior Products and Services
ALSO READ:
H&R BLOCK To Close 200 Company Locations, Cut 350 Jobs  April 26, 2012
TAX FRANCHISES: Biggest Winners & Losers of 2010  January 12, 2011
H&R BLOCK Dumps EXPRESSTAX… & Franchisees?  October 3, 2011
About H&R Block
H&R Block, Inc.  has prepared more than 575 million tax returns worldwide since 1955, making it the country's largest tax services provider. In fiscal 2011, H&R Block had annual revenues of nearly $3 billion and prepared more than 24.5 million tax returns worldwide, including Canada and Australia. Tax return preparation services are provided in company-owned and franchise retail tax offices by approximately 100,000 professional tax preparers, and through H&R Block At Home(TM) digital products. H&R Block Bank provides affordable banking products and services. For more information, visit the H&R Block Online Press Center.
SOURCE: H & R Block
ARE YOU FAMILIAR WITH THE H&R BLOCK AND THE H&R BLOCK FRANCHISE OPPORTUNITY?  IS IT STILL A VIABLE H&R BLOCK FRANCHISE OPPORTUNITY? SHARE A COMMENT BELOW.