CUPPY'S COFFEE FRANCHISEES CALL DALE NABORS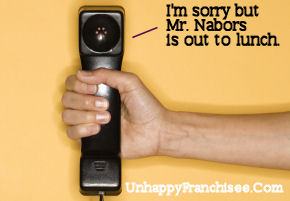 Cuppy's Coffee franchisees and Elite Manufacturing who have deposited tens of thousands of dollars that the company refuses to return claim they are not going away. The individuals are calling Cuppy's Coffee owner Dale Nabors, hoping to find out when they can expect their money returned.
If not satisfied with the response, the individuals are reportedly planning to file complaints with the Better Business Bureau, the FL Attorney General, the Attorney General of their home states, the FBI, the Federal Trade Commission (FTC), The Small Business Administration (SBA), The International Franchise Association, as well as other governmental, consumer, and media organizations.
The individuals are also appealing to Cuppy's Coffee franchise owners, Java Jo'z licensees, company vendors, lenders and even customers to help urge the company to give back the money rightfully owes to those who trusted refundable deposits with the company.
If all else fails, the group will consider a national boycott of all Cuppy's Coffee and Java Jo'z outlets nationwide.
CUPPY'S COFFEE & JAVA JO'Z DEPOSITERS: HAVE YOU CALLED DALE NABORS? WHAT WAS THE RESULT?