Peter Lagarias: Let's Revoke Franchising's Newest "Get-Out-of-Jail-Free" Card!
Both franchisees and law-abiding franchisors should voice support by January 5, 2022 for NASAA's proposed SOP to restore anti-fraud protections in franchise disclosure documents (FDDs)
By: Peter C. Lagarias, Esq.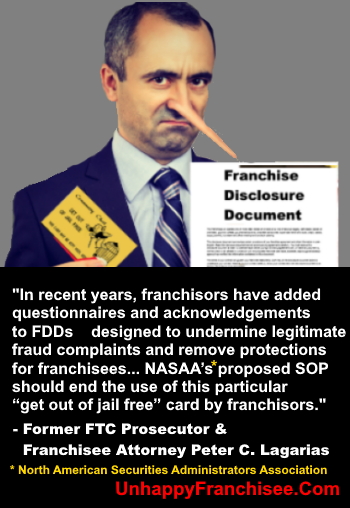 The purpose of the franchise disclosure laws is to ensure that franchise sellers provide important information about the franchise business in a written disclosure document and that the information provided is truthful and complete.
Franchise disclosure laws were not enacted to enable franchisors to disclaim liability for violations of their legal obligations including to be truthful in selling franchises.
However, in recent years, a growing number of franchisors have added questionnaires and acknowledgements to Franchise Disclosure Documents ("FDDs") designed to undermine legitimate fraud complaints and remove protections for franchisees. These additions are unnecessary for legitimate franchise sellers who comply with franchise disclosure laws, but they provide a "Get-Out-of-Jail-Free-Card" for those who would defraud franchise investors with illegal earnings claims and other misrepresentations if allowed to do so with impunity.
The good news is that The North American Securities Administrators Association ("NASAA")  has issued a proposed statement of policy ("SOP") for public comment regarding franchisors' use of these questionnaires and similar additions. If adopted, the SOP would significantly regulate franchisors'  use of fine print techniques to disclaim and bar their liability under the state franchise disclosure laws.
I strongly encourage all those who oppose fraudulent franchise practices by bad actors to make their voices heard. Public comments in support of the proposed SOP (which is linked below) are due by January 5, 2022.
The three email addresses to send public comments are set forth on the front page of the proposed SOP.
The proposed SOP recognizes and regulates the proliferation of acknowledgements, questionnaires,  and related provisions which franchisors use to negate franchisees'  fraud claims.
Namely, as part of the purchase process, franchisors require prospective franchisees to state that they did not receive or rely on earnings claims or other misrepresentations outside the FDD, often in long, boilerplate acknowledgements or questionnaires. When franchisees later sue alleging that they received illegal additional earnings claims or misrepresentations, franchisors use these acknowledgements and questionnaires to get courts to dismiss their lawsuits without hearing the franchisees' evidence of fraud. This sometimes happens even though the applicable franchise disclosure laws make such additional earnings claims or misrepresentations illegal and contain anti-waiver provisions.
When franchisors supply additional financial performance information outside of the FDD (in emails, news articles, oral sales pitches, pro formas or by other means) they are violating the franchise disclosure laws and the FTC Act. While the Federal Trade Commission (FTC) has not not reacted to this misconduct, NASAA's proposed SOP should end the use of this particular "get out of jail free" car by franchisors.
The SOP also addresses the ongoing and accelerating proliferation of mischief caused by disclaimers, acknowledgements and questionnaires added to FDDs. Franchisors often ask franchisees to state that they read and understood everything in the FDD, that the franchise business involves risk, and that success will only be achieved through the franchisee's own hard work and skill.  Again, the purpose of these types of boilerplate acknowledgements is  defensive use in court  to disclaim any and all liability.
Many franchisors claim that their concepts do not require prior knowledge or experience in their industry or in business. Indeed, many franchise sellers specifically seek out inexperienced operators who trust their representations and rely on their guidance. Franchisors should not be able to make these "no experience necessary" sales pitches but then disclaim this in acknowledgements and questionnaires.
Franchise agreements are already one-sided, weighting the contractual balance of power in favor of the more-sophisticated and powerful franchisors. They certainly should not also be able to insulate franchisors from the consequences of violating the law, such as illegal and false earnings claims made outside the FDD, or isrepresenting a failed business model as a proven success through false, deceptive and expertly delivered .
The Proposed SOP takes a major step in this direction and warrants the support of both franchisees and law-abiding franchisors.
Read: NASAA's Request for Public Comment 12/6/21 (PDF)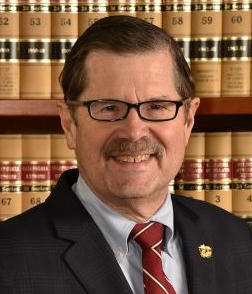 Peter C. Lagarias, Esq., is the founding partner of Lagarias, Napell & Dillion, LLP, a San Rafael, California law firm.
The firm specializes in representing franchisees and their associations, and he is a certified specialist in franchise and distribution law by the Office of Legal Specialization of the State Bar of California.
Peter Lagarias started his distinguished career in franchise law as a prosecutor for the Federal Trade Commission.
---
Also read:
Franchise Discussion, Documents, Links: NASAA Proposed S.O.P.
ZOMBIE FRANCHISEES: Can We Save Them? by Peter Lagarias
Attorney Peter Lagarias: Over-Regulation of Franchising is a Myth
MARK GOLOB LAWSUIT: Overview, Updates, and Discussion
WHAT DO YOU THINK?  SHARE A COMMENT BELOW OR EMAIL US AT UNHAPPYFRANCHISEE[at]GMAIL[dot]COM
TAGS:  Peter Lagarias, Lagarias, Napell & Dillion, LLP, NASAA, North American Securities Administrators Association, Federal Trade Commission, FTC, Franchise Legislation, Franchise Disclosure Document, FDD, NASAA SOP