The "Trojan Earnings Claim" Deceives Franchisees & Courts
"Trojan Earnings Claims" are planted by clever franchisors & their teams in seemingly legitimate publications.  When franchisees are asked in questionnaires (written by their clever franchisor attorneys) if they received additional earnings information from the franchisor, of course they reply "No."  Hopefully, NASAA will put an end to this nonsense.  by Sean Kelly, Founder, Franchise Truth
(UnhappyFranchisee.Com)  North American Securities Administrators Association (NASAA) is considering adoption of S.O.P language that would disallow the use of franchise questionnaires and acknowledgements to be used to dismiss fraud claims by franchisees against franchisors.  To put it simply, franchisors use these questionnaire to ask franchisees two basic questions at the time of signing:
1)  Did you receive any improper information outside of this FDD document in the course of your franchise due diligence and,
2) did you rely on that information when deciding to sign the franchise agreement?
If the franchisee wishes to proceed, they must answer "No" to both.
If the franchisee later realizes that they have (or may have) been misled or fraudulently induced into buying the franchise, the franchisor's attorney can use the questionnaire response to show that the franchisee previously swore they had not relied on anything outside the FDD.
It's what former FTC prosecutor Peter Lagarias refers to as a franchisor "Get Out of Jail Free" Card.
(Read:  Attorney Peter Lagarias:  Let's Revoke Franchising's Newest "Get Out of Jail Free" Card)
Franchisee claims will typically be dismissed at that point without even being reviewed, even where state anti-fraud and non-waiver laws may apply.
Prospective Franchisees Don't Know Their Research Contains "Trojan Earnings Claims" Planted by the Franchisor
Deceptive franchisors and their highly paid attorneys are a clever, clever bunch.
Once they've thoroughly deceived a franchise prospect, at the very moment their trust in the franchisor is highest it will ever be, they ask them to sign a paper saying they haven't been deceived.
Brilliant!
The franchise prospect has no idea that this friendly franchise industry tolerates and promotes an entire industry-within-the-industry of pay-for-praise publications and organizations that provide false badges of credibility (such as bogus rankings and awards) and distributes well as propaganda and illegal earnings claims disguised as journalism or expert analysis.
No doubt, franchise prospects had no idea that the "due diligence" research using "reputable" media and reports contained illegal Trojan Earnings Claims (TEC) seeded by the franchisor or their minions.
Examples of  Trojan Earnings Claims we've previously reported on. 
Do you know of others?  Please share in a comment below.
Franchisor:  YOU MOVE ME, Brian ScudamorePublications:  Franchise Business Review, Military Transition Times, others

Our Reporting:  YOU MOVE ME Franchise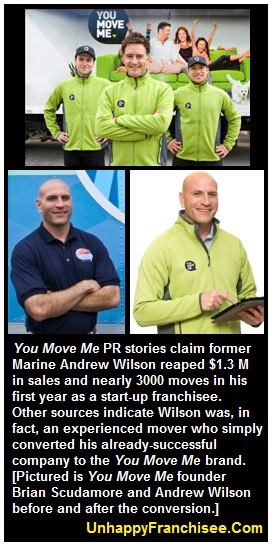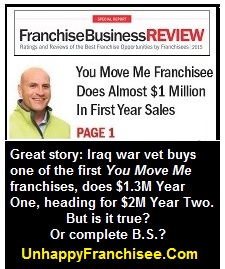 Numerous 3rd party publications promoted the story that Marine veteran Andrew Wilson achieved sales of $1.3M and nearly 3K moves in his first year as a franchisee.  Not only was this an illegal Trojan earnings claim planted by the franchisor, Wilson was an experienced mover whose established company was the prototype for the franchise chain.
Unhappy Franchisee broke this story, which resulted in enforcement actions by California & Washington regulators.
Franchisor:  PIRTEK USAPublication:  1851 Magazine
Our Reporting:  PIRTEK USA, Some Franchisors & VetFran Exploit Veterans Even After They've Failed, 
1851 Magazine is a pay-for-praise website operated by a franchise PR company that publishes advertorials (undisclosed) and promotional articles and interviews disguised as legitimate reporting.
Despite disclosing no FPR Item 19 in its FDD, for 7 years PIRTEK USA promoted franchisee Jim Lager's first and 2nd year sales of $1M & $2M respectively.  When PIRTEK USA finally disclosed its FPR in 2020, its average franchisee 1st and 2nd year sales volume was roughly half of Jim Lager's volume.  Lager had been requesting that the article be removed as part of his settlement agreement with PIRTEK, but mediator David Kaufmann reportedly refused to make franchisor PIRTEK comply.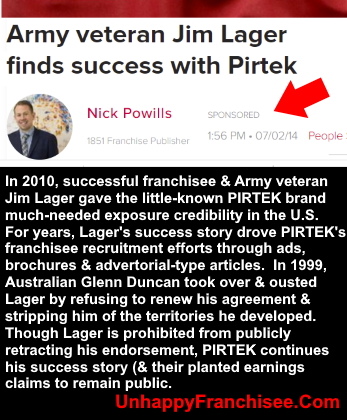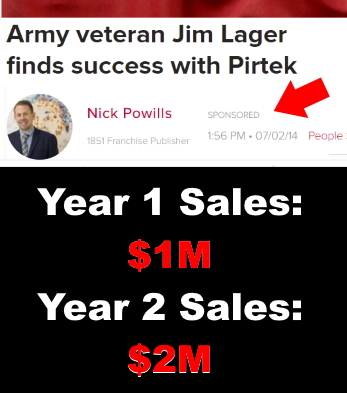 Franchisor:  DENTAL FIX RX

[Ceased Franchising]

Publication:  "12 Amazing Franchise Opportunities" by Dr. John Hayes, 
"Dental Fix's Scott Mortier estimates a franchisee can charge between $150 and $200 an hour and see up to 5 dental offices a day….
According to Dental Fix's CEO David Lopez, the sky is the limit.  The potential for Dental Fix is endless…"
This earnings claim was published under the name "Dr. John Hayes" but was likely supplied by Dental Fix for $5K/chapter.
Publication:  South Florida Sun Sentinel
"On average, franchisees charge about $175 per hour and respond to about five service calls a day, he said. Lopez projects companywide sales this year will
reach $16 million, "significantly" surpassing 2012.
He hopes to add at least 50 more territories in 2014 through aggressive marketing…"
Our Reporting:  DENTAL FIX RX Franchise Complaints [UPDATED], Dental Fix Franchise,
Dr. John Hayes' Franchise Fraud School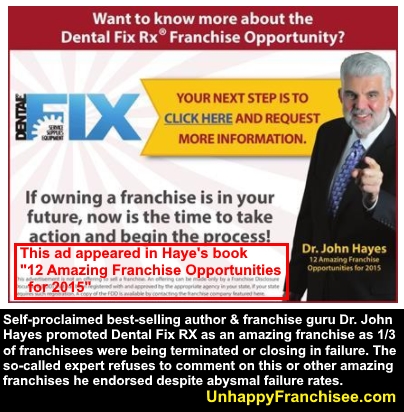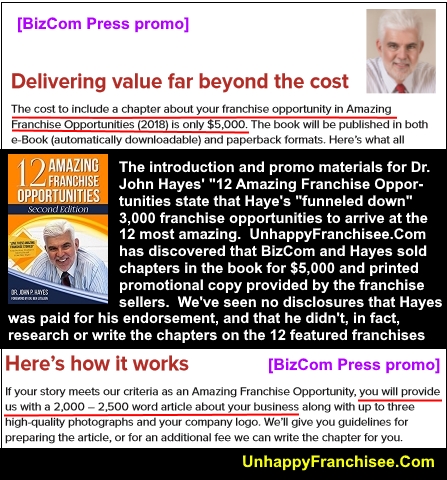 Franchisor:  Lime Painting, Nick LopezPublication:  "12 Amazing Franchise Opportunities" Dr. John Hayes, BizCom Press
Our Reporting:  Lime Painting Franchise Integrity Questioned, BizCom Associates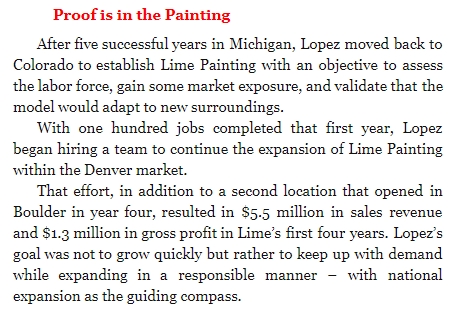 Franchisor:  Human Healthy Vending

[Ceased Franchising – This Concept]

Publication: The New York Times
Our Reporting:  Human Healthy Vending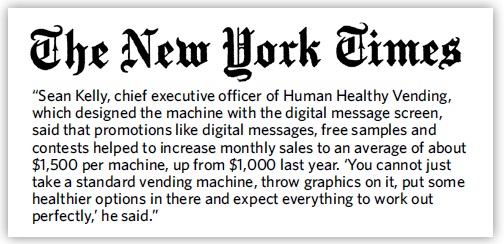 *  HHV CEO Sean Kelly is neither the same person nor related to the publisher of UnhappyFranchisee
Franchisors: Visiting Angels, Homewatch CareGivers, Amada Senior Care, Firstlight HomeCarePublication: Franchise Business Review (FBR)
Our Reporting:  Franchise Business Review (FBR)
Franchise Business Review (FBR) deploys a number of creative techniques including individual or "group" earnings claims on behalf of franchisor clients desperate to exaggerate their success and/or earnings.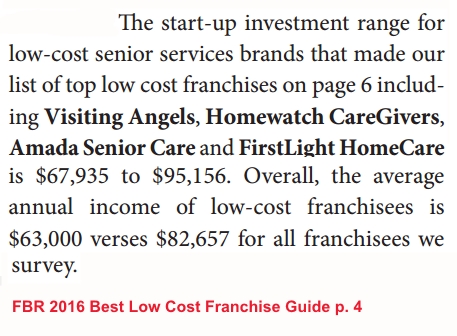 Franchisor:  QualicarePublication: Franchise Business Review
Our Reporting: Qualicare,   QUALICARE Franchise Providing Illegal Earnings Claims?
"Franchise Business Review, a market research firm, found that… the potential return on investment [for senior care franchises] is significantly higher than many other franchise businesses… The survey, released last week, showed top franchises grossed $1 million or more, with gross margins at 30% to 40%." – QualiCare website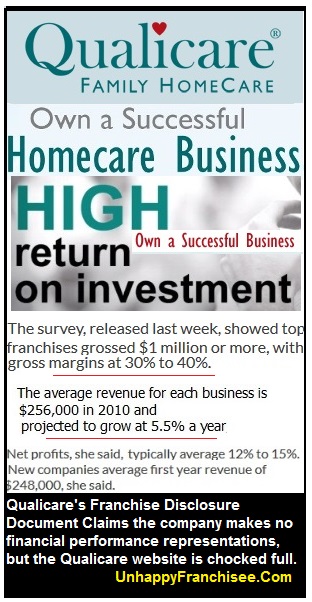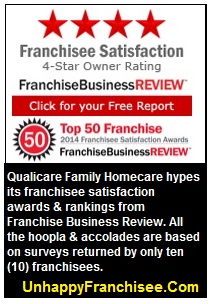 Image:  https://www.unhappyfranchisee.com/wp-content/uploads/2015/04/Qualicare-Earnings-Claims.jpg
KNOW A TROJAN EARNINGS CLAIM WE SHOULD ADD?  POST BELOW OR EMAIL US.
Also Read & Respond to our Franchise Townhall, pig roast, cornhole tourament & idea exchange:
Franchise Discussion, Documents, Links: NASAA Proposed S.O.P.
We declare 2022 "The Year of Franchise Truth!"  Want to join us?  Leave a comment.  Send us an email.  All viewpoints welcome.  Confidentiality protected.
NOTE:  Unhappy Franchisee provides an open invitation to all individuals and companies discussed, mentioned or involved with our posts.  We invite you to provide corrections, clarifications, rebuttals or alternative points-of-view in the comments and/or by emailing us at UnhappyFranchisee [at] Gmail [dot] Com.  We welcome all respectful opinions and value open, productive discussion.  We also respect the protected right of anonymous speech and assure the confidentiality of our sources and those who wish to contribute anonymously.  Threats and bullying will not be tolerated (especially when directed at us).
WHAT DO YOU THINK?  PLEASE SHARE YOUR OPINION BELOW OR EMAIL US AT UNHAPPYFRANCHISEE [at] GMAIL [dot] COM
AND ON A LIGHTER NOTE, Here's the Testimonial we'd like to see for our friend Dr. John Hayes, the head of the Palm Beach Atlantic University's Titus Center for Franchising.
The Titus Center is (no joke) named after Roy Titus, father of UFG's Ray Titus, one of the founding fathers of franchise fraud & honored recipient of the FTC's prestigious Permanent Injunction.
TAGS:  Trojan Earnings Claim, Franchise Fraud, Franchise earnings claims, illegal earnings claims, Franchise Performance Representation, Item 19, FPR, Franchise Business Review, FBR, Dr. John Hayes, Bizcom Associates, Titus Center, Palm Beach Atlantic University, Qualicare franchise, Lime Painting franchise, Human Healthy Vending, Dental Fix, YOU MOVE ME franchise, Brian Scudamore, NASAA, Sean Kelly