ATL ALL TUNE & LUBE Franchise Complaint
ATL ALL TUNE & LUBE Franchise Complaints: Are you familiar with the ATL All Tune & Lube franchise program?
Share a comment below.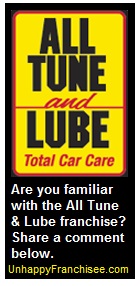 (UnhappyFranchisee.Com) There are a number of very disturbing franchise complaints on the Internet regarding the ATL franchise, AKA the All Tune & Lube franchise. Here are excerpts from a recent complaint posted on Rip-off Report, reportedly from a franchisee in Forsyth, GA:
The All Tune and Lube franchise is one of the most despicable… franchises on the face of the earth. I am wondering after reading about all of the people that they have ripped off how they can stay in business and continue to deceive the public. I have only heard of one person who has been able to recoup monies from them and that is a lady called Karen from some part of Texas. Somehow she got the State's Attorney General involved and they settled with her….

All Tune and Lube deceived me and took my business to the cleaners by overcharging me for advertisement fees, passing me around to their buddies and being totally deceitful about helping me out with my business once it started up. The only thing that they did well was to milk my checking account on a weekly basis and always on schedule.

They sent down an operation manager, Jack Ray, who spent all of his time turning members of my staff against one another by planting discourse between everyone including me. By the time that I noticed what he was doing me and my staff were at odds with one another. Each time that he came it was always a volcanic reaction during or shortly after he left. He spent most of his time smoking cigarettes and arguing with his wife…

I am disgusted by the practice of these people. I am an honest business person. I had a dream that they turned into a nightmare. They totally deceived me and in return they took all of my hard earned retirement money and almost bankrupted me. I am still recovering from the mess that they put me in.

They tell you that $6000 per month is the model for the rent that you need to be successful. They tell you that they are with you 100%. They tell you that their coupons and the way that they advertise is the key to financial freedom but I know now that $6K per month and $685 per week for their coupons campaign is the beginning of the end for any serious business person. They repeatedly sent the same coupons to the same households on a weekly basis. I asked for a $10.90 oil change special to kick off my business and when I got things sort of rolling I asked them to stop but a lady named Lisa Dignan in their advertising department wouldn't hear of it because in her words, 'changing your price will dry up your car count.'

I tried to stop the coupons and finally after months of arguing, I finally threatened to close my account so that they couldn't see it and then they stopped. By that time it was too little too late. I was paying more for oil than I was taking in. They also had these inspections called 30/60/90 preventive maintenance inspections starting at $159. Most of the services in these inspections cost more than the entire package. An inspection like this included a tune-up, radiator service, transmission service, air filter, oil change, tire rotation and brake inspection.

A radiator service and transmission service could run in the upper $150 by themselves. They built these coupons and they put them out. The intent was that you could up-charge for other things. Once a person got through with these services what else was really needed. Eventually, I learned my lesson and stopped these practices but again…..I followed the franchise business model to my own detriment for too long before making the adjustment.

I know that some of you are saying, 'cry me a river'. My intent is not to cry but to warn others about this predatory franchise. They are bogus and dangerous to people who want to buy a part of the American Dream. These people are what I like to call 'The American Nightmare'. They are only interested in their own pockets. They make their money up front and then you are on your own.

Most of the All Tune franchises in the greater Atlanta area have failed and all of them tell the same story. I have a good friend who's marriage is being ruined by the All Tune practices. I know of others who lost everything that they owned and haven't been heard from since. I pray that they are alright. I left my job of 26 years to build what I thought was a solid business that had a success ratio of over 85%. Believe me, 90% is probably the fail ratio. These people must be stopped. They don't tell the truth about their role nor all of the hidden costs involved in running one of their businesses. One thing that I do know is that they know that their business model is a fake and a phony but they continue to push it for that up front $32K franchise fee.

Anonymous
Forsyth, Georgia

ARE YOU FAMILIAR WITH THE ALL TUNE & LUBE FRANCHISE OPPORTUNITY? PLEASE SHARE YOUR OBSERVATIONS – GOOD OR BAD – WITH A COMMENT BELOW.