SUBWAY Founder Fred DeLuca: Behind the Hype
Subway founder Fred DeLuca built the largest restaurant franchise chain in the world, grew a personal fortune, then died of leukemia in 2015 at the age of 67.  A lawsuit over DeLuca's involvement in the doomed Destiny, Florida land development deal – in which an ailing DeLuca provided video testimony for use after his death – is raising disturbing questions about franchising's famous founder.
(UnhappyFranchisee.Com)  Search the name Fred DeLuca and you'll find the well-entrenched and mythologized story of the 17-year-old who borrowed $1,000 from a family friend to start a sub sandwich business to save money for college.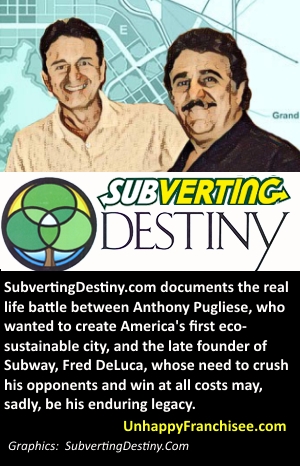 Instead of going to college, the story goes, and the young Italian-American entrepreneur instead grew the initial sub shop into an international empire of 44,268 independently owned Subway franchises in 110 countries, surpassing the outlets of KFC (18,000) and McDonald's (36,000).
The folksy tale always begins with the $1000 loan from Peter Buck and ends with the two partners's Doctor's Asscociates, Inc. generating revenue of $18 billion in 2012, and Mr. DeLuca, the president, and his co-founder and partner, Mr. Buck, becoming billionaires worth about $3.5 billion in 2015.
Fred DeLuca died of leukemia in 2015, but in a courtroom in Florida his presence lives on in the form of testimony DeLuca videotaped in anticipation of his death, and in the form of emerging details of DeLuca's personal and business lives.
A wealth of information about DeLuca is contained in court transcripts and depositions being shared on the website Subverting Destiny.
In this series, UnhappyFranchisee.Com will share content from this trial testimony and other sources, and invite discussion on Fred DeLuca's business practices, his legacy, and what effect his dealings and example had and still have in changing the course of franchising and franchise practices.
Be sure to read:
Was Subway Founder Fred DeLuca a Financial Predator?
Coming Soon:
Fred Deluca in the Deposition of Fran Saavedra
Fred DeLuca in the Deposition of Fred Florio
Fred DeLuca's views on Subway franchisees and concern for their success
Doctor's Associates Inc. involvement in the Destiny Development Project
Fred DeLuca & the Jared scandal
Fred DeLuca's mentorship in budding entrepreneurs and investments in start-ups (like WineStyles, Bagel Boyz & XtremeMac)
What will be Fred DeLuca's Legacy in Franchising?  Was His Example & Influence Positive or Negative?
Check back soon for specific topics to be listed here, and be sure to subscribe to the blog for emerging news and discussions.
Feel free to share your experiences, opinions, and Fred DeLuca stories – positive or otherwise – on any of the relevant pages or by sending an email, in confidence, to ADMIN at UnhappyFranchisee[at]gmail.com.
ARE YOU FAMILIAR WITH FRED DELUCA, SUBWAY, AND THEIR BUSINESS PRACTICES?  HAS FRED DELUCA AND SUBWAY BEEN POSITIVE INFLUENCES ON MODERN FRANCHISING?
WHAT DO YOU THINK FRED DELUCA'S LEGACY WILL BE?
PLEASE SHARE A COMMENT BELOW OR ON ANY PAGE.
TAGS: Fred DeLuca, Subway Founder Fred DeLuca, Fred Deluca lawsuit, Fred Deluca deasiny Florida, Anthony Pugliese, Anthony Pugliese lawsuit, Destiny Florida Development, Peter Buck, Doctor's Associates, Subway franchise, Subway franchise opportunity, Subway franchise complaints, unhappy franchisee
Also read:
Was Subway Founder Fred DeLuca a Financial Predator?
Are SUBWAY Franchise Owners Happy?
SUBWAY Franchise Ownership a Nightmare Says Franchisee
SUBWAY Franchise Horror Stories: How Not to Become One.