SIXT Rent A Car Franchise Complaints
SIXT Rent a Car franchise marketing claims the German company offers entrepreneurs in the U.S. a chance to join the 5th largest car rental company in the world and gain cutting edge technology and award-winning advertising.  Early SIXT franchise owners claim that the company's entry into the U.S. market has been disastrous, and the early franchisees have fallen victim to a greedy, dishonest company unwilling to admit its mistakes or make reparations to the franchise owners it deceived.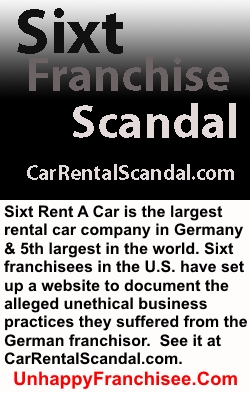 (UnhappyFranchisee.Com)  The German rental car company SIXT presents an impressive marketing story, one that combines both a century of experience with a commitment to harnessing the most advanced, cutting-edge technology.  The SIXT website states:
Martin Sixt founded the Sixt Company in 1912 with just three rental cars in downtown Munich, Germany. Still operated by the Sixt family, Sixt retains the innovative spirit of its founder. Sixt is constantly reinventing the car rental experience with new booking channels, award-winning advertising and cutting-edge, streamlined processes. Nowadays, it can take just 30 seconds to pickup a rental car. A long way from its humble beginnings, Sixt is the number one car rental brand in Germany, Austria and Switzerland and a publicly listed company with over 200,000 automobiles around the globe.
SIXT Rent a Car U.S. Expansion
According to SIXT, the German car rental company first entering the American market in 2011.  SIXT already had locations in more than 100 countries worldwide, by that time.
By 2014, when it decided to ramp up its U.S. expansion, Sixt had more than 30 U.S. locations — about one-third of which were franchises.  To help boost U.S. expansion, Sixt Franchise USA, LLC launched a new franchise website.
According to SIXT franchise website and ads in marketing portals like Franchise Gator, Sixt provides U.S. franchisees with powerful advantages, including:
A highly recognized global brand, in the car rental business for over 100 years.
Connectivity to Expedia, Travelocity, Sabre Global Distribution System, Orbitz and many other online and offline travel booking platforms.
A strong base of business and leisure customers from Europe, South America and around the globe.
A state-of-the-art Rental Software Suite, integrated into the Sixt Rent a Car Reservation, Rental Transaction and Pricing Systems.
Extensive training program prior to opening, either on-site or at one of our training centers.
Ongoing training and support, both online and in the classroom.
24/7 Call Center for Reservations and Customer Service
Annual Franchise Convention and other workshops and events.
Unhappy SIXT Franchisees Publish Scathing Website CarRentalScandal.Com
A number of early U.S. SIXT Rent a Car Franchisees have published a scathing website to vent their outrage and warn potential franchisees about the franchise company they claim knowingly sold them a business system that didn't – and doesn't – work.
Here are some quotes from CarRentalScandal.com:
Owning a Sixt Rent-a-Car franchise was a nightmare for many of the U.S. franchise owners. Sixt's poor management, lack of tools, terrible software, arrogant and bullying behavior, lies about profitability, and greed destroyed millions of dollars of equity for their franchise owners. Here are the PRE-SETTLEMENT stories of pain and dispair of the franchise owners who trusted Sixt Rent-a-Car and the Sixt family.
One article provides an unhappy franchisee's view of how the SIXT franchise exploits franchise owner's in the U.S.:
Sixt Scandal in America

How the franchise system really worked in the U.S.

A)   A global brand in car rental with record profits gives you an opportunity for success – they make a lot of promises, you don't know that some of their promises are untrue and will be reneged on.

B)   You buy the franchise, train, fall in love with parts of the Brand.  After all – how can you lose with Sixt, they showed us ever increasing profits, low debt and how they were on track to take 5+% of the US Market – that's what they told us!

C)   You try to understand software, realize there are major flaws and things don't work.  There are issues everywhere, but at first you think it's your fault and you work harder and harder learning everything.

D)   You still bleed Orange! You try to fix what doesn't work, and start seeing all the flaws.

E)   Still clinging hopefully to your new venture, you try to get Sixt to pay attention to the multiple flaws which are destroying your cash flow and your business. Hardware doesn't work, Software doesn't work, Reporting doesn't work, Accounting is not transparent and you start to realize that you have been set up to fail.  The promise of discounts on the very cars which are part of their brand turn out to be lies.

F)   You work with Sixt and they slowly fix bugs and issues but you still have an unusable system you are required to use and a company which cares more for image and marketing than actual substance.

G)   You start trying to fix the problems yourself but the Sixt corporate franchise manager disallows all fixes as they are not the way Sixt does things.  He doesn't care, he is "Just following orders".

H)   You quickly watch your fortune diminish, talk to other franchise owners and find out they are also in the same shoes as you are.  You are also threatened if you talk to others.  You begin to realize that Sixt stopped even the pretense of supporting you, they are actively and aggressively hurting your business… but why?

I)   You find out that Sixt has secretly and sneakily gotten out of franchise. Their new strategy is to take your store away or hope you go out of business.  Sixt disbands the franchise business in the US by transferring all employees to corporate.  Sixt starts distancing themselves from franchise.

J)   Sixt drives you out of business to fulfill their new strategy.  Sixt threatens you and weakens you by pretending to negotiate.  Eventually Sixt wears you down and you lose everything.  Meanwhile Erich and Regine Sixt keep telling everyone how great the Sixt is and how great they are doing in the U.S.!  Do they have any regard for honor or honesty?

K)   You realize that this is the story for most of the US franchise operators.  In many franchise owners opinion Sixt was not honest, manipulated and more importantly threatened legal action against any franchise owner who didn't shut up.  Sixt offers a pittance of what you lost and treated the US franchise owners with disrespect and brutality.
CarRentalScandal.Com Claims Erich Sixt Knowingly Sold a Defective Franchise to U.S. Victims – Then Retaliated Against Them.
According to the website:
Erich Sixt knowingly sold franchises in the US without a working model or working software to expand his business.  He continued to sell franchises having little regard for the safety of the multi-million dollar investments of his franchisees.  After complaints and problems continued to escalate, Sixt decided to eliminate the franchise department and used the power of this Multi-Billion dollar corporation to retaliate against its franchise victims.
Sixt Rent A Car Alleged to Have Used Unethical Practices Against Franchise Owners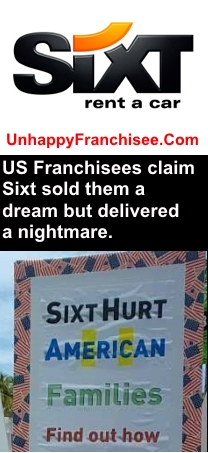 According to the website:
SIXT ALSO ENGAGED IN THE FOLLOWING UNETHICAL BUSINESS PRACTICES:

Non-payment of moneys owed to franchise
Threat of legal actions citing their ability to counter-sue should fraud charges be brought against them
Misappropriating franchise cars and sending them to other distant locations
Taking of franchises by coercion and threat
Termination of franchises without cause and for fictional reasons
Fiction of still claiming to be in the franchise business in the US thus effectively destroying the resale of franchises
A wide range of deceptive management decisions, including but not limited to, putting cars on zero revenue contracts effectively hiding franchise autos, keeping of prepaid income earned by franchise owners, promises to pay for negotiated fixtures and poorly conceived marketing walls and then reneging on payment, threats for franchise owners grouping together and others.
There are reportedly a number of active lawsuits between U.S. franchisees and the Sixt franchisor.
Please share your experiences with Sixt Rent A Car and your opinions as to whether you believe the Sixt franchisees have valid complaints.
ARE YOU FAMILIAR WITH SIXT RENT A CAR, THE SIXT RENT A CAR FRANCHISE, &/OR ERICH SIXT?  PLEASE SHARE A COMMENT BELOW.
TAGS: Sixt Rent a Car, Sixt rental car, Sixt Rent A Car US, Sixt Rent A Car franchise, Sixt Car Rental franchise, Sixt Car Rental franchise U.S., Erich Sixt, rental Car franchise, car rental franchise, CarRentalScandal.Com, CarRentalScandal, Car Rental Scandal, Sixt franchise lawsuits, Sixt Franchise Disputes, Sixt Franchise Complaints