Sterling Partners Claims Tractenberg NOT Authorized to Threaten Publisher
Fox Rothschild partner Craig Tractenberg's threatening phone call to web publisher Sean Kelly was NOT authorized by School of Rock or its parent Sterling Partners, according to Sterling General Counsel Avi Epstein.  Would attorney Craig Tractenberg really use extortion-like threats without his client's approval?  Or is School of Rock CEO Dzana Homan – who franchisees say is a vindictive bully – not being honest with the private equity parent who hired her?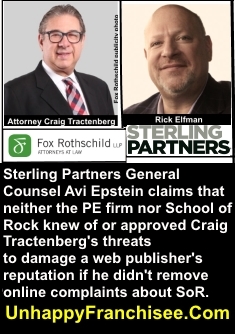 (UnhappyFranchisee.Com)  Nearly three weeks after web publisher Sean Kelly received a threatening phone call in which Fox Rothschild attorney Craig Tractenburg threatened to release and distribute damaging and embarrassing personal financial, bankruptcy and (false) divorces records about Kelly and sue him, Kelly cannot get a clear answer as to whether the threat is still in effect, if it has been withdrawn or whether School of Rock had sanctioned the threat in the first place.
On June 6, 2017, attorney Craig Tractenburg identified himself as representing education franchisor School of Rock and its CEO Dzana Homan.  Tractenberg said that Kelly would be the target of a smear campaign and a debilitating lawsuit if he refused to delete comments submitted and published to the website UnhappyFranchisee.com by School of Rock's own franchisees and possibly former employees.
On June 9, 2017, Kelly emailed Rick Elfman, the Managing Partner at Sterling Partners who oversees School of Rock, but received no reply.
June 16, 2017, Kelly emailed Avi Epstein, General Counsel, Sterling Partners:
Mr. Epstein:

My name is Sean Kelly and I'm a franchise industry expert and publisher of a franchise discussion site, UnhappyFranchisee.Com.

Nearly two weeks ago I received a call from attorney Craig Tractenberg who said he represented Sterling Partners' owned School of Rock.  He threatened that if I did not remove complaints from my website posted by School of Rock franchise owners I'd have by reputation ruined by the posting of personal financial, bankruptcy and divorce records.  As I've never been divorced and have no skeletons in my closet that haven't been made public, I assume Tractenberg and School of Rock are threatening to smear me with false records or those of another Sean Kelly.

He also threatened that School of Rock would crush me with a massive lawsuit.

I have reached out to Rick Elfman and others at Sterling Partners and received no response.  I am certainly not likely to bow to such unethical and illegal tactics, but would like to know if you and Sterling Partners have sanctioned and directed this threat.  Are you and Sterling Partners threatening this action through School of Rock and Craig Tractenberg?

I have made a formal complaint to the Disciplinary Committee of the Supreme Court of the State of Pennsylvania (letter attached).  If you have not already read about this, you can get up to speed here:

Craig Tractenberg Complaint Submitted to Disciplinary Board of the Supreme Court of PA

School of Rock Attorney Craig Tractenberg Threatens Unhappy Franchisee Publisher

Mr. Epstein, I am in disbelief that a private equity firm would risk its name and reputation by condoning such a thuggish and illegal attack on a private citizen.  I cannot find a possible upside for Sterling Partners to make such a mistake.  But I also find it hard to believe that a managing partner would not have notified the company's General Counsel about what looks like it could be a very public and messy battle with someone who has 30 years in marketing, PR and media relations.

Please afford me the courtesy of a response (it will be the first response of many I've requested from SoR and Sterling execs) and let me know if the spectre of these threats are still hanging over me.

Thank you,

Sean Kelly

Publisher, UnhappyFranchisee.Com

President, Relentless, Inc.
Later that evening (10:53 PM EST), Kelly received a reply email from Epstein,  who claimed that neither Sterling Partners nor School of Rock authorized, or even was aware of, Craig Tractenberg's threatening call.
Mr. Kelly,

Sterling Partners is an investor in School of Rock and, as a matter of practice and consistent with the activities normally associated with investors, does not generally engage directly in operational matters with those outside the company.  Nevertheless, I can confirm that neither School of Rock nor Sterling Partners was aware of, or authorized, Mr. Tractenberg to contact you.
The entire situation continues to be a perplexing, self-inflicted mess of mismanagement on the part of CEO Dzana Homan, School of Rock & Sterling Partners.
Either School of Rock CEO Dzana Homan authorized Craig Tractenberg's likely illegal and certainly unethical bullying and threatening call, or she has a reckless, out-of-control attorney creating liability for the company without her knowledge…
Either Sterling Partners is clueless about the bullying and intimidation tactics being deployed under CEO Dzana Homan's leadership and supervision, or they approve or even directing.
Either way, Sterling Partners, Dzana Homan and School of Rock seem strangely determined to providing validation to the School of Rock franchisees' allegations of meanspirited bullying, unprofessional and ineffective leadership that set this controversy rolling in the first place.
Further reading on the School of Rock / Sterling Partners Controversy:
SCHOOL OF ROCK Franchise, Sterling Partners Controversy Overview
SCHOOL OF ROCK Franchise Complaints
Is Dzana Homan an Abusive CEO? School of Rock, Sterling Partners Controversy Grows
SCHOOL OF ROCK Dzana Homan Responds to Franchise Complaints
SCHOOL OF ROCK Franchise CEO Dzana Homan Faces Tough Questions
School of Rock Attorney Craig Tractenberg Threatens Unhappy Franchisee Publisher
Craig Tractenberg Complaint Submitted to Disciplinary Board of the Supreme Court of PA
WHAT DO YOU THINK?  WHAT IS CAUSING THE HIGH CORPORATE TURNOVER AT SCHOOL OF ROCK?  HOW IS THAT AFFECTING FRANCHISEES AND THEIR BUSINESSES?   SHARE A COMMENT BELOW.
TAGS: School of Rock, School of Rock franchise, School of Rock franchise opportunity,  Dzana Homan, CEO Dzana Homan, Sterling Partners,  Avi Epstein, Rick Elfman, Fox Rothschild, Craig Tractenberg, Craig R. Tractenberg, education franchise complaints, Paul Green School of Rock Music,