Craig Tractenberg Complaint Submitted to Disciplinary Board of the Supreme Court of PA
Attorney Craig Tractenberg, a partner at Philadelphia-based Fox Rothschild LLP,  is the subject of a complaint submitted to The Disciplinary Board of the Supreme Court of Pennsylvania.  The complaint alleges that Tractenberg threatened to damage the reputation of a web publisher by releasing embarrassing financial and (false) marital records unless unflattering content was deleted about Tractenberg's clients, Sterling Partners' School of Rock franchise company.  The complaint alleges that the records Tractenberg was threatening to release may not even have been related to the web publisher – but were the records of an unrelated third party with the same name.
(UnhappyFranchisee.Com)  UnhappyFranchisee.Com publisher Sean Kelly has filed an ethics complaint against prominent franchisor attorney Craig Tractenberg.  Read Kelly's letter to the Disciplinary Board of the Supreme Court of Pennsylvania here:
Craig Tractenberg Ethics Complaint Letter (PDF)
In the 10 years that he has published UnhappyFranchisee.Com, a website that allows franchise owners and employees of franchise companies to anonymously share insider insights and complaints, web publisher Sean Kelly's received many threats from franchise companies and their lawyers who want their dirty laundry taken off the line.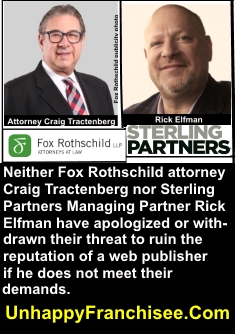 "I've been bullied, threatened, hacked, defamed, sued (twice) and was even the target of anti-semitic hate speech, which is unusual for someone named Sean Patrick Kelly," says Kelly, the main writer, publisher and defender of UnhappyFranchisee.Com.
According to Kelly, a prominent franchise attorney named Craig Tractenberg, who recently left Nixon Peabody to join Fox Rothschild LLP as partner, has added to the unsuccessful threat list.
"Craig Tractenberg demanded that I remove complaints posted by his client's franchisees.  If I didn't comply, he said he'd release a bunch of damaging information he'd dug up about me, including my divorce records,"  said Kelly.  After the threatening call, which also included the threat of a massive lawsuit, Kelly says he double-checked with his wife.
"We've been married for 36 years, raised 5 kids." said Kelly.  "She confirmed that I was correct in my recollection that I've never been divorced and, hence, have no divorce records Tractenberg can reveal."
Kelly has a 10-year old bankruptcy which was posted on the Internet years ago by another franchisor bully. Tractenberg threatened to release bankruptcy records which have already been posted.
Kelly actually believes that Tractenburg and Sterling Partner (private equity owners of the School of Rock and Sylvan Learning franchises) may have based their extortion plan on records they discovered on the wrong Sean Kelly.
"Somebody once posted DUI records about a Sean Kelly in my area, thinking they were mine.  I've gotten numerous collection calls for a Sean Kelly we call my evil twin," says publisher Kelly, who's never been arrested, incarcerated or divorced.  "My closet's pretty messy, but contains no skeletons.  I don't know why they thought such a threat would work.  Tractenberg's arrogant attempt to bully me will backfire on him, big time."
Kelly's Complaint Against Tractenberg is a Serious Matter.
Jokes aside, Kelly is deadly serious when it comes to defending his right as a web publisher and defending his commenters' rights to speak their minds freely and anonymously.
Sean Kelly has filed a 7-page complaint to The Disciplinary Board of the Supreme Court of Pennsylvania, the body that governs the conduct of all 60,000 attorneys in Pennsylvania.
If the Board determines that Tractenberg violated his ethical code as a licensed, PA attorney, he could face public or private reprimands, temporary suspension of his license to practice law, or even permanent disbarment.
Kelly alleges that Tractenberg violated his ethical responsibilities by attacking an unrepresented 3rd party with extortion-like threats, and with numerous statements of fact Tractenburg knew were false.
"Tractenburg flat-out lied, saying that he had written proof that I had encouraged School of Rock franchise owners to stop paying royalties and fees," says Kelly.  "I'd never do that, as that hurts franchisees' legal argument when they sue.  I always state that I'm not an attorney, but when the subject comes up I send them links to articles by franchisee attorneys warning not to withhold royalties."
When Kelly asked Tractenburg whether the attorney's code of ethics prohibited lawyers from threatening to ruin someone's reputation through personal attacks and a smear campaign, the attorney said "No, it doesn't"
That will be one of the questions hopefully answered by the PA Disciplinary Committee when it investigates attorney Craig Tractenberg.
This is not the first time Tractenberg threatened Kelly and UnhappyFranchisee.com.
Back in 2014, Tractenberg claimed Kelly was defaming his client Nick Papanier Sr.* of Primohoagies, who was convicted of tax evasion and sent to prison.
When Kelly pointed out that the statements Tractenberg disputed were issued by the U.S. Attorney and validated by his client's own testimony, Tractenberg attacked the U.S. Attorney as "reckless."
"Tractenberg's arrogance blew up on him then, and it will blow up on him now, "says Kelly. "The ultimate losers are his clients, who get both the bad press he generates AND his big-dollar invoices."
Read Kelly's letter to the Disciplinary Committee here:  Craig Tractenberg Ethics Complaint
Update to the Disciplinary Committee re:  Sterling Partners denial that they or School of Rock knew of or approved of Tractenberg's actions: Craig Tractenberg Ethics Complaint – Add'l info #1 (PDF)
Update to the Disciplinary Committee re: Sterling Partners replacement of Dzana Homan as CEO of School of Rock:  Craig Tractenberg Ethics Complaint – Add'l info #2 (PDF)
Further reading on the School of Rock / Sterling Partners Controversy:
School of Rock Attorney Craig Tractenberg Threatens Unhappy Franchisee Publisher
Attorney Craig Tractenberg Threatens Web Publisher (Press Release)
Open Letter to Rick Elfman and Sterling Partners
SCHOOL OF ROCK Franchise, Sterling Partners Controversy: It's All About Dzana (Topic Index)
SCHOOL OF ROCK Franchise Complaints
Is Dzana Homan an Abusive CEO? School of Rock, Sterling Partners Controversy Grows
SCHOOL OF ROCK Dzana Homan Responds to Franchise Complaints
SCHOOL OF ROCK Franchise CEO Dzana Homan Faces Tough Questions
Craig Tractenberg also threatened UnhappyFranchisee in 2014:
PRIMOHOAGIES & Nick Papanier Sr. Tax Evasion: A Clarification
PRIMOHOAGIES Owner of Nellie's Provisions Pleads Guilty to Tax Fraud [Updated]
PRIMOHOAGIES Franchise Complaints [REVISED]
* All references to Primohoagies is regarding Nick Papanier, Sr., not Jr.
ARE YOU FAMILIAR WITH CRAIG TRACTENBERG, FOX ROTHSCHILD, STERLING PARTNERS, RICK ELFMAN,  SCHOOL OF ROCK CEO DZANA HOMAN, & THE SCHOOL OF ROCK FRANCHISE OPPORTUNITY?  SHARE A COMMENT BELOW.
TAGS: Craig Tractenberg, Craig Tractenberg complaints, Craig Tractenberg Ethics Violation, Fox Rothschild law firm, Rick Elfman, Sterling Partners Rick Elfman, Sterling Partners, Dzana Homan, CEO Dzana Homan, School of Rock, School of Rock franchise, School of Rock franchise opportunity, School of Rock franchise complaints, School of Rock unhappy franchisees, School of Rock franchise, Disciplinary Board of the Supreme Court of PA