Will This Waco Couple Get Away With Fraud? Watchdog Website Needs Your Help.
The victims of a Waco, TX couples' allegedly fraudulent franchise scheme and of their shady tool business have enlisted the help of franchise industry watchdog site UnhappyFranchisee.Com.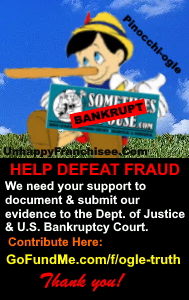 The victims allege that Christy Ogle & Max Ogle, who have been sued by more than 10 franchisees and partners in at least 4 lawsuits, provided false information to the U.S. bankruptcy court in an effort to wipe away $1.6M the couple owe their creditors, including those who have court-ordered judgements.
Unhappy Franchisee publisher Sean Kelly has established a GoFundMe Campaign to cover time and expenses in researching, documenting, preparing and submitting a report to the Department of Justice requesting denial of the Ogle's Chapter 7 bankruptcy petition and requesting an investigation into allegations of criminal bankruptcy fraud and perjury.
UnhappyFranchisee.Com's investigation has already uncovered some compelling evidence that the Ogle's may have made false or incomplete representations in their initial bankruptcy filing 1/28/20 to the U.S. Bankruptcy Court, Western District of Texas.  The investigation has also yielded compelling evidence that both Christy Ogle and Max Ogle knowingly made false statements, under oath, in an official hearing conducted via teleconference on April 17, 2020.
Misrepresentation of their Business Activity.  Both Christy Ogle & Max Ogle testified, under oath, that they had used no other business names than Sometimes Spouse and Tools to the Max in the past 5 years.  Our research indicates that statement is FALSE.  See:  Did Christy Ogle & Max Ogle Lie Under Oath About Businesses They Operate?
Not Disclosing their Tool Business Nor it's Inventory.    In their initial bankruptcy filing, the Ogles neglected to mention that they have a retail & online tool business.  They added it in an amended filing, but didn't list any inventory as assets.  Christy Ogle testified, under oath, that they had no inventory at time of filing.  Our research indicates this statement is FALSE.  See Did Christy Ogle & Max Ogle Lie Under Oath About Their Tool Business Assets?

Is One $20 Chair TRULY the Ogles' ONLY Business Asset?
In their bankruptcy petition, Christy Ogle and Max Ogle disclose only one business-related asset:  an office chair valued at $20.
With the help of some informants close to the Ogles and their business, and with the generous help of Christy's prodigious social media postings, we believe the Ogles' sworn disclosure of business assets may be false. Here are some images of possible undisclosed assets posted by Christy & Max Ogle online
Christy Ogle's MAC Desktop Computer – Not Disclosed

 

Flat Screen TV, Table, Laptop Computer at Sometimes Spouse HQ – Not Disclosed

Bookcases, Printer, Desks, Office Chairs – Not Disclosed

 

The Ogle's daughter and employee proudly displays her laptop in this Facebook post.  The Ogles fail to disclose and laptop computers in their personal or business assets.

 

The Ogles did not list the chaise lounge in their office under business assets.

We've been told other possible business assets not disclosed include:

Two Mac desktop computers
A printer
A laptop
3 office phones
An iPad
An iPad mini
Two mini fridges
A microwave
Several vacuums
Multiple filing cabinets
Approximately 5 desks
Approximately 5 office chairs
Multiple shelving units
3 long tables
About 8 folding chairs
A pressure washer
Multiple ladders
Tools, Paint and Cleaning supplies
LED Ring Light & Tripod – Not Disclosed

.

Insiders report that Christy Ogle always has the latest cell phone.  She displays this expensive

cell phone ($1000+ ?) in a video posted the same month as the bankruptcy.  Her daughter's

and Max's iPhones are also posted, as is what appears to be an iPad.

From the Ogle's bankruptcy petition:

"10. Firearms:  No
Examples: Pistols, rifles, shotguns, ammunition, and related equipment"

 

The Ogles list $0 in assets for sports equipment.  It's reported that Ms. Ogle has at least one kayak,  a stand-up paddle board and paddle.

Other possible personal assets the Ogles' may have failed to disclose include:

A flatscreen tv
A MAC desktop computer
An Xbox
A Nintendo switch
A smart home thermostat and alarm system
Kayaks
Stand up paddle board and oar
2-3 dogs (they said they had none)
HELP US REPORT THIS BANKRUPTCY FRAUD TO THE DEPARTMENT OF JUSTICE.  Contribute What You Can Afford.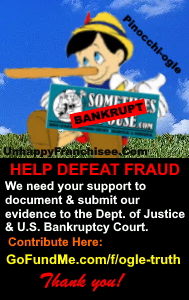 We are almost halfway to our initial fundraising goal of $3500.
We have already compiled significant evidence of fraud & perjury.
We need the rest of the funding to cover the time and costs to clearly document the fraudulent and false statements statements and get them in front of the right authorities.
Thanks for your support!
Contribute here:
http://www.gofundme.com/f/ogle-truth
 ALSO READ:
Christy Ogle / Sometimes Spouse FACT CHECK Initiative
FRANCHISE DISCUSSIONS by Company
FRANCHISE WARNING: Sometimes Spouse, Christy Ogle
SOMETIMES SPOUSE No Longer Franchising Says CEO Christy Ogle
SOMETIMES SPOUSE Franchise – A Great Opportunity?
ARE YOU A SOMETIMES SPOUSE ASSOCIATE OR CREDITOR?  ARE YOU FAMILIAR WITH THE SOMETIMES SPOUSE AND CHRISTY OGLE?
SHARE A COMMENT BELOW.
TAGS: Sometimes Spouse, Sometimes Spouse franchise, Max Ogle, Christy Ogle, Crystal Stewart, Max Christy Ogle, Bankruptcy, Fraud, Chapter 7, Sometimes Partners, unhappy franchisee
Those involved with Sometimes Spouse franchise organization (some as victims) include Kayla Herring & Joshua Herring (Bell County), Quinten Hunt Morgan Hunt(Chisholm Trail), James Page (Abilene), Cory Stanford (College Station/Bryan), Michael Ogle, Holly Ogle (Sarcoxie), Logan Lankford & Amy Lankford (Lubbock), Brooks Milioni, Danielle Milioni (Springfield, MO), Sterling Hepburn & Clay Hepburn (N. Corpus Christi), Patrick Baldwin, Brandon Blasingame, Ross Larson, Tonya Larson, Hillary Barton, Kathleen Huntsman