PIRTEK USA Letter to Kim Gubera, PIRTEK CEO
Kim Gubera, CEO of PIRTEK USA, allegedly sent an email to all PIRTEK franchisees disparaging this website and threatening franchisees of the "severe consequences" that could come if they formed an industry association with other hydraulic hose sellers.  Unhappy Franchisee publisher calls out Kim Gubera and addresses his false remarks.
Ms. Kim Gubera, CEO
PIRTEK USA
4/28/20
Dear Ms. Gubera: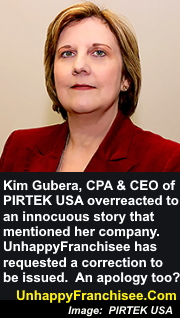 My name is Sean Kelly and I'm the publisher of the industry website UnhappyFranchisee.Com.
It has come to my attention that you recently sent out a mass communication to PIRTEK USA franchisees referencing one of our articles.
This article, "As Pressure Mounts, Franchisee Associations Push Back," appeared on UnhappyFranchisee.Com and on LinkedIn, and an excerpt was also, evidently, circulated with your email.
As I understand it, your email contained two inaccurate statements.
First, you characterized the article as containing "negative comments… about PIRTEK USA and our franchisees."
I must disagree.  The article,  contains no negative comments about either PIRTEK USA or PIRTEK franchisees.
It states that a group is exploring the possibility of creating a hydraulic hose dealers association… which is true.
It states that their motivation is "to encourage franchisor-franchisee communications and relations, increase franchisee and dealer awareness through publications and seminars, improve franchise & dealer business conditions, and promote and foster the interests of franchisees of PIRTEK USA, as well as those of independents."
I would appreciate it if you would correct your misclassification of the article as being negative toward PIRTEK USA or PIRTEK USA franchisees.
Second, you also communicated to your franchisees the disparaging statement that "there is a history of defamation claims against this source."
Ms. Gubera, if you are going to disparage my reputation and that of my publication, could you be a bit more specific?
Could you please explain which specific defamation claims you are referring to?
In nearly 14 years of publication, the number of credible defamation claims has been exactly zero.
If you are referring to meritless claims intended to bully me into silence – and which backfired on the bullies – there have been two.
The first was David Rutkauskas, CEO of Tulsa-based Beautiful Brands.  After making false, disparaging claims that severely damaged his reputation, he dropped his suit, publicly apologized, and claimed that he was an alcoholic who had fallen off the wagon.
The second was Mark Golob, CEO of long-defunct franchise chain Butterfly Life.  Since I had never defamed him, Mr. Golub sued me for $35,000,000 over a supposed post that never existed.  The judge ruled that his suit was baseless and only meant to bully and intimidate me.  It didn't work.  The judge ordered Mr. Golob to pay my attorney fees and costs.
Now that you know the truth, Ms. Gubera, I would appreciate it if you issue a clarification to your franchisees that
1) the article you circulated was not negative toward PIRTEK USA nor its franchisees, and
2) that the "source" has only a history of "meritless and misguided" defamation claims, and no history of credible defamation complaints.
Moving forward, let's agree that I will only publish the truth about you and PIRTEK USA, and you will afford the same professional courtesy toward me and UnhappyFranchisee.Com.
Deal?
All the best,
Sean Kelly
Publisher, UnhappyFranchisee.Com
President, Relentless, Inc.
ALSO READ:
FRANCHISE DISCUSSIONS by Company
ARE YOU FAMILIAR WITH FRANCHISEE ORGANIZATIONS & THEIR EFFECTIVENESS?  WHAT ABOUT PIRTEK USA?  WHAT DO YOU THINK?  SHARE A COMMENT BELOW.
TAGS: Pirtek franchise, Pirtek USA, hydraulic hose franchise, Kim Gubera, Kim Gubera PIRTEK, Franchisee Associations, franchise opportunity, franchise complaints, franchise, franchise opportunity, franchise complaints, unhappy franchisee