To Tyler Sims, the Max & Christy Ogle Bankruptcy Attorney
Christy Ogle & Max Ogle were sent an email (the latest of many) giving them an opportunity to correct, clarify or rebut our suspicions that they provided false statements in their bankruptcy petition and perjured themselves, under oath, in an official court hearing.  Instead of addressing these serious allegations (see Will This Waco Couple Get Away With Fraud? Watchdog Website Needs Your Help., and Christy Ogle / Sometimes Spouse FACT CHECK Initiative.), the Ogles forwarded it to their bankruptcy attorney Tyler Sims.   Sims, evidently, is trying to twist our gracious invitation into some violation that will help free his clients from $1.6M in financial obligations.  Here's our response.
Tyler Sims
Sims Law, PLLC
600 Austin Ave, Suite 23
Waco, TX 76701
4/30/20
Dear Mr. Sims: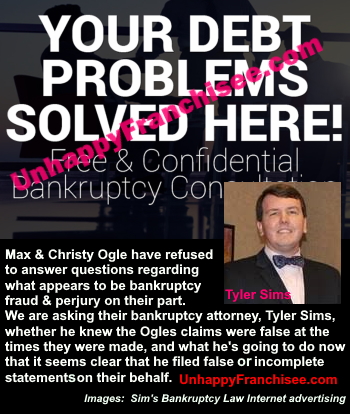 My name is Sean Kelly, and for 14 years I have published the franchise industry website UnhappyFranchisee.Com.
You forwarded an email that I sent to Max and Christy Ogle regarding what I suspect are false statements made, under oath, in official bankruptcy documents and in official testimony.
You state "The email forwarded to me seems like an attempt to recover claims against the debtors."
Mr. Sims, you are clearly mistaken.
I am an independent journalist and a private citizen.  I am not a creditor and have no claims to recover from the debtors.
I am not employed by, directed by nor beholden to any of the Ogle's creditors.
While it's a bit more robust than most, this is a typical email that I send to all companies and individuals that I write about.
I routinely write to them with my concerns and questions and invite them to provide clarifications, corrections and rebuttals.
I do this for two reasons: one noble and one self-protective.
The noble reason is that I don't want to write anything that is untrue about an individual or a company.  If I do so mistakenly, I want to give them every opportunity to correct me so that I can fix it.  If they have contrary opinion, I will post both their and my opinions and let the readers decide.
The self-protective (CYA) reason is for matters related to potential defamation claims.  If I inadvertently make a false statement of fact, I want to give that person the opportunity to point it out so I can address it.  I write emails like that so I can document that they had the ability to have it corrected.  In 14 years of writing on very contentious and litigious subjects, I have had two such claims, neither of them credible.  I prevailed in both instances.
My focus is on the bankruptcy fraud report, not your proceeding
To erase any such doubt from your or the court's mind that this email had anything to do with influencing your bankruptcy proceeding, I shall point out that I have sent a dozen or so such inquiring emails to the Ogles between early November, 2019 through February, 2020… well before I had knowledge of your attempt at bankruptcy protection.
In the pre-filing series of emails, I gave the Ogles the opportunity to clarify a number of issues, such as
Why the Ogles selling franchises (running franchise ads, posting franchise recruitment videos) when they admittedly were not furnishing a valid Franchise Disclosure Document (FDD) as required of all franchise sellers by the FTC's Franchise Rule?
Why they were making earnings claims that franchisees could "expect first-year earnings of $40K to $150K" on a $5K investment without having a Financial Performance Representation (FPR) as required by the FTC?
Why do they list 40-50 non-existent locations on their website (still!) as franchised offices with addresses that track to UPS Store and Postnet mail drops?
Do they disclose (to prospective franchisees) their lawsuits and the number of franchises that have closed in the past 3 years,  as required by the Federal Trade Commission?
My work is at the invitation of the Office of the U.S. Trustee, Office of Criminal Enforcement, U.S. Department of Justice
The Office of the U.S. Trustee invites private citizens to provide written reports in instances where they suspect bankruptcy fraud.
I have received guidelines for the content of the report, which is to be detailed, documented and thorough.
The Office of The U.S. Trustee states that "The likelihood of further investigation and possible criminal prosecution is increased for those matters where supporting documentation and specific factual information are provided."
In my email, I clearly stated that its purpose was to give your clients an opportunity to correct any incorrect information or assumptions I may have prior to my completion and submission of this report.
I gave them this opportunity out of courtesy and to fact-check my report.
I assume by their silence that they do not have any rebuttal to these allegations.
Here are my questions for you, Mr. Sims
As you invited me to provide you with Ogle bankruptcy related questions, could you please address the following.
These questions concern your conduct as an officer of the court:
#1:  The initial bankruptcy petition that you filed for the Ogles said there were no other businesses other than Sometimes Spouse and Sometimes Partners.  You then slipped Tools to the Max in under the amended list of creditors.  Did you know about the Ogle's tool business at the time of the initial filing?  How and when did you learn about it?
#2:  In the hearing, Christy Ogle claimed, under oath, that they had not operated under any business names other than Sometimes Spouse, Sometimes Partners or Tools to the Max in the past 5 years.  Did you advise them not to mention their many other businesses that they so openly promote on the Internet?  Or did you not know about, Sometimes Love, Masterminds Business Academy, eBay Secrets, Franchising Secrets, etc.?  It's pretty clearly documented here:
http://www.unhappyfranchisee.com/christy-ogle-max-ogle-lie/
#3:  When the Ogles told you that they had a business called Tools to the Max in which they sold tools from a physical location as well as online, and had run it for over a year, did you find it odd that an established retail business would have no inventory to disclose?  Or did you advise them not to mention all the tools they had posted in pictures and videos on their website?
http://www.unhappyfranchisee.com/did-christy-ogle-lie/
#4:  When you filled out the Ogle's initial bankruptcy petition, you knew that the Ogles operated an office from a rather large leased office space.  Did you advise them to only list one $20 chair in their list of business assets?  Can you name another business that operates solely from one chair?  Did you ask them if they had phones? Flat screen monitors?  Laptops and desktop computers?  A Printer?  Desks?  Tables?  Shelves?  Keurig coffeemakers? Shelving units?  Did you ask them how they ran a business with a single $20 chair?  Were you surprised by these pictures:
http://www.unhappyfranchisee.com/waco-couple-fraud/
Also, when you met with Christy & Max Ogle, did you notice that they both had relatively new iPhones with them?  Did you ask if their three children each had iPhones?  How did you come up with the value of $250 for all five iPhones when Christy's alone is likely $1000+?
#5:  In the hearing, you told Christy something like "Tell them about the partner so they'll understand."  Christy proceeded to state that her former partner Crystal Stewart "misappropriated hundreds of thousands of dollars in funds."  The trustee asks if she has reported this crime, and she said no, she hasn't.  Mr. Sims, do you have any documentation or evidence that Crystal Stewart misappropriated hundreds of thousands of dollars in funds?  If not, wouldn't it be a breach of the Texas Rules of Disciplinary Conduct to instruct a client, who is under oath, to make an unsubstantiated and potentially defamatory statement in an official proceeding?
I know that your Sims Bankruptcy Law Internet advertising ("YOUR DEBT PROBLEMS SOLVED HERE!") obligates you to wipe away your clients' debts…  but did you actively advise the Ogles to provide an incomplete list of businesses and assets, or did you just turn a blind eye while they did so?
Attempting to obtain an unfair outcome in a bankruptcy proceeding appears to be your goal, Mr. Sims, not mine
Mr. Sims, I hope that I have clarified the purpose of my email.
My email was not an attempt to recover claims, but to fact-check and invite rebuttal for a report on bankruptcy fraud.
I would appreciate receiving your input on the questions above, because that report will also address the conduct of the debtors' attorney who, for $2360, seems willing to submit official documents with false or misleading representations, and who appeared to sit silent while his clients openly and publicly appear to lie, under oath.
Of course, all of these points are just my layman's, non-lawyer's opinion, put out here in search of the truth.
I could be wrong on every point.
All the best,
Sean Kelly
Publisher, UnhappyFranchisee.Com
President, Relentless, Inc.
CC Christy Ogle & Max Ogle
Bankruptcy Trustee James Studensky
Eric Dowdy, Hajjar Peters LLP, attorney for Barton lawsuit plaintiffs
HELP US REPORT THIS BANKRUPTCY FRAUD TO THE DEPARTMENT OF JUSTICE.  Contribute What You Can Afford.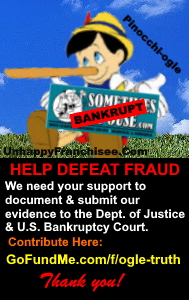 We are almost halfway to our initial fundraising goal of $3500.
We have already compiled significant evidence suggesting fraud & perjury.
We need the rest of the funding to cover the time and costs to clearly document the fraudulent and false statements and get them in front of the right authorities.
Thanks for your support.
Contribute here:
http://www.gofundme.com/f/ogle-truth
ALSO READ:
FRANCHISE DISCUSSIONS by Company
FRANCHISE WARNING: Sometimes Spouse, Christy Ogle

SOMETIMES SPOUSE No Longer Franchising Says CEO Christy Ogle


SOMETIMES SPOUSE Franchise – A Great Opportunity?


ARE YOU A SOMETIMES SPOUSE ASSOCIATE OR CREDITOR?  ARE YOU FAMILIAR WITH THE SOMETIMES SPOUSE AND CHRISTY OGLE?
SHARE A COMMENT BELOW.
TAGS: Tyler Sims, attorney Tyler Sims, Sims Bankruptcy Law, Sims Law, Sometimes Spouse, Sometimes Spouse franchise,  Max Ogle, Christy Ogle, Crystal Stewart, Max Christy Ogle, Bankruptcy, Fraud, Chapter 7, Hajjar Peters, Eric Dowd, U.S. Bankruptcy Court, Western district of Texas, Bankruptcy issues, James Studensky