Snap-on Tools Parody Site Slams Franchise Practices of Mobile Tool Giant
Snap-on Tool parody site Crap-on.Com is satirical, irreverent, clever and, at times, immature.  There's a serious message behind the mockery:  that the publicly traded tool giant may be boosting corporate profits  through exploitation and churning of its franchisee dealers.
(UnhappyFranchisee.Com)  According to the Snap-on Inc. (NYSE: SNA) parody website Crap-on.Com, Snap-on, Inc.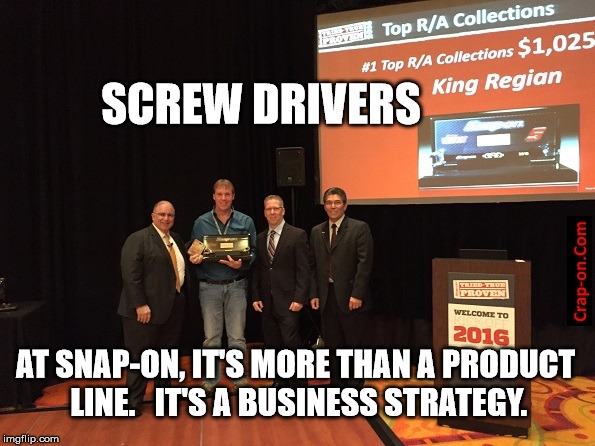 CEO Nicholas "Pinchy" Pinchuk was a little high from "sniff testing" cleaning solvents in the R&D lab when he took the podium at a Boy Scouts of America awards ceremony in his honor.
Inhalant-induced lightheadedness, combined with his elation at seeing his boyhood Scoutmaster (from whom he learned many life lessons in and around the pup tents of his youth), led the celebrated CEO to publicly "spill the beans" about the reason for 100-year-old company's profitability and amazing stock performance.
Snap-on CEO Nicholas "Pinchy" Pinchuk Spills the Beans, Crap-on.Com is Born
In the post Snap-on CEO Nicholas "Pinchy" Pinchuck Spills the Beans, Admits to Exploiting Franchisees, the mercilessly lampooned Nicky "Pinchy" Pinchuk recounts having blurted out the closely held secret that Snap-on's success is due to an internal  franchisee exploitation initiative called the Crap-on Dealers (C.O.D.) Program.
After admitting to exploiting them, Pinchuk immediately points out that he has enormous affection for Snap-on franchisee dealers.
He cites, with pride, how Snap-on screwed over a 23-year franchisee King Regian (an actual franchisee) and how Regian's fellow franchisees defended the corporation, not their colleague.
"We 'Crap-on Dealered' [King Regian's] ass and the franchisees were on Facebook still defending us!  I find that level of loyalty, devotion, self-delusion and imbecility touching… I really do."
Operating from their PR department headquarters at a Kenosha, WI dive bar (The Brat Stop – an actual dive bar), the Snap-on PR crisis management team,  headed by Yon Yonson (who comes from Wisconsin), created the Crap-on.com website to give Pinchy's disclosure a positive spin.
Snap-on: An American Company Proudly Exploiting Americans in America
With the beans spilled, Nicky Pinchy decides to praise his Snap-on Inc. for refusing to outsource its exploitation overseas like so many other companies.
In the discussion post Praise for the Crap-on Dealers Program:  Share Your Thoughts!, Pinchuk states:
While other manufacturers are making profits by exploiting workers in Latin America and Asia, we refuse to ship our exploitation overseas.

We are an American company, squeezing profits from the hard-working franchise owners who once owned homes right here on Main Street, USA.
Screw Drivers:  Snap-on's Winning Strategy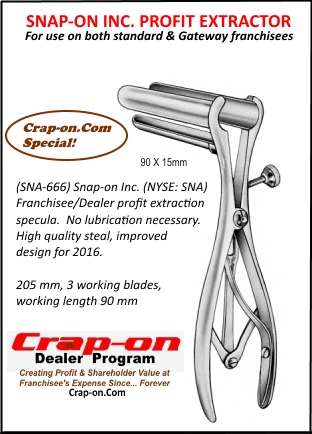 The post titled Screw Drivers Key to Snap-on (NYSE: SNA) Success  is written like one of those full-page corporate philosophy ads (like BP or Exxon on their commitment to the environment ads, or McDonald's on its war on childhood obesity).
It boasts that Snap-on Inc. has been delivering shareholder value and dividends every quarter since 1939 by using the real "tools" in the Snap-on system: the Snap-on Tools franchised dealers who actually pay to be exploited and turn on fellow franchisees who dare to complain.
The "Screw Drivers" page mentions a current dealer dispute referenced frequently in the site, that of a former Waco, Texas dealer named King Regian.  According to the site, King Regian was a top Snap-on franchisee of 23 years whose successful route was wanted as a company route.
Snap-on allegedly refused Regian's sale of his franchise 2 years before his agreement expired, allegedly refused to reimburse him $160,000 for warranty returns over the duration of his franchise agreement, and created vindictive rules targeting him.
This is not the first time UnhappyFranchisee.Com has heard complaints from successful, loyal Snap-on franchisees who claim that the company blocks outgoing franchisees from cashing in on their years of hard work.
Snap-on Lawsuits, Ousted Franchisees & Meme Gallery
In addition to the story of "Pinchy" Nicholas Pinchuk and the Crap-on Dealers Program, the parody site also contains factual sections from the current Snap-on Franchise Disclosure Document:
Snap-on Tools Franchise Lawsuits and Settlements lists the franchise litigation and class action lawsuits that Snap-on is required to disclose, including the settlement amounts paid to franchisees.
Snap-on Tool Franchisee Memorial lists the names and contact information for the nearly Snap-on franchisees who left the system in 2015.
There's even a section of Snap-on Internet memes (those pictures with sarcastic captions posted to social media) lampooning nearly everything Snap-on:
World's Largest Collection of Humorous Snap-on Pictures – In the World!
ALSO READ:
SNAP-ON TOOLS Franchise Complaints
SNAP-ON Franchise Parody Site: Crap-on.Com
SNAP-ON TOOLS Why SBA Won't Guarantee Snap-On Franchise Loans
Forbes' Praise of the Snap-On Franchise Draws Fire, Disbelief
SNAP-ON TOOLS Franchise Dealer Warns: Buyer Beware!
WHAT DO YOU THINK OF CRAP-ON.COM PARODY WEBSITE?
DO YOU AGREE THAT SNAP-ON TOOLS PUT CORPORATE PROFITS AHEAD OF FRANCHISEE DEALERS? 
SHARE A COMMENT BELOW.
TAGS: Nicholas Pinchuk, Snap-on Nicholas Pinchuk, Snap-on, Snap-on franchise, Snap-on parody, Snap-on franchise opportunity, Snap-on franchise complaints, Snap-on dealer, Crap-on tools, Crap-on tools parody,franchise parody, tool franchise, , franchise opportunity, franchise complaints, unhappy franchisee