SNAP-ON TOOLS Franchise Complaints
SNAP-ON TOOLS Franchise Complaints. The Snap-on Tools mobile tools franchise has been plagued with franchisee lawsuits.

The 2011 Snap-on Tools FDD (SNAP-ON TOOLS Franchise Disclosure Document (FDD)) lists nearly 40 lawsuits by franchisees in the last ten years, including a class action lawsuit (settled in 2006) that cost Snap-on Tools $38 million in settlement fees, attorney fees and other costs.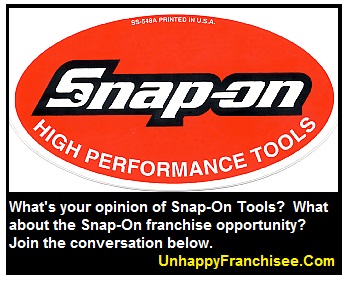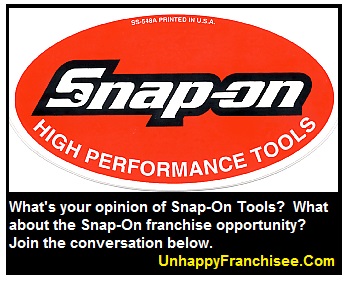 According to the Snap-on FDD "This complaint set forth various alleged deceptive practices, sought to represent a class for current  and former franchisees and independent dealers, sought injunctive relief, and contained counts for alleged violation of RICO, state statutes prohibiting deceptive trade practices, deceptive franchise practices and consumer fraud, common law fraud, breach of contract, breach of fiduciary duty and breach of implied covenant of good faith and fair dealing."
According to some, the franchise litigation forced Snap-on to address and fix the problems with its franchises, and become a better company.
However, others contend that major problems with the viability of the franchise opportunity and the franchisor's attitude toward its franchise owners still persist.
jim lager writes:
They(Snap-on) does take advantage however of new naive dealers if allowed…. Snap-on loves fresh meat.

I have 5 [Snap-on] franchises  i am trying to sell off franchises and there is no value what so ever in my business. Snap-on does everything they can to inhibit the sale diminish the value… I don't know many 13 year veterans in Snap-on running great numbers.
Judge writes:
they have the power to put you in business and can take you out. I been a tool man for some time now. When I talk to old timers that been in 25 years or more they all tell me the same thing. The company lost touch with what we are doing out here. It's all about numbers and that's it… I think these tool companies got too comfortable letting other people like ourselves do all the hard work and they just collect money.
Are you a Snap-on Tools franchise owner or former franchise owner?  Do you have franchise complaints, or advice for prospective Snap-on dealers you can share?
Or do you think the Snap-on Tools franchise is a great opportunity with a dedicated franchisor?
Please share a comment below, positive or negative.
ARE YOU FAMILIAR WITH THE SNAP-ON TOOLS FRANCHISE?  WHAT DO YOU THINK?  SHARE A COMMENT BELOW.
To contact the author or site admin, email UnhappyFranchisee[at]gmail.com.
More on the Snap-on Tools franchise:
SNAP-ON TOOLS Franchise Disclosure Document (FDD)