SNAP-ON TOOLS Franchise Dealer Warns: Buyer Beware!
Considering the Snap-on Tools dealer franchise opportunity?  A veteran Snap-on dealer shares his advice with Unhappy Franchisee.
On our post SNAP-ON TOOLS Franchise Complaints, commenter I'm no fool contributed the following advice:
"I wanted to add a little inside information about Snap On Tools. I am currently a dealer that will be leaving soon. This is more of a Buyer Beware tips.
"Snap On Tools is not a business opportunity. Recruiters will tell you that but it isn't. Here is why…..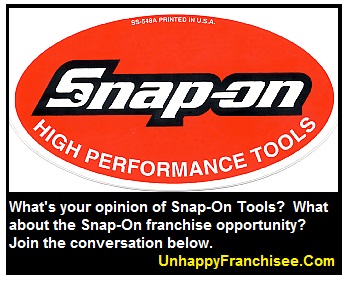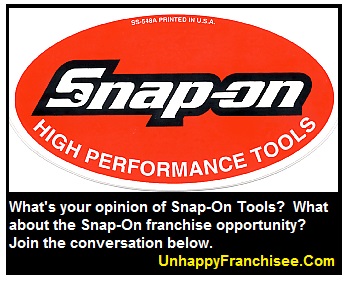 "Snap on only will give you 200 potential customers that you can sell tools too. That means you can't sell to anyone outside those list of people. Even if someone walks in your truck cash in hand to buy something. Snap On can also take away any customers at the discretion that is over 200. If you don't believe me read the Snap on FDD Document. So how is it a business opportunity if you can't grow? There is an answer to that question.
"Snap On does allow you to get 2nd route if your looking to grow. It is at there discretion if they will allow it but it can be an option. Here is the problem with that…
Snap On has to approve your employee that will drive your truck on 2nd route.
You have to meet the criteria which isn't as easy then when you first got started.
You will either have to buy a route from a dealer leaving which doesn't guarantee you a route because Snap On has the first right of refusal. Or you will have to wait till a route opens which then don't guarantee you anything because a new prospect coming in will get first choice. Reason for that is because Snap On makes more money on a new start up then adding a 2nd truck for an existing dealer.
If you figured out how to make money outside of the Snap On way then they definitely don't want you to grow. Snap On only wants people that will struggle most of there career because it gives the company more power over you. If they allow you to grew so you can make the kind of money any REAL independent person expects to make then that would give you too much power.
"So buyer beware. When you join Snap On you are just a glorified employee. You can even read why SBA won't guarantee Snap On Franchise loans. If you are thinking the Snap On Tool business invest your money in a business that can earn you more then $35k a year. That is all you will make driving a Snap On truck if you make it. Don't forget Snap On has a over 40% failure rate."
Read More: Mobile Tool Franchise Guide
SNAP-ON TOOLS Franchise Complaints
SNAP-ON FRANCHISE Pros & Cons of Being a Snap-on Dealer
Forbes' Praise of the Snap-On Franchise Draws Fire, Disbelief
ARE YOU AN SNAP-ON TOOLS FRANCHISE OWNER OR SNAP ON DEALER?  ARE YOU FAMILIAR WITH THE SNAP-ON FRANCHISE OPPORTUNITY?  PLEASE SHARE A COMMENT BELOW.