LearningRX Complaints: Falsified Test Results
LearningRX Complaints:  Falsified Test Results. 
(UnhappyFranchisee.com) According to the LearningRx franchise website: "LearningRx is one of the top educational and child franchises in the nation. We change lives every day through the incredible power of brain training! Our programs are designed to target weak cognitive skills and help anyone from age 4 to 94 to achieve guaranteed results."
LearningRx franchise centers promise guaranteed results for children and adults with ADD, ADHD, autism, dyslexia, reading problems, learning disabilities and other challenges.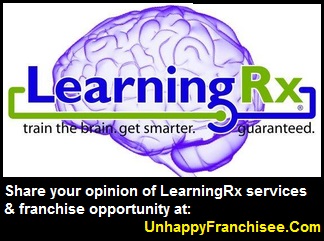 LearningRX programs are pricey, often costing $5000 – $15,000.  However, part of the LearningRX sales pitch is that they guarantee results – or your money back.   However, some former LearningRX employees have claimed that their LearningRX franchise either put undue pressure (and financial incentives) on testers to do whatever it takes produce positive test results – and thereby avoid a refund.
Others claimed they were blatantly instructed to falsify test scores to exaggerate the effect of their program.
Are you familiar with the LearningRX franchise? Please share a comment below.
Does LearningRX Falsify Test Results?
Some allege that some LearningRX franchise locations intentionally falsify test results to show bogus improvement – and avoid paying refunds.
thetruthbetold wrote:
I worked for learningRx in a management position and as a trainer… i witnessed test scores being changed to persuade parents to sign up or continue after completion… It is grossly overcharged without a flat rate so each family pays what the owners can get out of them! …its not the program itself that's a problem it is the fact that now franchisees can open up shop, claim to be pseudo-medical and exploit children with disabilities by taking advantage of their desperate families…
ErinM wrote:
I worked for them for many years, and they are EXTREMELY corrupt. The trainers are all great people who do exactly as they are told, and help motivate the students. However, they will scam you out of your money and falsify test results. I felt guilty being a part of it after a while.
Lauren P. wrote:
I worked with a LearningRx franchise for 2 years before taking on the role as a test examiner. Shortly after taking on the role, the director pulled me aside and complained about the lack of growth in the final testings I had administered. He said it was very important to remember that our success as a center relies on results found in the final tests and that basically my paycheck relied on seeing growth in the final tests. I'm not stupid and I know what he was asking me to do…  I refused to alter final testing scores and was fired from the role. The excuse was that I was not administering the test correctly. I was heartbroken. All of the results I thought my own students were achieving were false. The director was willing to trick parents and manipulate a credible test like the WJIII to make money. It seems most, if not all of these franchises carry this attitude about testing and it's all about the buck with the directors. I would advise buyer beware.
first-hand-experience wrote:
I also was in management with LearningRx. Let me start by saying, I worked at two different locations (each with different owners). I started as a receptionist and tester and worked my way up to Assistant Director. The first center I worked at was everything negative you've heard so far. Everything from falsifying test scores to trying to make her employees claim they were independent contractors…
Are LearningRX Test Results Intentionally Skewed?
Others allege that the type and frequency of testing used by LearningRX skews results to indicate progress that doesn't exist.
One commenter states that progress demonstrated is a result of LearningRX "teaching for the test." 
Alan Balter writes:
…The training is specific to the woodcock johnson III, so if I pretest you and you score badly, then train you specifically to the test, then you show growth ( i would hope), did you really grow? It would be like giving you all the answers to the SAT or intelligene quota and then saying you're brilliant or belong in MENSA when you do well. bottom line they're not accurately measuring the programs true effectiveness by not accounting for threats to internal and external validity.
Allison Edge agrees:
As a trainer and tester at Learningrx, I'd like to say that you should be careful when going there. Standardized assessments like the initial and supplemental tests are not meant to be given more than once a year. LearningRx gives them every 4-6 months. This allows the student to get a higher than average score on the test…
Is The LearningRX Guarantee Deceptive?
sydneysjrstate wrote:
Keep in mind the tests they use to measure grade improvement don't necessarily correspond to what children are doing in school, and if your child shows two grade level improvements on THEIR TESTS, they get to keep YOUR MONEY!
Lisa wrote:
If you are not familiar with the system, the entrance test and exit test is identical. LearningRX bases success on whether or not the person being trained moves beyond what they are initially able to complete on the test. For instance, if he/she is able to do 3 out of 8 steps on the test when he/she first takes the test, but completes 5 out of 8 when they complete all training, LearningRX has succeeded in helping the person. So, on paper and according to their guarantee, their program has worked. However, there was absolutely NO improvement in any of the areas that had been discussed during the initial visit! In fact, some grades were even worse while taking the training – this was explained away as "normal" at the half-way review point.
Barbara Crewell wrote:
My daughter went through this program at the beginning of this year… now that she is in 8th grade everything has just gone downhill. She has worse grades than ever and has dozens of missing assignments. So I feel like I threw away 7,000 dollars on the product that has no true guarantee. Your guarantee is if she doesn't improve they will give you an extra month free. That doesn't sound like a guarantee at all. Maybe if it doesn't work they refund your damn money, how bout that?
What do you think? 
Do LearningRX franchise owners falsify test results?
Is the LearningRX system skewed to indicate imaginary progress?
Are LearningRX trainers and testers under pressure to return positive results, even if it requires questionable tactics?
ARE YOU FAMILIAR WITH LEARNING RX AND THE LEARNING RX FRANCHISE OPPORTUNITY?  PLEASE SHARE A COMMENT BELOW.