Forbes' Praise of the Snap-On Franchise Draws Fire, Disbelief
When Jim Lager saw that Forbes had named Snap-On Tools #1 on its Top 20 Franchises for the Buck list, he was shocked… then angry.
"Snap-On?  The top franchise opportunity?  You have GOT to be KIDDING me!" Lager exclaimed.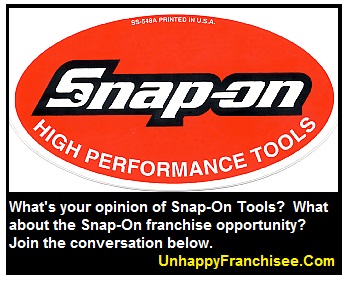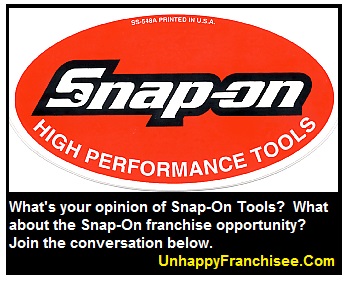 Jim Lager is one of the top 10 Snap-On Tools franchisees in the world.
Despite his financial success, Jim Lager is deeply critical of the Snap-on Tools franchise program and organization.
"Forbes made a serious mistake endorsing this deeply flawed franchise,"  says Lager.
"Unfortunately, Snap-on will use this undeserved ranking to recruit unsuspecting franchisees who will not fully understand what they're getting into.  For some, it will be the worst mistake they ever make."
So how did one of the world's most respected business publications get it so wrong?

In compiling the rankings, the writer made some of the mistakes that lead franchisees into making the wrong decisions.
Forbes Mistake #1:  Average initial investment
One of the deadliest mistakes prospective franchisees make is underestimating the investment required.  Without enough working capital, says Lager, a Snap-on Tools franchisee will surely fail due to the high cost of inventory and Snap-on financing.
The Forbes article states that the average initial investment for the Snap-on Tools franchise is $135,390.
"No way," says Jim Lager, who owns 5 Snap-on Tools franchises.  "The truck alone is $91,000.  By the time you purchase inventory and incur other expenses, your investment will easily be $250,000."
Snap-on Tools' own disclosure document confirms Lager's contention.  The Snap-on Tools Franchise Disclosure Document (FDD) states "The total investment necessary to begin operation of a Snap-on Standard Franchise will range from $150,614 to $289,080."
The Forbes Snap-on Tools ranking is based, in part, on an incorrect and misleading investment amount.
Forbes Mistake #2:  Claim of "0 closures" in past three years
Franchisors are masters of cloaking their franchise failures in terms like "transfers" or "franchisees having left the system."
Often, one must read between the lines to see how many franchisees exit the system without their investments, good credit scores or peace of mind.
The #1 Forbes ranking is based on the notion that Snap-on Tools has had no franchise "closures" in the past 3 years… and the assumption that not a single franchisee has failed.
Lager says that's just not true.
"Unlike stores or restaurants, mobile tool routes don't 'close' when they fail," Lager points out.  "When Snap-on franchisees lose their investments and leave the system, the franchisor repackages the route and resells it to someone else.  It might not be a 'closure,' but it's certainly a failure."
So how many Snap-on franchisees leave or are "terminated" from the Snap-on franchise system?  According to these these reports, (compiled from information gleaned from Snap-on FDDs by research firm Frandata), quite a few:
Snap-on Franchisees who "Terminated" in 2009 (pdf)*
Snap-on Franchisees who "Terminated" in 2010 (pdf)*
In fact, the 3-year total of franchises "reacquired by franchisor" is 835 for the standard franchise and 225 for the "Gateway franchise.
*Note the disclaimer on these lists of "terminated" franchisees:  In some instances franchisees who have left the Snap-on System have signed agreements with provisions restricting their ability to speak openly about their experience with Snap-on.  You may wish to speak with these former franchisees, but be aware that not all franchisees will be able to communicate with you.
Forbes Mistake #3: Not considering Snap-on's dominance over its franchisees
One of Lager's main complaints with the Snap-on franchise is the franchisor's dictatorial control its Snap-on franchisees.  While his industry experience and high sales volume has given him a bit more control, Snap-on controls almost every aspect of the average franchisee's business, including which customers he can call on, which vendors he can buy from and if and when he can sell his business.
As we stated in an earlier post (SNAP-ON TOOLS Why SBA Won't Guarantee Snap-On Franchise Loans), the Snap-on franchisor maintains such dominance that its franchisees are not eligible for the Small Business Administration's (SBA) loan guarantee program.  The SBA has determined that the Snap-on franchise agreements "impose unacceptable control provisions on a franchisee or potential franchisee."
When it named Snap-on Tools #1, Forbes obviously didn't take into account that Snap-on Tools has such control over every aspect of the franchisee's business, the SBA doesn't even consider Snap-on franchisees business owners.
Forbes Mistake #4: Ignoring franchisee lawsuits
Jerry Marks, of the NJ-based law firm Marks & Klein, is a franchise attorney who has represented many disgruntled Snap-on Tools franchisees.
According to Marks, one of the first places to look when assessing a franchise opportunity is the list of franchise lawsuits disclosed in the franchisor's FDD.
After all, does a favorable ratio of training hours to startup costs really matter if the franchisees are lighting torches and storming the castle?
The 2011 FDD lists nearly 40 lawsuits against Snap-on Tools by its franchisees in the last ten years, including a class action lawsuit that was brought by the Marks & Klein firm and was settled in 2006.  Marks & Klein and the franchisees prevailed, and that class action suit cost Snap-on Tools a total of $125 million dollars including $38 million in settlement fees, attorney fees and other costs.
According to the Snap-on FDD "This complaint set forth various alleged deceptive practices, sought to represent a class for current and former franchisees and independent dealers, sought injunctive relief, and contained counts for alleged violation of RICO, state statutes prohibiting deceptive trade practices, deceptive franchise practices and consumer fraud, common law fraud, breach of contract, breach of fiduciary duty and breach of implied covenant of good faith and fair dealing."
Out of 4000 or so franchise opportunities available today, does this, seriously, sound like the #1 "Franchise for the Buck" ?
Forbes' Biggest mistake:  Not consulting franchisees (or UnhappyFranchisee.com)
Every guide to buying a franchise stresses the importance of speaking to current and former franchisees.  This step is so critical in franchise due diligence, the Federal Trade Commission requires franchisors to list the franchisee names and contact information in their FDDs.  Yet the franchise rankings and "top ten" from business publications rarely, if ever, bother to even consult the franchisees of the systems they are praising and endorsing.
Unfortunately, the Forbes "Top 20 Franchises for the Buck" list is certainly no exception.
We highly doubt that any writer or editor who takes the time to read our Mobile Tool Franchise Guide & Index, and the thousands of franchisee comments, will rank Snap-on Tools or any other tool truck franchise, as #1 on any franchise list.
Except, perhaps, the "Top 20 Franchises to Avoid."
SHOULD FORBES REVISE ITS "TOP FRANCHISES" LIST? WHAT DO YOU THINK?