When Bad Things Happen to Good Franchises

When Bad Things Happen to Good Franchises

Franchises fail.
Even good franchises fail.
Even good franchises with quality products, supportive franchisors & diligent franchisees fail.
Not all, not most, but a good many fail.
That's because opening a franchise, like opening a non-franchise, is a business venture.  Franchise businesses are subject to the same threats of competition, market saturation and recession as other businesses.
A particular franchise may provide advantages that help (name recognition, established system, support), but it will also have burdens that can hurt or even sink a business venture (franchise fees, royalties, lack of flexibility).
In some cases, the fees and restrictions imposed by a franchisor could be the difference between profitability and failure.
The significance of this revelation for the franchise seeker, in my humble opinion, is two-fold.
First, if franchising is the right choice for you, you must find a franchise where the benefits (concept, support, etc.) far offset the burdens and costs (royalties, restrictions, etc.). Second, you need to consider the ramifications if you do everything right and still fail. Will you be financially devastated? Personally devastated? Will your marriage survive? Will family members who invested still speak to you? These are things you need to consider upfront.  They are also things that many franchise sales professionals will try to keep you from considering. In subtle ways, they will tell you:  Thinking negative thoughts is planning for failure.  Think and talk about failure and you'll drive away the Success Fairy. The Franchise Lie Many franchise marketers and sellers will try to convince you that franchises are the magical, risk-defying superheroes of business start-ups. They will cite imaginary statistics they claim are from the Department of Commerce or SBA that prove that independent businesses are doomed from Day One, while franchises hardly ever fail.  (Read Lies, Damn Lies & Franchise Statistics for more on these claims and who uses them) The few franchises that do fail, they'll tell you, were owned by bad franchisees who "didn't follow the system."  They had negative attitudes.  They backed over the Success Fairy with their SUVs. These skilled sales pros claim that franchises, all franchises, are immune to the business failure virus. They lie.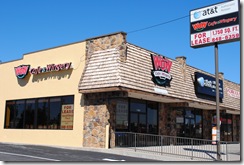 Here's the Truth:  Even Good Franchises Can Fail. The truth is, there are good franchises, bad franchises, and grab-your-checkbook-and-run-like-hell franchises. And not even good franchises, run by good franchisees, are immune to the pressures of competition and the economy. I was reminded of this when I passed a closed WOW Cafe & Wingery franchise in York, PA last week. It was a nice looking restaurant on the extremely high-traffic Route 30, not far from the Harley Davidson Plant (a fine group of wing-eaters there, to be sure). I had been to a WOW Cafe before and it was decent.  Wondering why the York location failed, I checked Yelp to see if the food or service was lacking.  Every review had been positive. Back on 7/20/2007 Mark A. wrote:
What can I say, this place is a guy's dream. Good food, good drinks, and get this…..TV at the table! Well, TV at four of the tables. Those poor souls unlucky enough to get their own can watch one of the other screens hanging in the corners of the ceiling. Seriously, WOW Wingery has plump, juicy wings with lots of  great sauces including Jamaican, Buffalo, Sweet and Sour and many others. . I've also had the catfish and the red beans and rice, both excellent. The service is excellent and if you're lucky you'll get to sample some of the other items on the menu. Someone brought by samples of the baked beans while I was there and they were delicious. By the way, did I mention they have TV at the table?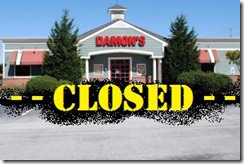 Back on 3/8/2008 Phillip G. wrote:
Though this is part of a larger chain, it is a franchise and the owner has been present every time we've ordered. Great quality, fresh chicken. The tenders/tossers/wings are superb, actually everything i've ordered has been great. The only thing I will say is some of the young people who operate the phones/registers are high school students and may be a bit disinterested at times.
Then, on 3/13/2009 Juli R. wrote:
Tried to go to the WOW Cafe and Wingery today and found it closed.  Like out-of-business-closed.
Nearby, Damon's Grill & Lone Star Steakhouse Franchises are Also Shuttered Just around the corner from the closed York, PA WOW Cafe & Wingery franchise sits the closed Damon's Grill franchise.  I've been a customer of that Damon's in the past and the food was always good and the service excellent.  The franchise is owned by one of the top multi-unit franchise owners in the system.  Her nearby Lancaster Damon's has been the highest grossing restaurants in the system.  And still the York location failed.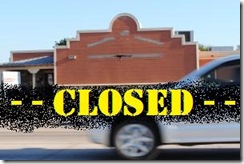 Across the street from the closed WOW Cafe & Wingery franchise is a Lone Star Steakhouse franchise, closed since 2008.  It looks like a tourist attraction in an old west ghost town. Within blocks of one another, Hooter's, Applebees, Smokey Bones, Logan's Roadhouse, T.G.I. Friday's and a bunch of other casual dining franchises are still duking it out. A new 5 Guys Burgers & Fries added to the competition in a corridor already filled with McDonald's, Wendy's, Hardees, Taco Bell, KFC, Subway, Dunkin Donuts and the rest of the fast food gang. Last year York, PA just barely kept the Harley Davidson plant from moving out of state.  When that inevitably happens, there will be even more pressure on the struggling franchises that geared up for an industrial market that's been hanging on by a thread. Their closures will push The Franchise Lie of a 90% success rate even further into Fantasyland.
Sometimes Bad Things Happen to Good Franchisees.
On UnhappyFranchisee.com, we've written a lot about the downfalls of poor concepts, unresponsive franchise companies, and outright franchise scams.
We believe that it's in everyone's best interest for franchisees to embark on their business ventures with eyes wide open.
Part of that is realizing that, sometimes, bad things happen to good franchises and to good franchisees.
If you can't handle the truth that you can do everything right and still fail, then business ownership, franchised or not, is something you should strongly reconsider.
WHAT DO YOU THINK?  SHARE A COMMENT BELOW.
Email the author or site admin at:  UnhappyFranchisee[at]gmail.com