AAFD & CUPPY'S COFFEE: Best Friend's Forever… or MORE?!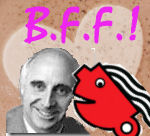 Just like Hurricane Katrina, Cuppy's Coffee gained momentum along the Gulf Coast and moved inland, leaving a path of personal loss and financial devastation in its path. Yet when franchisees are in crisis, there is no Red Cross or National Guard to come to their aid. In fact, the only active group that claims to be fair franchising advocates on behalf of franchisees is the AAFD, a group that makes FEMA look like a model of efficiency and effectiveness.


The AAFD's indifference to the franchisee victims of Cuppy's Coffee is palpable and disgraceful. Cuppy's Coffee is easily one of the 10 worst franchisee disasters of recent years, affecting not only the dozens of franchisees owed hundreds of thousands of dollars in unreturned deposits, not only the dozens more who have been waiting interminably long times for their franchises to open, but the dozens who must continue to depend on a financially struggling franchisor and a worsening brand reputation.
How does the AAFD advocate on behalf of Cuppy's Coffee franchisees? By giving Cuppy's Coffee a fair franchising award. By making their representatives guests of honor at its golf convention. By featuring Cuppy's Coffee President Doug Hibbing up on stage in song & dance numbers, and having him hand out Fair Franchising awards. And by praising them in the press:
Blue MauMau recently asked Robert Purvin: "What five companies stand-out in having the best, most friendly franchise agreements for franchise owner-operators?"
Purvin: It is easy to rank the agreements that I have reviewed and graded as conforming to the AAFD Standards. Starting from the top as the 'most fair':

1. Cuppy's Coffee and More
When Fransynergy purchased Cuppy's Coffee, along with parent Medina Enterprises, and affiliates Java Jo'z and Elite Manufacturing, Dale Nabors publicly promised to quickly address the issue of unreturned deposits and repay those who were owed tens of thousands of dollars. Months later, Dale Nabors has not only refused to address the issue, he does not take nor return calls from those who have involuntarily contributed $30,000, $40,000, even $50,000 to fund his company.
Both the AAFD and Cuppy's Coffee expects their franchisee depositers to just go away quietly and let them continue with their fun and games without distraction. Hmmm… wonder if they will?
WHAT DO YOU THINK? SHOULD CUPPY'S COFFEE & JAVA JO'Z FRANCHISEE "DEPOSITERS" JUST TAKE THEIR LOSSES AND LET CUPPY'S COFFEE KEEP THE HUNDREDS OF THOUSANDS OF DOLLARS THEY'RE OWED? WILL THEY?