DUNKIN' RUNS ON DISCRIMINATION, Lawsuit Alleges
Dunkin' Donuts last female African American franchise owner is suing the coffee and donut franchisor, alleging discriminatory franchise practices against women of color.
(UnhappyFranchisee.Com)  According to a newly filed lawsuit, of the more than 7161 Dunkin' franchises, only one is owned by an African American woman.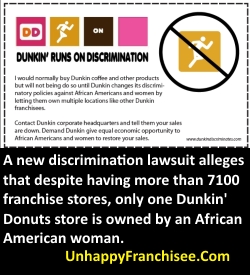 And the single female African American owner, Nance Pretto Simmons, claims that Dunkin Donuts is intentionally stifling her growth and not honoring her 3-store development agreement by automatically disapproving any site she submits for her second store.
The Complaint NANCE PRETTO SIMMONS vs. DUNKIN' DONUTS FRANCHISED RESTAURANTS, LLC,  and BASKIN-ROBBINS FRANCHISED SHOPS, LLC was filed 9/25/17 in The United States District Court for the District of Maryland (Southern Division).
Ms. Pretto Simmons is represented by Corlie McCormick Jr. of the McCormick Law Firm, Annapolis, Maryland and Gerald A. Marks of Red Bank, NJ-based Marks & Klein, LLC.
Dunkin' Donuts Allegedly Rejected 32 Prospective Sites Submitted by Their Last Female African American Owner
The lawsuit alleges that the Dunkin' Donuts chain had up to five African American women as franchise owners, but all but Ms. Pretto Simmons have left the system.
According to the complaint, Pretto Simmons entered into a three-store development agreement with Dunkin' in 2004, and opened her only store in 2006.
Despite the fact that Pretto Simmon's store has been well-received by the community and deemed to have "met or exceeded brand standards," Dunkin' Donuts has allegedly blocked her further growth.
The lawsuit states:
After opening the initial location, Nance from 2006 to 2015 sought to open other store locations, all without success as Dunkin' improperly rejected every site she suggested and/or

failed to provide her with any assistance to locate suitable sites.

Nance expended significant time and resources to find a second location from 2006 to 2015 but she was falsely told that the thirty-two (32) sites she located and submitted to Dunkin' were "unsuitable" for various unfounded/bogus and discriminatory reasons.
Dunkin' Donuts Franchise Economics Necessitate Multi-Unit Ownership, According to Complaint
The lawsuit states:
The economics of owning Dunkin' franchises is to have at least three locations so that overhead costs can be absorbed by the multiple locations and yield a profit to the franchise

owners. To impede the ability of a franchisee to reach the minimum three location number is, upon information and belief, relegating the franchisee to, at most, barely profitable conditions

which is the reason most male Caucasian and Asian franchisees own more than three locations.
The complaint alleges that discrimination is the sole reason that Dunkin' Donuts refused to grant the site approval necessary for Ms. Pretto Simmons to reach her potential as a multi-unit franchise owner.
The lawsuit alleges that Dunkin' Donuts has violated Ms. Pretto Simmon's civil rights and that of other African American women, and seeks the following relief and damages:
a. Declaring and Adjudging that Defendants have violated 42 U.S.C. § 1982 and 42 U.S.C. §1981

b. Enjoining Defendants from continuing its discriminatory policies against African American women (and men), both existing and prospective franchisees and requiring Defendants to immediately implement a program of minority incentives to encourage investment by African American women and other minority franchisees

c. Requiring Defendants to implement a "Remedial Damages" program or programs to foster and assist African American female franchise ownership in economically advantageous areas, which would be monitored for compliance and efficiency by an appropriate Human Rights agency or company designated by the Court, the cost of which will be borne exclusively by Defendants.

d. Compensatory Damages;

e. Damages for emotional pain and suffering in accordance with 42 U.S.C. § 1982 and 42 U.S.C. §1981;

f. Consequential Damages;

g. Punitive Damages;

h. Attorney's fees and Costs; and

i. Any other relief this Court deems equitable and just
Read the entire complaint here:
Also Read:
 BASKIN-ROBBINS Franchise Complaints
DUNKIN' DONUTS Accused of Franchise Discrimination Against African Americans
DUNKIN' DONUTS: SCLC Accuses Dunkin' Donuts of Racial Discrimination Against Franchisees
ARE YOU A DUNKIN' DONUTS FRANCHISE OWNER OR FRANCHISEE?
ARE YOU FAMILIAR WITH THE DUNKIN' DONUTS FRANCHISE OPPORTUNITY?
PLEASE SHARE A COMMENT OR OPINION BELOW OR EMAIL IN CONFIDENCE TO UNHAPPYFRANCHISEE[AT]GMAIL.COM Contact UnhappyFranchisee.com
Company rebuttals welcome.
Tags: Dunkin' Donuts, Dunkin' Donuts franchise, Dunkin' Donuts franchise lawsuit, Dunkin' Donuts discrimination, Dunkin' Donuts complaints, Dunkin' Donuts litigation, Nance Pretto, Nance Pretto Simmons, Baskin Robbins franchise, Baskin Robbins lawsuit, Baskin Robbins franchise complaints, Baskin Robbins discrimination, attorney Corlie McCormick Jr., McCormick Law Firm, Jerry Marks, Marks & Klein, franchise lawsuits, discrimination lawsuits