DICKEYLEAKS Dickey's Barbecue Pit Confidential Material Available Online
Unhappy Franchisee's DickeyLeaks reports that supposedly confidential Dickey's Barbecue Pit Operations Manuals and the Dickey's Catering Notebook have been posted online and are currently available for public perusal and download.  Incredibly, the source of the leak made no attempt to hide their identity.  Guess who posted it online?
(UnhappyFranchisee.Com)  No doubt, this post will, at least briefly, fire up the upper management and the legal department of Dickey's Barbecue Restaurants, Inc. (DBRI).
However, it appears that the online posting of materials marked "Confidential and Proprietary to a publicly viewable web page was performed DBRI itself, at a time when now-CEO Laura Rea Dickey was Chief Information Officer.
The documents have been publicly viewable on a public archive site since their posting in 2011-12, and are still downloadable as of this posting.
Dickey's Documents: Confidential.  Proprietary. & Publicly Available.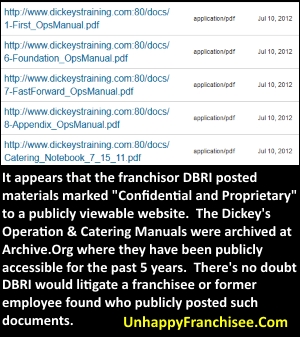 The Dickey's documents below are currently available on the web archive site WayBack Machine which takes snapshots of literally millions of web pages and stores them for public viewing.
To appear on the Wayback Machine, the documents would have had to be posted on a publicly viewable site with no password protection and the Dickey's IT Department (and CIO Laura Rea Dickey) would have had to not taken the simple measures necessary to block archiving.
Dickey's First Operations Manual viewable at:
https://web.archive.org/web/20120710042545/http://www.dickeystraining.com:80/docs/1-First_OpsManual.pdf
Dickey's Foundation Operations Manual viewable at:
https://web.archive.org/web/20120710042553/http://www.dickeystraining.com:80/docs/6-Foundation_OpsManual.pdf
Dickey's Fast Forward Operations Manual viewable at:
https://web.archive.org/web/20120710042558/http://www.dickeystraining.com:80/docs/7-FastForward_OpsManual.pdf
Dickey's Operation Manual Appendix viewable at:
https://web.archive.org/web/*/http://www.dickeystraining.com:80/docs/8-Appendix_OpsManual.pdf
Dickey's Catering Notebook viewable at:
https://web.archive.org/web/20120710043800/http://www.dickeystraining.com:80/docs/Catering_Notebook_7_15_11.pdf
Can DBRI Sue Itself for Dickey-Leaking Confidential, Proprietary Information?
We would be interested to know whether DBRI's own careless and/or inept handling of its confidential documents might effect its litigation of others for violating confidentiality agreements?
In addition to legal consequences, the presence of confidential documents posted to a public website and left in public view for 5 years seems to discredit DBRI's claim of technological sophistication.
The franchisor of Dickey's Barbecue Pit restaurant chain (DBRI) tries to portray itself as a technologically sophisticated and advanced company.
Press releases and planted stories claim that the former CEO's wife, Laura Rea Dickey, "… served as the Chief Information Officer for eight years, and made the transition to CEO after excelling in her previous role. Dickey has worked in the marketing and information technology field for over 15 years, and has led the marketing, IT and training departments at Dickey's Barbecue Restaurants, Inc. during her time there.
"In her time as CIO of Dickey's Barbecue Restaurants, Inc… [Laura] Dickey… has made Dickey's a technology leader in restaurant industry."
Both Dickey's franchise owners and DBRI employees have challenged the claim that DBRI is technologically sophisticated and that Laura Rea Dickey possesses even trace amounts of tech-savvy.
On Another Note:  Fortman Law Still Providing Free Consultations for Burned Franchisees
If you are a current or former Dickey's employee whose rights have been violated, Fortman Law may be able to help… or recommend someone who can.
Or if you have information about DBRI's business practices that could be useful to those being sued by and/or suing Dickey's, please feel free to call Kelly Spann at Fortman Law in confidence.
You may also contact the publisher of UnhappyFranchisee.com at UnhappyFranchisee[at]gmail.com or by calling (717) 371-1911 to share information or opinions that may be of interest to our readers and prospective franchise owners.
Confidentiality of our sources is our highest priority.
Also read:
Dickey's Barbecue Pit Franchise Posts (ALL)
DICKEY'S BARBECUE PIT Closed Location List
DICKEY'S Franchise Owners: Tell DBRI Your Biggest Concerns, Anonymously
DICKEY'S Franchise Owners Share Frustrations & Fears
DICKEY'S BARBECUE PIT Franchise Complaints
WHAT DO YOU THINK?  PLEASE SHARE COMMENTS, QUESTIONS AND OBSERVATIONS BELOW.  ANONYMOUS COMMENTING IS ALLOWED.
PLEASE SHARE A COMMENT OR OPINION IN A  COMMENT BELOW OR EMAIL IN CONFIDENCE TO UNHAPPYFRANCHISEE[AT]GMAIL.COM Contact UnhappyFranchisee.com
Dickey's franchise lawsuits, Dickeyleaks, Dickey's Barbecue Pit lawsuit, Dickey's class action lawsuit, franchise law, franchisee attorney, franchise law firm, Jon Fortman, Fortman Law, Kelly Spann, Roland Dickey Jr, Roland Dickey Sr, Dickey's Barbecue Pit, Dickey's Barbecue Pit franchise, Dickey's franchise, DBRI, Dickey's Barbecue Pit Restaurants Inc., Dickey's franchise complaints, Unhappy Franchisee