Dickey's Terminates Shreveport Multi-Unit Brand Champions for Damaging Brand
Dickey's Barbecue Restaurants, Inc. (DBRI), franchisor of the Dickey's Barbecue Pit chain, has reportedly issued a termination letter to a three-store franchise owner in Louisiana.  The termination comes just months after CEO Roland Dickey, Jr. gave the celebrated couple the Dickey's Barbecue Brand Champions award and Roland Dickey, Sr. used their location to hawk his cookbook.
(UnhappyFranchisee.Com) Just months after being heralded as "Brand Champions" and valued members of the Dickey's franchise family, a Louisiana couple has reportedly received a termination notice demanding they immediately cease operation of their Bossier City, LA franchise.
Six months after being praised inspirational operators and the standard bearers of the Dickey's brand, the Shreveport franchisees have had all three of their locations designated by DBRI to be out-of-compliance and in default.
Dickey's Quality & Compliance Specialist Aaron Lucht, who is brand new to Dickey's and recently attended Barbecue U training,  claims to have found "brand-damaging violations" at all three locations.
What would explain a multi-unit franchise owner being heralded as champion of the brand and, just months later, being ousted as a defiler of the same brand?
One possible explanation could be that the franchise owners suffer from a rare personality disorder that causes them to alternate, every three years, from being respectful, rule-following brand builders to being offensive, rude, and profane brand-abusers.
Another explanation might possibly be that the Dickey's franchisor DBRI has targeted their stores for a process called "churning."
"Churning" is the process that DBRI allegedly uses (according to numerous franchisees we've communicated with) to commandeer unprofitable stores from owners before they close so that they may turn them over to new owners with resources that have not yet been drained.
In May, 2017 the  Shreveport Franchisees Were Named Dickey's Brand Champions
On May 17, 2017, CEO Roland Dickey Jr. bestowed its Brand Champion award upon the couple who own 3 Dickey's franchises in the Shreveport, LA area.
According to a Dickey's press release:  ""Roland was insistent from the beginning that we implement the best and most comprehensive support system for our franchisees, and ensure they felt part of our family. Matthew and Catherine have really reciprocated that family feeling, and have given back more than we could ever have expected, which is why Roland is so pleased to recognize them as Dickey's Barbecue brand champions."
The Shreveport franchisees have been frequently featured in Dickey's PR releases.
An August, 2014 press release featured the couple, their two children and the opening of their second location.
A June 9, 2016 release stated "There's no stopping college sweethearts and Owner/Operators Matthew and Catherine…" and celebrated Catherine's community involvement and local marketing as having made their restaurants "the talk of the town."
In February, 2017, Mrs. Roland (Laura Rea) Dickey congratulated the couple on opening their 3rd location in the Shreveport area.
Three months later, Laura's husband Roland J. Dickey, Jr. (RDJ) named the couple Dickey's Barbecue Brand Champions.
Then, in August, 2017, RDJ's daddy Roland Dickey, Sr. appeared with the local brand champion on the local ABC affiliate and hawked his book at Catherine's franchise location.
Another three months later, Roland Dickey, Jr.'s legal department reportedly presented the couple with a different decree:  termination of their Franchise Agreement.
According to an anonymous inside source, Dickey's legal department issued the letter November 8, 2017 and Fedexed it to the Bossier City, LA store location.
The letter was titled "Letter of Termination" and referenced the Franchise Agreement dated June 14, 2013.  It stated:
Due to the fact that you failed to cure your default under Article 16.3.2 of your Franchise Agreement, Dickey's is terminating your Franchise Agreement effective immediately.  This means you must immediately cease operating the Restaurant along with fulfilling other obligations stated herein.
From Dickey's Franchise Brand Champions to Brand Damagers in 3 Weeks?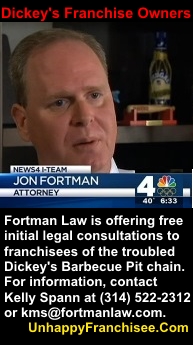 According to the alleged termination letter, the Shreveport franchise owners fell behind in their payments to the franchisor, DBRI.
Dickey's sent out their new Quality & Compliance Specialist Aaron Lucht to inspect the three Shreveport locations.
Lucht gave all three locations failing grades and documented "brand-damaging violations" at the each of the Brand Champions' locations.
Here's the timeline:
10/25/17  Dickey's advised Catherine she was in default of her Franchise Agreement for failure to pay royalties and fees.  They told her she had 7 days to pay up. (Source: Termination Letter)
10/26/17  Dickey's Quality & Compliance Specialist Aaron Lucht performed inspections at two (LA-0947, LA-0974) of the award-winnning franchisees' three locations.  He failed both locations and cited "brand-damaging violations."
10/26/17  The same day (according to the Dickey's termination letter),  Aaron Lucht attempted to perform a "Quality Assurance Compliance Audit (QAC)" at the Bossier City location (LA-0798), but was "offensively, rudely, and profanely, not given permission" by the franchise owner to do so.
11/1/17  Dickey's revisited the Bossier City location (LA-0798) and gave it a failing inspection grade and documented "brand-damaging violations."  The letter states that the Brand Champions were notified they were in default and had 7 days to "cure" their violations.
11/8/17  7 days being up, Dickey's legal issued the letter stating that the college sweethearts have been non-responsive and have failed to cure their defaults; therefore, they must immediately cease operation of their Bossier City Dickey's Barbecue Pit location.
We do not know if the Shreveport franchisees have also received termination letters for their other two locations (LA-0947, LA-0974), though it would appear that those franchises would also be in default.
Are Dickey's QAC Audits Objective & Consistently Applied?  Or Are They Tools for Seizing & Churning Franchises?

[pictured, left, is recently hired Aaron Lucht, who completed Dickey's Barbecue U just about a month prior to providing the inspection and documentation used to terminate a 3-year, 3-store, award-winning franchise owner]
Dickey's franchise owners have alleged that DBRI engages in a practice called "franchise churning."
They claim that the high royalties, marketing and other fees, plus mark-ups they are charged for food, delivery and supplies (along with misguided corporate demands and ineffective marketing) have many franchise owners losing money each month.
Franchisees have explained that rather than address the poor unit economics and reduce the exorbitant fees they demand, DBRI seeks to wrestle control of the franchise location from the tapped-out owner right before they would close.
DBRI allegedly uses the onerous Franchise Agreement and aggressive bullying tactics from the Legal and "Store Retention" departments to force the previous owner – who often ran a good, operationally compliant store – to go away quietly.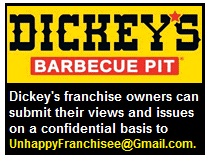 We've been told that DBRI Franchise Retention personnel approach franchisees new to the system with the opportunity to acquire an established location at a deep discount or even free.
DBRI may also sweeten the deal with incentives, such as a period of time with no royalties or no marketing fund fees.
The deeply discounted established locations, these franchisees have told us,  are described as potentially lucrative locations that were mismanaged by the previous owners.
We've been told that both the Legal Department and Retention personnel will say almost anything to move the unprofitable store to a new owner who can afford to keep it open – including that the location is free of legal or financial encumbrances when it is not.
Eventually, franchisees allege, the new franchise owner finds himself in the same position as the "negligent owner" he took over the store from… DBRI attempts to wrestle the store from him or her and start the process over.
It's a possibility that DBRI's termination of the Shreveport location(s) will give us the ability to observe the alleged "churning" process in real time.
This recurring scenario has resulted in an unprofitable location being kept open and passed through as many as 5-6 owners – with each losing money before passing it on to the next one.
Franchisees allege that DBRI keeps unprofitable stores open this as long as possible in order to continue collecting royalties and fees from marked-up products, and also to maintain the illusion that the chain is growing and successful.
If all the unprofitable stores closed, these franchisees contend, there wouldn't be many left.
What Do You Think?  Are the Shreveport Dickey's Going to be Churned to Other Owners?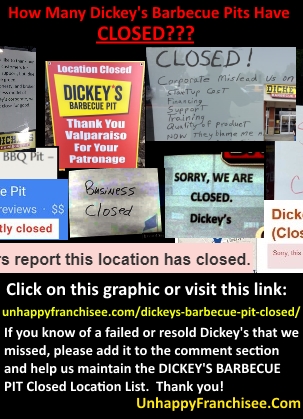 Are we seeing an element of the alleged "churning" process at work in Shreveport?
Is Dickey's using overly harsh QAC inspections – and documenting so-called "brand-damaging violations" – to force out a formerly rule-following franchisee who is running out of resources… and time?
Will Dickey's commandeer the franchise locations and offer them to new franchisees under the guise that they are viable locations that were not being run properly by the negligent former owners?
Will DBRI use supposed operational infractions as a means to transfer stores over to better capitalized owners, like the venture capitalists who recently committed to expanding their presence in Louisiana and Texas?
The Brand Champion Shreveport franchisees will likely not be able to share their opinions due to factors explained in yesterday's post (Is Dickey's Barbecue the Harvey Weinstein of Franchising?), so we hope that others familiar with this situation and Dickey's business practices will chime in.
Of course, DBRI and its employees and representatives and Dickey's family members are invited to provide opinions, clarifications and rebuttals.
You may also contact the publisher of UnhappyFranchisee.com at UnhappyFranchisee[at]gmail.com to share information or opinions that may be of interest to our readers and prospective franchise owners.
Confidentiality of our sources is our highest priority.
Also read:
Dickey's Barbecue Pit Franchise Posts (ALL)
DICKEY'S BARBECUE PIT Closed Location List
DICKEY'S Franchise Owners: Tell DBRI Your Biggest Concerns, Anonymously
DICKEY'S Franchise Owners Share Frustrations & Fears
DICKEY'S BARBECUE PIT Franchise Complaints
WHAT DO YOU THINK?  PLEASE SHARE COMMENTS, QUESTIONS AND OBSERVATIONS BELOW.  ANONYMOUS COMMENTING IS ALLOWED.
PLEASE SHARE A COMMENT OR OPINION IN A  COMMENT BELOW OR EMAIL IN CONFIDENCE TO UNHAPPYFRANCHISEE[AT]GMAIL.COM Contact UnhappyFranchisee.com
Dickey's Shreveport Louisiana, Dickey's Louisiana, Dickey's Barbecue Pit, Dickey's Barbecue Pit franchise, Dickey's franchise failures, Dickey's Barbecue Pit resales, Dickey's Barbecue Pit for sale, Dickey's Barbecue Pit lawsuit, Dickey's class action lawsuit, franchise churning, franchise scam, Aaron Lucht,  Dickey's sent out Quality & Compliance Specialist, Roland Dickey Jr, Roland Dickey Sr, Dickey's Barbecue Pit, Dickey's franchise agreement