DICKEY'S Franchise Graveyard
Dickey's Barbecue Pit franchise sellers do a masterful job hiding the massive store failures.  Instead of closing failed and unviable stores, the Dickey's "retention" team keeps passing them on to new owners.  And General Counsel Christine Johnson and her frat boy legal team work hard to bully former owners into keeping silent.  Yet angry and distraught owners often send warnings from the grave to warn the living about the true nature of the money pit that is the Dickey's Barbecue franchise.
(UnhappyFranchisee.Com)  Considering investing in a Dickey's Barbecue Pit franchise?
Former owners who stood right where your standing right now have a message for you:
ABANDON HOPE, ALL YE WHO ENTER HERE
Welcome to the Dickey's Barbecue Pit Franchise Graveyard!
The Dickey's Franchise Graveyard is a growing gallery of visual warnings to would-be franchise owners.
Be sure to review:  DICKEY'S BARBECUE PIT Closed Location List
Submit your pic for the Graveyard by posting a comment or link below, or emailing in confidence to UnhappyFranchisee[at]gmail.com
Dickey's BBQ Franchise: Where Dreams (& Finances) Go To Die.
​
Churn, Dickey's, Churn:  Why Close a Failed Location When You Can Resell It Over & Over?
Ever notice a sign that says "Dickey's Closed for Remodeling" or "Dickey's Closed for Maintenance.  Sorry for the Inconvenience!"?
There's a chance it really means "Our last owner ran out of money, like the previous two owners.  But don't worry, we've got a fresh owner with as-yet-unruined credit on the hook and he should be opening again soon."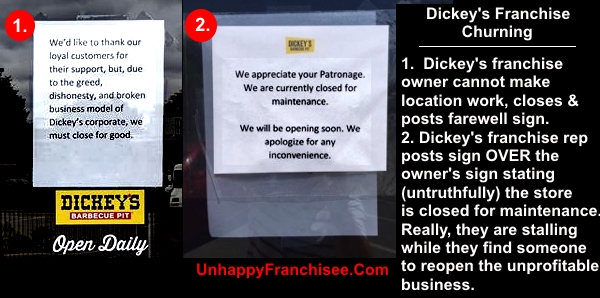 .
Dickey's Franchise Facebook Farewells (Coming Soon)
Also read:
DICKEY'S BARBECUE PIT Closed Location List
DICKEY'S Franchise Owners: Tell DBRI Your Biggest Concerns, Anonymously
DICKEY'S Franchise Owners Share Frustrations & Fears
DICKEY'S BARBECUE PIT Franchise Complaints
Dickey's Barbecue Restaurants Inc. Threatening to Sue U.S. Army Veteran
ARE YOU FAMILIAR WITH A DICKEY'S FRANCHISE THAT HAS CLOSED OR BEEN RESOLD TO MULTIPLE OWNERS?    PLEASE SHARE A COMMENT OR OPINION IN A  COMMENT BELOW OR EMAIL IN CONFIDENCE TO UNHAPPYFRANCHISEE[AT]GMAIL.COM Contact UnhappyFranchisee.com
Dickey's Barbecue Pit, Dickey's, Dickey's BBQ,  Dickey's closed, Dickey's Barbecue Closed, Dickey's franchise closings, Dickey's Franchisees, Dickey's Out Of Business, Dickey's Barbecue Pit Restaurants Inc., Dickey's franchise problems, Dickey's layoffs, Dickey's franchise turnover, Dickey's failure rate, Dickey's store closings, Dickey's franchise failure rate, Dickey's bankruptcy, Dickey's lawsuits,  Dickey's Barbecue Pit franchise, Dickey's franchise, Dickey's Barbecue Pit franchise complaints, Roland Dickey Jr, Christine Johnson, barbecue franchise, barbeque franchise, BBQ franchise