Ziva Branstetter & Hypocrisy at The Center for Investigative Reporting (CIR)
Ziva Branstetter has been named Senior Editor of Reveal from the Center for Investigative Reporting.  The celebrated Branstetter is also an elected board member and chairs committees for the non-profit group Investigative Reporters and Editors (IRE).  Evidently, the investigative reporting committee believes that high standards of professional ethics and transparency are for others to live up to, but don't apply to investigative reporters or editors.  by Sean Kelly
(UnhappyFranchisee.Com) When politicians place friends into positions of power and influence despite unaddressed past lapses of judgment and/or ethics, we expect investigative reporters to call them on it.
But who holds investigative reporters accountable when they do the same thing?
No one, evidentally.
Congratulations, Ziva Branstetter, on being named Senior Editor of Reveal from The Center for Investigative Reporting.
ZivaGate:  The Scandal That Rocked… No One.
Back in 2013, I sent a series of emails requesting that Tulsa World newspaper stop printing inaccurate and misleading business stories that glorified a local Tulsa businessman named David Rutkauskas and his company, Beautiful Brands, Inc. (BBI)
Rutkauskas and Beautiful Brands marketed and sold franchise opportunities under such brands as Camille's Sidewalk Café, Freshberry Yogurt,  Coney Beach and Rex's Chicken to (mostly) inexperienced would-be business owners.
BBI franchises required investments in the hundreds of thousands of dollars, and their franchisees often secured their financing by putting their homes up for collateral.
My research indicated that the overwhelming majority of Beautiful Brands' franchisees had failed, many of the current owners were failing, and Rutkauskas' related consulting program had a near 100% failure rate.
Yet Tulsa World continued to portray Rutkauskas as a local golden boy with the Midas touch.
They would print BBI's deceptive press releases without checking a single fact.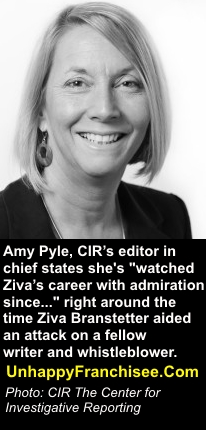 I urged Tulsa World to use their investigative resources to investigate and report the truth about David Rutkauskas and Beautiful Brands, and to report the true risk of his ventures to their readers.
Instead of investigating the company, Tulsa World and then-editor Ziva Branstetter investigated me… and supplied that research to the impulsive and vindictive David Rutkauskas.
Rutkauskas had already filed a frivolous lawsuit against me by that time, and had tweeted threatening messages such as "guns are legal."
Ziva Branstetter Compiled a Dossier for a Businessman's Personal Attack Campaign on a Fellow Journalist
Through a leaked email shared by a sympathetic insider, I learned that Branstetter, then editor in charge of Tulsa World's 5-person investigative team,  did an aggressive investigation of me and my family on behalf of David Rutkauskas.
Ziva Branstetter used Tulsa World's extensive resources, such as Lexus Nexis subscription databases, to compile a personal, family, and financial dossier on me.
She specifically searched for a criminal record or other impropriety that Rutkauskas could use against me.
Branstetter put her findings in an email that contained four attachments, two of which were labeled a "Comprehensive Report  Date: 05/07/13  Report processed by: TULSA WORLD / WORLD PUBLISHING CO." Some of the detailed information these reports contained included:
Personal financial information
My wife's name
Names & ages of my children
Details of my 2007 bankruptcy, including creditors
Estimated revenue & current assets
Private cell phone numbers
History of past residences, going back 30 years
Home address, valuation, loan information
My Social Security Number (partial)
Detailed information on extended family members & my past and current neighbors, including ages & phone numbers
Some of the information contained startlingly personal details, such as the names of my in-laws and their ages, and personal information about my neighbors.
Here is the complete text of the email Tulsa World editor Ziva Branstetter sent to BBI CEO David Rutkauskas. Note her disappointment at not being able to find any evidence of "criminal activity" to use against me:
Here are the reports I pulled on him. It may be hard stuff for you to interpret but if you look at it long enough you can pick out the pieces of info you are interested in. The first two should pull up web-based links to the reports I ran on him individually and his business. The third is a word document that I pasted some info into that I found on various sites and the pdf is the list of creditors from his 2006 Chapter 7 personal bankruptcy. (It has since been closed.) I didn't see any evidence of criminal activity and there was one lawsuit listed by Cannon copiers. Basically he doesn't have a lot of assets and doesn't appear to have any connection with franchising* so it makes no sense that he started this crusade. He's a self-employed father of four who lives in Pennsylvania. The business is supposedly marketing or consulting of some type but like I said, I see very little evidence that it's an active business.

Ziva Branstetter Enterprise Editor Tulsa World ziva.branstetter@tulsaworld.com 918.581.8306 (office) 918.520.0406 (cell) 918.581.8353 (fax)
* I have 25 years of professional experience in franchising as VP of an international consulting firm, marketing director of a successful franchise chain, founder of a franchise marketing company, and writer and columnist for several national business publications.  Several other details in her dossier and email were also inaccurate.
You would not expect one of your journalists to be using the resources of the newspaper to do private research for somebody else… That would be for the most part considered inappropriate.

–  Senior faculty member at The Poynter Institute for Media Studies, quoted by Urban Tulsa Weekly
Ziva Branstetter's Dossier Instantly Fueled Vicious Twitter Attacks
David Rutkauskas was known to be a very nasty and vindictive guy, and he lived up to his reputation.
Within hours of Ziva Branstetter's email to him, David Rutkauskas began posting the content of the reports in a barrage of insulting and disparaging tweets over several days to his (alleged) 500,000+ twitter followers. The tweets included my home address, pictures of my house, a reference to my kids, references to my 2007 bankruptcy, and other attempts to intimidate and embarrass me.
(Screenshots of Rutkauskas' colorful tweets are posted here, halfway down the page: ZivaGate: Tulsa World Editor Fueled Twitter Attacks on Blogger [UPDATED] )
When I made Ziva Branstetter's improper and unethical email public, Tulsa World's general counsel threatened to sue me for defamation, though neither he nor Branstetter ever disputed the authenticity of her email.
Tulsa World's general counsel Schaad Titus attempted to justify Branstetter's email with a preposterous explanation directly contradicted the wording of her message.
He ordered me to "cease and desist from any further communication or dissemination of this information about Ziva Branstetter."
I refused to bow to either BBI's or Tulsa World's attacks and threats, and David Rutkauskas eventually posted a public apology for his behavior, deleted his Twitter account, and dropped his lawsuit against me.
However, Ziva Branstetter has never apologized nor explained her actions.
In fact, she never once responded to my emails and she has refused to answer questions from other reporters who covered the story at the time.
Ziva Branstetter Named Senior Editor of Reveal for the Center for Investigative Reporting
In a profession that holds office holders and trusted professionals accountable for their actions, Ziva Branstetter has never had to answer for hers.
Shortly after Branstetter's unethical and potentially dangerous actions, I sent an open letter to numerous members, including board members, at the group Investigative Reporters and Editors (IRE).
(ZivaGate: An Open Letter to IRE (Investigative Reporters & Editors)
They proceeded to elect Ziva Branstetter to their board of directors and appoint her chairwoman of several committees.
Right around the time that Branstetter was supplying the dossier about my family to an angry and vindictive businessman, Amy Pyle, CIR's editor in chief, began watching Ziva's career "with admiration."
Obviously, Amy Pyle believes that Ziva Branstetter's ethics and integrity are consistent with those of The Center for Investigative Reporting.
I guess The Center for Investigative Reporting, like FoxNews and Breitbart, admire those who refuse to acknowledge past mistakes and never, ever, ever, under any circumstances, apologize.
ALSO READ:
Stories by other publications:
ZivaGate: Ziva Branstetter accused of collusion in Rutkauskas offensive against blog critic
"Camille's empire copes with setbacks" and TW gets spanked" (Discussion Forum)
Posts on UnhappyFranchisee.Com:
ZivaGate: Tulsa World Editor Fueled Twitter Attacks on Blogger [UPDATED]
BEAUTIFUL BRANDS Drops Blogger Lawsuit, Journal Record Actually Reports It
ZivaGate: Ziva Branstetter's Attorney Tells Her Side
ZivaGate: Letter to Tulsa World Publisher Bill Masterson, Jr.
ZivaGate: Letter to Ziva Branstetter
FRANCHISE DISCUSSIONS by Company
ARE YOU FAMILIAR WITH ZIVA BRANSTETTER, REVEAL, OR THE CENTER FOR INVESTIGATIVE REPORTING?  SHARE A COMMENT BELOW.
TAGS: Ziva Branstetter, Tulsa World, CIR, Reveal, Reveal by The Center for Investigative Reporting, Center for Investigative Reporting, Amy Pyle, ZivaGate, David Rutkauskas, Beautiful Brands International, IRE, Investigative Reporters and Editors, unhappy franchisee