CUPPY'S COFFEE: Mechanicsburg, PA Cafe Closes
Cuppy's Coffee of Mechanicsburg, PA closed its doors on July 13, 2009. Our condolences and best wishes go out to the Cuppy's Coffee franchise owners Jason & Joanne Winters and their son, Jason.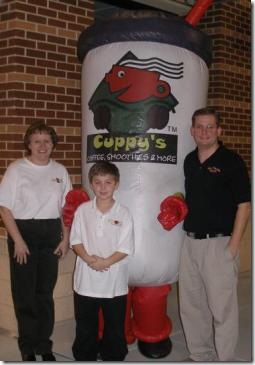 The Winters opened their Cuppy's Coffee cafe January 24, 2008 and energetically promoted their cafe with lively events and live music performances,  including a musical appearance by American Idol Kristy Lee Cook. On their Cuppy's Coffee & Catering website, the Winters write that it just wasn't enough to sustain their business:
Shortly after opening we noticed a downward trend in our walk in business do to a rough ecomony and had to find another way to bring in income to keep the cafe open. We started to offer catering to local businesses for their luncheons or dinner events. This helped keep our business afloat for awhile, however, the economy was still in a bad situation and so were we.

We had to make a decision whether or not to continue keeping the doors of the cafe open or close and continue our catering in another location. Ater much thought we decided that we would have to close the cafe, a sad event for us but one that we had to make financially.

We are now focusing strickly on catering and will continue to grow this portion of our business.
Despite paying a franchise fee and receiving a promise of marketing, operational and purchasing support, the Winters were abandoned by the Cuppy's Coffee franchisor Medina Enterprises, which disappeared in a cloud of allegations & controversy.  Like many Cuppy's Coffee franchisees around the country, the Winters were left to fend for themselves with none of the support they paid for.  And also like many Cuppy's Coffee franchisees, they were unable to build a sustainable, profitable business despite their best efforts.
Please join us in wishing the Winter's much success with their catering business and all future endeavors.
ARE YOU FAMILIAR WITH CUPPY'S COFFEE?  SHARE A COMMENT BELOW.
Images:  Cuppy's Coffee of Mechanicsburg