DICKEY'S BARBECUE PIT Consumer Complaints
DICKEY'S BARBECUE PIT Consumer Complaints:  Add your own, or comment on the consumer complaints below.  You don't have to use your real name but please indicate the Dickey's location, time and date (if it's a specific incident), and your real email address (won't be visible).  This page is not owned nor operated by Dickey's, but is read by Dickey's corporate personnel and franchisees.  We are especially interested in hearing on your opinions of new products, discontinued products and menu changes.
(UnhappyFranchisee.Com)  Have you had a bad experience at a Dickey's Barbecue Pit restaurant, or noticed changes in quality, service or menu items?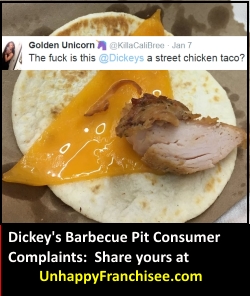 Are your problems with a specific location, or seem to be systemwide?
Have you tried to share your disappointment with Dickey's but got nowhere?
Please share your opinions and experiences with a comment below.
If you would like a response, please be sure to use your real email address (it won't show publicly) and be as specific as you can about the location and day and time.
If you would like to report a closed or a closing Dickey's location, please do so here:  DICKEY'S BARBECUE PIT Closed Location List
Dickey's Began a Menu Change in 2016.  What do you think?
Have you noticed a menu change at your local Dickey's?
We've received complaints about such changes as the elimination of fried items like Okra & Onion Tanglers.
We've received complaints about the elimination of Free Ice Cream for Kids.
We've had cheers and jeers about new items like tacos and sliders.
UnhappyFranchisee.Com shares our readers input with Dickey's franchise owners and corporate staff, so share your feedback below or email us at UnhappyFranchisee[dot]com.
Dickey's Consumer Complaints
| | | |
| --- | --- | --- |
| 9/1/16  Robyn D. wrote "beef and cheese taco was half a slice of cheese and some brisket.  does not look appetizing." | 1/7/17 Golden Unicorn wrote:  "The fuck is this @Dickeys a  street chicken taco?" | 12/23/16 Jeff wrote: "Poor choice on our part I guess. First timers mistake. And I had to ask for the cheese they forgot to put on" |
| | | |
| | | |
Dickey's Menu Complaints
Dickey's customer wrote:
Got dinner @ Dickeys in Port Orchard&I ordered cornbread. The guy told me they don't serve cornbread &other Dickeys do but not supposed to.
9/16 Lundi M wrote:
So disappointed no more fried food!

One of the main reasons my family goes to Dickeys is the awesome French fries and onion rings. They have a new menu and got rid of them. Such a bummer. Hope cooperate comes to their senses. Otherwise we won't be back. We will go to the one in Yakima Washington that fought and kept the fried foods.
Bev wrote:
NO MORE OKRA, OR ANY FRIED SIDES  So disappointed that corporate has decided to take away one of the good features of this chain. We come here for the okra and now it is not available, so sad!!!
12/23/2016 Lisa H. wrote:
NO FREE ICE CREAM!  I have eaten at Dickey's at several locations, in Ohio and elsewhere. Food and service is generally good. One thing that I always looked forward to was the free soft serve ice cream that was in the dining room of every single Dickey's I have been to – anywhere. Not this one! Was told this was a "new model." Well, this model sucks cuz there is no free ice cream and their menu is much more limited than other Dickeys. No fryers=no fried okra. They got rid of the best parts of Dickey's. I'll stay with going to City BBQ-it's better BBQ anyway.
DICKEY'S FRANCHISE OWNERS:  ADD YOUR VOICE!  COMMENT BELOW OR SEND US AN EMAIL IN CONFIDENCE TO UNHAPPYFRANCHISEE[AT]GMAIL.COM.
Also read:
DICKEY'S Franchise Owners: Tell DBRI Your Biggest Concerns, Anonymously
DICKEY'S Franchise Issues: Menu Management
DICKEY'S Franchise Issues: Switch from U.S. Foods to SYSCO
DICKEY'S BARBECUE PIT Closed Location List
DICKEY'S Franchise Owners Share Frustrations & Fears
DICKEY'S BARBECUE PIT Franchise Complaints
DICKEY'S BARBECUE PIT Makes a Terrible Promotion Worse
Dickey's "The Middle" Family Reunion Sweepstakes Contest Details
Dickey's Barbecue Restaurants Inc. Threatening to Sue U.S. Army Veteran
ARE YOU A DICKEY'S FRANCHISE OWNER?    PLEASE SHARE A COMMENT, OPINION OR REQUEST WITH DBRI.  COMMENT BELOW OR EMAIL IN CONFIDENCE TO UNHAPPYFRANCHISEE[AT]GMAIL.COM
Dickey's Barbecue Pit, Dickey's, Dickey's customer complaints,  Dickey's food complaints, Dickey's service complaints, Dickey's menu complaints, Dickey's ripoff, Dickey's sucks, Dickey's free ice cream, Dickey's Okra, Dickey's reviews, report Dickey's closed location, Dickey's complaints, Dickey's Barbecue complaints, Dickey's Barbecue Pit Restaurants Inc., Dickey's store closings, Dickey's menu,  Dickey's Barbecue Pit franchise, Dickey's franchise, Dickey's Barbecue Pit franchise complaints, Roland Dickey Jr, , barbecue franchise, barbeque franchise, BBQ franchise