SERVPRO Franchise Complaints
SERVPRO Fire & Water – Cleanup & RestorationTM franchise owners:  what don't you like about your franchise experience?
What could be improved?
What do you know now that you wish you knew when you first became a franchise owner?

Please share a comment – positive or negative – below.
SERVPRO Franchise: Too Good to be True?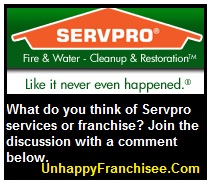 SERVPRO Fire & Water – Cleanup & RestorationTM   franchise website claims that:
"SERVPRO has created the brand, system and support to help people from diversified educational, vocational and financial backgrounds take control of their own future and live the American Dream.
The SERVPRO Franchise opportunity allows you to take advantage of our proven track record while being in business for yourself, but not by yourself."  (Source:  Servpro website)
According to the SERVPRO franchise website, SERVPRO franchise owners are given the chance to control their own destinies, to "control your own destiny" and "redefine personal freedom":
Control Your Own Destiny… Imagine having the time to do the things important to you. Imagine the chance to own a fully managed business. Imagine the opportunity to build your own future and change your family tree. The SERVPRO system affords you the opportunity to create wealth and build your family's future…

If you're ready to redefine personal freedom then SERVPRO is ready to help.
However, the Internet contains numerous and widespread complaints that the franchised ServPro company inflicts more damage than it mitigates.
These widespread complaints indicate that SERVPRO may have a negative brand image in the marketplace.
Read our post:  SERVPRO: Is ServPro a Scam?
In fact, many consumers claim that they've been Servpro is a scam operation run by thieves.
On the Serv-pro reviews website, ezakimak10 wrote:
Servpro are scam artists! I could write a book about servpro and all the unethical practices they use. Tripling the quote they give you; Stealing items from your home; putting liens on your home; refusing to send you a detailed bill; Their tactics are criminal like just to say the least. I have no idea how our system allows them to survive by taking advantage of helpless people and also insurance fraud at its best.
What do you think of the SERVPRO Cleanup & Restoration franchise opportunity?
Is SERVPRO a franchise scam?
Does SERVPRO franchisees have to resort to overcharging, stealing and doing shoddy work to survive?
If not, why do you think they attract so many complaints?
Does SERVPRO provide the training, support and systems it promises?
Is SERVPRO genuinely dedicated to the success of its franchise owners?
Please share a comment, opinion or insight below.
ARE YOU FAMILIAR WITH THE SERVPRO FRANCHISE?  WHAT COMPLAINTS DO SERVPRO FRANCHISEES HAVE?  PLEASE SHARE A COMMENT BELOW.
To contact the site admin, email UnhappyFranchisee[at]gmail.com.