NY Bagel Scam Joe Smith Federal Fraud Trial to Begin
NY Bagel scammer Joseph Smith, formerly of Newburgh, NY is going to trial on Federal charges of Fraud, Tax Fraud & conspiracy later this month.  It's been 10 years since the Unhappy Franchisee watchdog site & publisher Sean Kelly began posting warnings and filing complaints with state & federal franchise and law enforcement agencies. 
NY Bagel scam victims supplied Kelly with the information and documents that ultimately prompted two separate FBI investigations, a Grand Jury indictment and, ultimately, federal criminal charges against Smith and his notorious partner Dennis Mason.  by Sean Kelly
(UnhappyFranchisee.Com)  Since we began posting warnings about the unscrupulous franchise seller Dennis Mason (aka ) back in July, 2012, our public reporting and appeals to regulators and law enforcement agencies resulted in numerous state investigations, three official state enforcement actions, and fines in excess of $1,000,000 against the perpetrators of the NY Bagel franchise scam Joseph Smith & Dennis Mason (aka Brian Scofield, aka Keith Samuel).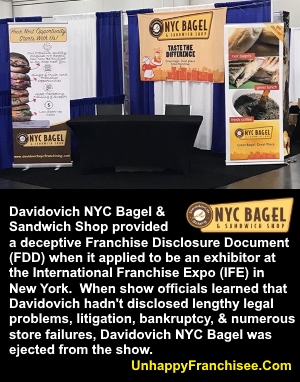 Minor victories along the way included convincing several legitimate real estate and finance companies to drop them as clients, getting their Florida accomplice fired from his finance position, and getting  Davidovitch NYC Bagel very publicly ejected halfway through the MFV Franchise Expo in New York.
During the course of my campaign to end the NY Bagel scam, I had to fend off personal and professional attacks against both me and my family members, including defamatory email campaigns and libelous attack websites (some of which still remain visible).
However, cooperating NY Bagel victims and I were relentless in our efforts.  Eventually,  until a second FBI commenced and, despite frustrating periods of silence, resulted in Department of Justice Charges first against Dennis Mason and later, Joseph Smith.
Despite all that, I am hopeful it will all be worth it when, on November 22, 2021 at 9:30 in Courtroom 11-A in the Federal Courthouse in Philadelphia, Joseph Smith will face federal criminal charges for:
Conspiracy (1 count),
Wire Fraud (2 counts)
Tax Evasion (3 counts) and
Failure to File Tax Returns (3 counts)
Dennis Mason has been charged separately and has struck a plea deal.  His sentencing has been delayed, perhaps until Joe Smith's trial is completed.  His charges, so far, include:
Conspiracy (1)
Wire Fraud (2)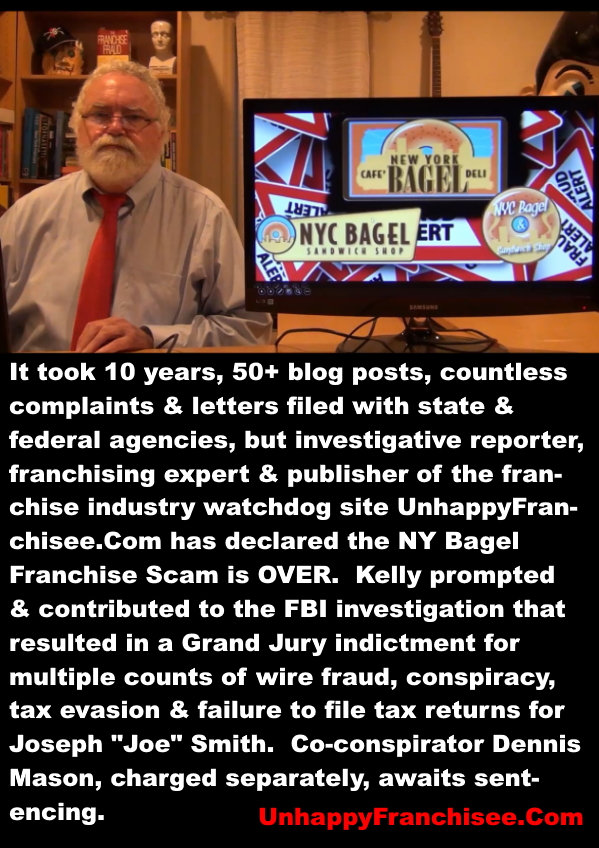 Federal Grand Jury Indictment of Joe Smith for Wire Fraud, Conspiracy & Tax Evasion
According the Grand Jury Superceding Indictment of Joseph Smith:
3. Starting as early as 2008, Dennis Mason sold New York Bagel franchises on behalf of defendant JOSEPH SMITH.  Dennis Mason provided information to prospective franchisees about among other things, the cost to open a franchise, the availability of financing, and the profits made by existing franchises.

Between 2008 and 2018, Dennis Mason sold more than 160 New York Bagel franchises. These prospective franchisees paid more than $2.1 million in franchise fees to New York Bagel.

4. The fee that prospective franchisees paid to New York Bagel ranged between $7,500 and $44,500. Defendant JOSEPH SMITH shared a percentage of these franchise fees with Dennis Mason.

5. Defendant JOSEPH SMITH and Dennis Mason communicated with prospective franchisees using interstate communications, including e-mails and telephone calls.

6. From in or about 2008 through on or about July 25, 2018, in the Eastem District of Pennsylvania and elsewhere, defendant … with Dennis Mason, and other persons unknown… knowingly executing and attempting to execute a scheme to defraud prospective franchisees and to obtain money and property by means of false and fraudulent pretenses, representations, and promises…
The Indictment Includes Claims We've Documented Since 2011:
The superceding indictment lays out the same claims
8.  Made material misrepresentations to prospective franchisees about the profitability of the franchise.

In particular, defendant JOSEPH SMITH and Dennis Mason understated the startup costs, overstated the number of franchises that were up and running, overstated the success of existing franchises, and falsely promised that additional franchises would be opened in the future.
9.  Placed advertisements using interstate communications, such as Craigslist.
10. Made material misrepresentations and false guarantees about the ability of New York Bagel to arrange financing for the prospective franchisee.
11. Made false and inconsistent statements to prospective franchisees.
12. Obtained franchise fees from more than 160 prospective franchisees.
13. Accepted payments of franchise fees using personal checks, cashier's checks, and credit card payments.
14. Refused to refund franchisee fees paid by prospective franchisees who learned of the material misrepresentations.
Thanks to the Victims Who Came Forward, The FBI, The Department of Justice, The Unhappy Franchisee Blog, the

NY Bagel Scam

is Over
It took nearly a decade and a lot of hard and frustrating work, but Joseph Smith & Dennis Mason have been exposed and their scam ads no longer appear on Craig's List or elsewhere.
No matter what the trial outcome, the scam has been exposed and with it the problems in our system that let it go on for so long.
Also read:
Grand Jury Superceding Indictment of Joseph Smith
U.S. v. Dennis Mason, a/k/a "Brian Scofield", a/k/a "Keith Samuel" Criminal Charges
NY Bagel Franchise Scam Links & Complaint Timeline
ARE YOU FAMILIAR WITH THE NY BAGEL, NYC BAGEL OR DAVIDIVICH BAGEL SCAM? HAVE YOU DEALT WITH DENNIS MASON, JOE SMITH OR MARC FINTZ (OR MARC ZIROGIANNIS)?   SHARE A COMMENT BELOW.



TAGS: franchise fraud trial, Joseph Smith, Joe Smith, Dennis Mason, Marc Fintz, Marc Zirogiannis, Sean Kelly, Unhappy Franchisee, New York Bagel, NY Bagel Cafe NYC Bagel scam,  Davidovich NYC Bagel & Sandwich Shop, Davidovich bakery, Davidovich Bagels, Davidovich franchise, NY Bagel Cafe scam, NYC Bagel franchise