Dan Olsen: Karma & Constables Come Knocking
Coach Dano Dan Olsen has been busy conjuring up franchise schemes with names like RX2Live, Healthy U RX, PuraVida, PUR Life Medical and more.  With the help of his paid pal Kevin Harrington of Shark Tank, he's been trying to stay ahead of Karma and constables.  But this writ of assistance indicates some of his victims are banging at the gates of his $3M Alpine, UT mansion.
(UnhappyFranchisee.Com)  Coach Dano, Dan Olsen, is known in the franchise industry as founder of the Franchise Growth Systems (FGS) franchise sales and brokering company.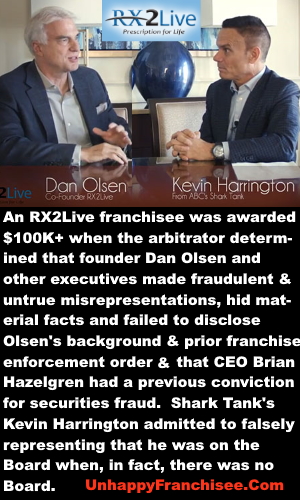 He's been launching all kinds of medical and health related franchise schemes with the help of Robert Long, Dallas Baldri, Michael D. Mansfield aka MIKHAIL MANSFIELD, Garrett Blood, Brian Hazelgren, and others.
Victims of his Healthy U RX scheme RICK LUCKING, CHAD LUCKING, and TUI AUVA'A recently won a judgement of $72,500.00 plus costs and interest and constables are authorized to crash the gates of Dan Olsens $3M mansion if they need to.
Also read:
Dan Olsen Kevin Harrington Rx2Live Franchise Fraud
___________________________________
RYAN B. HANCEY (9101)
J. ADAM KNORR (15183) KESLER & RUST
68 South Main St., Ste. 200
Salt Lake City, Utah 84101
Telephone: (801) 532-8000
Attorney for plaintiffs
IN THE FOURTH JUDICIAL DISTRICT COURT, PROVO DIVISION UTAH COUNTY, STATE OF UTAH
TCR Health, LLC, a Utah limited liability company,
RICK LUCKING, an individual, CHAD LUCKING, an individual, and TUI AUVA'A, an individual, Plaintiffs,
v. DANIEL OLSEN, an individual, ROBERT LONG, an individual, DALLAS BALDRI, an individual,
MICHAEL D. MANSFIELD a/k/a MIKHAIL MANSFIELD, an individual,
and, HEALTHY U RX Corporation, a Wyoming Corporation, Defendants.
WRIT OF ASSISTANCE
Civil No. 190401705
Judge James Brady
TO ANY SHERIFF OR CONSTABLE OF OR FOR THE STATE OF UTAH:
1. WHEREAS, in the above-entitled action, Plaintiffs TCR Health, LLC, Rick Lucking, Chad Lucking, and Tui Auva'a ("plaintiffs") seek to recover from Defendant Daniel Olsen the amount owing under a judgment entered against Daniel Olsen on June 20, 2021 in the amount of $72,500.00 plus costs and interest at the highest post-judgment legal rate accruing thereafter.
2. 1. The Court has jurisdiction over all issues surrounding the parties.
3. 2. That any such Sheriffs or constables in the state of Utah, or any other authorized law enforcement officer in this state or any other state, immediately take into possession any and all non-exempt real property and personal property including but not limited to vehicles, recreational vehicles, trailers, boats, ATVs, art, jewelry, electronics, tools, cash, etc. owned by Daniel Olsen as set forth in the Writ of Execution signed by this court on August 12, 2021.
4. 3. All Sheriffs and constables in the state of Utah or any other authorized law enforcement officer of this state are authorized and ordered to serve and execute and enforce this order in the daytime or nighttime and any day of the week except as limited by the wit.
5. 4. Except as limited by the above, if necessary, the Sheriff or Constable is authorized to use reasonable force to gain access to and enter upon the real property located at the addresses listed below or wherever the personal property of Daniel Olsen may be found and remove any obstructions located around or about the subject personal property and/or enter into any locked or secured dwelling, building, garage, storage yards, or the like to allow the Writ of Execution to be effectuated.
This shall be your sufficient warrant for doing so.
The Sheriff or Constable should not delay the execution of this order for any reason.
6. 5. The current addresses of the property are:
7. Daniel Olsen
1033 Lamar Circle 8.
Alpine, UT 84004
9. AND
10. Daniel Olsen
597 S. Pleasant Grove, Suite 10
11. Pleasant Grove, Utah 84062
END OF WRIT COURTS SIGNATURE AND DATE APPEAR AT THE TOP OF FIRST PAGE
___________________________________
ALSO READ:
FRANCHISE DISCUSSIONS by Company
Garrett Blood, Former COO of RX2Live, Threatens Watchdog Website
Leo Kats, Claire Kats Franchise Complaints: Dine In 2Nite
Dan Olsen California Enforcement Order (PDF)
ARE YOU FAMILIAR WITH RX2LIVE, DAN OLSEN. KEVIN HARRINGTON HEALTHY U RX OR THE OTHERS? SHARE A COMMENT BELOW OR EMAIL IN CONFIDENCE TO UNHAPPYFRANCHISEE [AT] GMAIL [DOT] COM.
TAGS: RX2Live, RX2Live franchise, RX2Live lawsuit, Dan Olsen, Kevin Harrington, Franchise fraud, scam,  Robert Long, Dallas Baldri, Michael D. Mansfield, MIKHAIL MANSFIELD, Garrett Blood, Brian Hazelgren, and others, Healthy U RX, RICK LUCKING, CHAD LUCKING, TUI AUVA'A, Dallas Baldri , Franchise Growth Systems, arbitration, franchise complaints, franchise, franchise opportunity, franchise complaints, unhappy franchisee