Leo Kats, Claire Kats Franchise Complaints: Dine In 2Nite
The Dine In 2Nite franchise was launched in 2012 by Leo Kats & Claire Kats, with management help from industry veterans Dan Olsen, Phil Mettra, and Eric M. Welch.  Three years later, some Dine In 2Nite franchise owners claim that most of the 30-40 franchises that opened have now closed, that they received little to no support, and that the franchisor Leo Kats won't return their calls.  Is there any truth to these complaints? What IS the status of the Dine In 2Nite franchise program? Comments welcome.
(UnhappyFranchisee.Com)  Dine in 2nite began offering franchises in 2012.  It seemed like an innovative concept:  Franchisees would make and deliver gourmet-quality meals to consumers at home for just about $10 per meal per person.
Dine In 2Nite franchise marketing touted (and still tout) the advantages of investing in the Dine In 2Nite:  a subscription-based revenue model, lower labor, waste and overhead costs than running a restaurant franchise, relatively lower cost of entry, a Master franchise option that enabled a franchisee (for higher investment) to profit by developing an area,  and a seasoned, experienced franchise support team.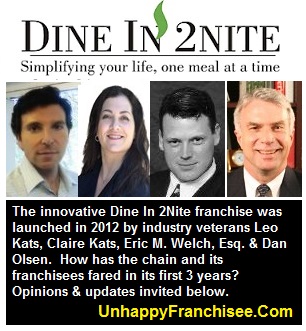 Those who might hesitate getting in on the  ground floor of a new concept were reassured by the experienced franchise team there to support them:
Leo Cats, President & CEO, has extensive franchising experience as President of Instant Imprints Franchising, Inc. from 2001-2009, and since 2007 as President and CEO of FranVest International, Inc., a firm that offers brand and franchise development as well as consulting and management services for emerging concepts.
Claire Kats, Vice President & Executive Chef:  The Dine In 2Nite website states "Executive Chef Claire Kats has been cooking since age eight.  As a bestselling author and the host of the nationally syndicated Food Fight Radio talk show, she loves to teach and inspire people about health, nutrition and flavor.  Co-founding Dine In 2Nite in 2010, her mission was to create a fusion of gourmet and comfort dinners for busy people across the nation."
Dan Olsen  – Director of Regional Development "oversees [Dine In 2Nite's] regional expansion and support.  In 2009, Dan Olsen co-founded International Franchise Solutions, LLC and is also the founder and director of Franchise Growth Systems since 2002.  He is credited with developing the largest independent master franchise sales organization in the world and has successfully implemented national franchise development and sales campaigns for dozens of companies since 1997." [Source: 2013 DI2N FDD]
Eric M. Welch, Esq.  – Vice President and General Council.  Attorney Eric Welch also has extensive franchise experience as Vice President and General Council for Instant Imprints Franchising, Inc. from November 2005 to March 2011.
Dine In 2Nite Franchisee Investment as High as $350,000
According to the company's 2013 Franchise Disclosure Document:
…the total investment necessary to begin operation of a single Dine In 2Nite franchise ranges from $49,700 to $58,500 for a shared kitchen model and $99,900 to $157,750 for a full kitchen. This includes $34,950 that must be paid to the franchisor or affiliate….

The total investment necessary to begin operation of a Regional Developer franchise ranges from $151,000 to $365,000 inclusive of the Pilot Center. These amounts include the initial development fee for a Regional Developer franchise, which ranges from $136,000 to $350,000…
Franchise Complaint: All but 4 out of 30+ Dine In 2Nite Franchises Have Failed
We have received some anonymous franchise complaints alleging the nearly complete failure of the Dine in 2Nite franchise system.  We don't know if this or the other franchise complaints listed below are valid, so we invite the company  and others to respond either below or by contacting ADMIN at UnhappyFranchisee[at]Gmail.com.
Anonymous commenters tell us:
Dine in 2Nite has gone from over 20 Franchisees to 4 left open.  All the rest have closed down including Master Franchisees.
Going from a count of Franchisees of between 20- 30 including Master Franchisees to only four left speaks volumes.
Franchise Complaint: Franchisor Provided (& Provides) Little to No Support
Anonymous commenters allege that after they bought the Dine In 2Nite franchise, they received little to none of the support that was promised to them upfront.  Some allegations we received include:
This organization has been unresponsive to its franchisees almost since day one. They have always been very vague when asked direct questions and often do not return calls from franchisees.
There was supposed to be a 24 hour call center that stopped after a few months.
The website was not user friendly.
The person responsible for helping the franchisees with artwork for marketing material was let go so we had to try to do all ourselves.
We are getting zero support from Dine in 2nite.
We used to have conference calls etc.  Now we try to contact Leo whose mailbox is constantly full so we have/had to count on emails.  He would takes his time with responding if he does at all.  It's a horrible situation.
Franchise Complaint: Leo Kats Knowingly Sold Unregistered Franchises in Registration States
We have received complaints that Leo Kats and Dine In 2Nite unlawfully sold unregistered franchises in states that require prior registration, including California, Virginia, Washington and Wisconsin.
California Department of Business Oversight issued a Desist & Refrain Order alleging Leo Kats and Dine In 2Nite unlawfully sold franchises in California (See Did Leo Kats, Dine In 2Nite Franchise Violate State Franchise Laws? If so, Why?)
Anonymous commenters told us:
There are countless complaints regarding the Franchisor including the fact that he didn't register in at least one State that that we know of where he sold Franchises in.  We have not looked further to find out how many more States or if any were registered.  He does have a Cease and Desist order against him in the State of California.
Not only was Dine in 2nite not registered to sell in one of the registration states I checked with, but they had applied for registration and were denied.  They went on to sell a franchise there.  They also sold a Master Franchise there.  I checked with another state agency and they said they had never registered there either.  They sold a single unit and a Master Franchise there too.
Franchise Complaint: Leo Kats is Indifferent to the Plight of His Franchisees
Although the Dine In 2Nite franchise opportunity is still promoted on advertising sites, anonymous former franchisees have expressed their feeling that the franchisor has abandoned them and is focused elsewhere.  They have said:
The complaints that are sent to corporate office are replied with insults.
Leo Katz seems indifferent and does not even return phone calls
Many franchisee's have asked for their franchise fees to be returned.  He has refused.
Leo and Claire Kats have also gone on to another business – called Myst Parties –  AND are still "operating" Dine in 2nite.
Have Leo & Claire Kats Abandoned Dine In 2Nite Franchisees?
Dine In 2Nite franchisees feel that they've been abandoned by Leo Kats and Claire Kats.
They feel the Kats are focused on new business ventures.  In 2014, Leo & Claire Kats lost a 6 month legal battle with the landlord of their a kid's party facility called Tee Party.   The Kats' unsuccessfully appealed.  It appears they spent considerable time and energy rebuilding and renaming their party facility concept Myst Parties.
No mention of whether the Katz are intending to franchise Myst Parties or any of their other ventures as of yet.
Responses, rebuttals, clarifications invited!  Please comment below or contact us via email.
ALSO READ:
Did Leo Kats, Dine In 2Nite Franchise Violate State Franchise Laws? If so, Why?
FRANCHISE DISCUSSIONS by Company
ARE YOU FAMILIAR WITH THE DINE IN 2NITE  FRANCHISE OPPORTUNITY & ITS MANAGEMENT TEAM?  DID THIS TEAM OF FRANCHISE VETERANS VIOLATE STATE FRANCHISE LAWS?  IF SO, WHY?
PLEASE SHARE A COMMENT BELOW.
TAGS: Dine In 2Nite, Dine In 2Nite franchise, Dine In 2Nite franchise opportunity, Dine In 2Nite franchise complaints, Dine In 2Nite meal delivery, Leo Kats, Claire Kats, Dan Olsen, Franchise Growth Systems, FGS, FG360, attorney Eric M. Welch, Franvest International, Myst parties, Myst, unhappy franchisee