Does U.S. Army Veteran Jim Lager Recommend the PIRTEK Franchise?
If you search "Jim Lager PIRTEK," you might think that U.S. Army veteran Jim Lager is a happy & successful multi-unit PIRTEK franchise owner.  You also might think he heartily endorses PIRTEK as a great franchise for military veterans.  The truth is, Jim Lager is a happy & successful independent owner of PIRTEK competitor Texas Hose Pro.  And while the PIRTEK sales team still benefits from the endorsement & success story of one of its most celebrated franchisees, Jim Lager can neither confirm or deny it.  Evidently, PIRTEK & its lawyers own Jim's opinions, memories & experiences… or at least his right to share them.  by Sean Kelly
(UnhappyFranchisee.Com)  For the record, Jim Lager has no involvement in writing or publishing this series about his former franchisor, PIRTEK.
Nor about its Chairman Glenn Duncan, or parent company in Australia…
Nor about its President Kim Gubera…
Nor about the Australian-led company's supposed dedication & appreciation for U.S. military veterans.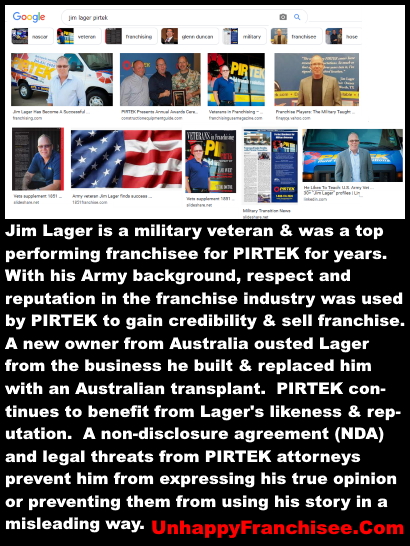 In fact, Jim Lager, who for many years was a top performing franchisee, who contributed millions of dollars in royalties and product sales, who mentored other franchisees and was unpaid poster-boy for the PIRTEK franchise sales department, will probably be angry with me for publishing this.
But I'm not worried because Jim Lager can't say anything about PIRTEK, good or bad.
As far as I know, PIRTEK's expensive lawyers will sue him if they catch him reading about PIRTEK.
Why?  Because (and I'm just guessing here) they signed mutual non-disclosure agreements (NDAs) when Glenn Duncan took the reins and decided not to renew the franchise agreement of one of its top franchisees.
If it's mutual, you might ask, why does PIRTEK still benefit from the dozens of online stories touting Jim Lager's success & positive opinions about (the former leadership of) PIRTEK while the former franchisee can't even update his once-positive opinion?
Well, that's a good question.
Perhaps we can add that to the stack of questions Kim Gubera & Glenn Duncan won't answer.
Glenn Duncan Honored a U.S. Veteran by Replacing Him with an Australian
Recruiting military veterans is a major focus of the PIRTEK franchise program.
In years past, the previous master franchisee actually valued US military veterans, and Jim Lager graciously allowed him to feature his success story in ads, promotional publications, press releases and even the cover of the PIRTEK franchise brochure.
Around the time that Aussie Glenn Duncan was ousting Army veteran Jim Lager from the successful Dallas area market he developed, he brought in a fellow Australian from the land where his Daddy had first founded PIRTEK.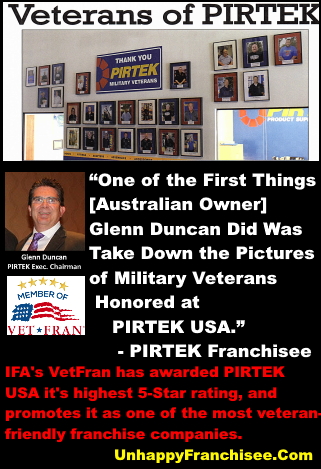 Evidently, Glenn Duncan figured he could have his vegemite and eat it too by continuing to use Jim Lager's likeness & successful veteran story to make PIRTEK look as red, white and blue as ever.
All Glenn Duncan had to do was assign (I'm guessing) is have a team of highly paid attorneys assigned to keeping Lager's gag tight at all times.
But why, you might ask, would Glenn Duncan, spend all this money and time just to turn one of his top-producing franchisees into a direct competitor?
That, my children, is a topic for the next episode of As The Hose Turns…
NOTE:  PIRTEK management, Glenn Duncan, Kim Gubera, and any others discussed here are invited to provide corrections, clarifications, rebuttals of other statements of fact or opinion.  Please email or leave a message in the comments below.  This invitation does NOT extend to former PIRTEK franchisee Jim Lager, who does not have the right to share his opinion.
ALSO READ:
FRANCHISE DISCUSSIONS by Company
PIRTEK USA, Glenn Duncan Asked About 2020 Franchise Closures
PIRTEK USA CEO Kim Gubera Claim of No Closures in 2020 Questioned
Behind The Curtain: PIRTEK USA – Interview(s) with Wisconsin Franchisee Tom Fechter
PIRTEK USA Letter to Kim Gubera, PIRTEK CEO
DOCUMENTS:
PIRTEK USA 2021 Franchise Disclosure Document (FDD) (PDF)
ARE YOU A PIRTEK USA FRANCHISEE OR CORPORATE EMPLOYEE?  OR INVOLVED WITH FRANCHISE THAT MARKS UP PRODUCTS TO FRANCHISEES?  SHARE A COMMENT BELOW.
TAGS: PIRTEK, PIRTEK USA, Pirtek franchise, Pirtek USA franchise, PIRTEK franchise opportunity, Jim Lager, Texas hose Pro, Hyraudlic Hose Franchise, Kim Gubera, Glenn Duncan, Nick Ridgway, unhappy franchisee