PIRTEK USA CEO Kim Gubera Claim of No Closures in 2020 Questioned
PIRTEK USA CEO told Franchise Times that none of the company's hydraulic hose franchises ceased operation in 2020.  However, PIRTEK's heralded debut franchise in New York and its owner, Asim Iqbal, have been erased from PIRTEK's website.  Others have similarly disappeared.  Was Ms. Gubera misquoted?  Misinformed?   Or intentionally misleading prospective franchisees? by Sean Kelly
(UnhappyFranchisee.Com) Prospective franchise investors shouldn't have to be super-sleuths to get clear and accurate information from franchisors… especially those in aggressive sales mode.
They shouldn't have to question the accuracy of public statements of fact made by CEOs.
Unfortunately, with some companies and some execs, such suspicion and scrutiny is be necessary.
[related reading: PIRTEK USA, Glenn Duncan Asked About 2020 Franchise Closures]
These franchisors have used this time-tested technique: feed a statement to a friendly publication, and once it's published it becomes a fact.
PIRTEK USA appears to be one such company and its CEO, Kim Gubera, seems to be one such executive using this technique.
Take, for instance, Kim Gubera's claim in the November 19, 2020 Franchise Times article entitled  "Education, Mentors Fueled Rise of PIRTEK CEO," about how the industrial hose service franchise weathered COVID in 2020.  Gubera stated:
…fortunately we have not had any closures"…
Was Kim Gubera Misquoted?  Misinformed? Or Worse?
An analysis of the PIRTEK website, prior press releases and the PIRTEK USA Franchise Disclosure Document (FDD) issued March 26, 2021 raises doubt about Ms. Gubera's claim of "no closures" during 2020.
In its 2021 FDD, the 100-unit PIRTEK discloses that, in 2020, 3 franchises were terminated, 6 franchises were reacquired by the franchisor and 6 franchises were transferred to new owners.
Three (3) franchisees representing 9 franchises are listed as having been terminated, non-renewed or ceased to do business for other reasons during 2020.
Additionally, at least two locations that appeared in the 2020 FDD are neither listed in the new FDD, nor are the franchisees listed as having left the system.
One closure, perhaps two closures escaping Ms. Gubera's memory might be an oversight… but this many seems a bit suspicious.  Especially for such a small chain.
PIRTEK USA Hyped it 2019 New York Franchise Debut.  By Early 2020, It Was Gone.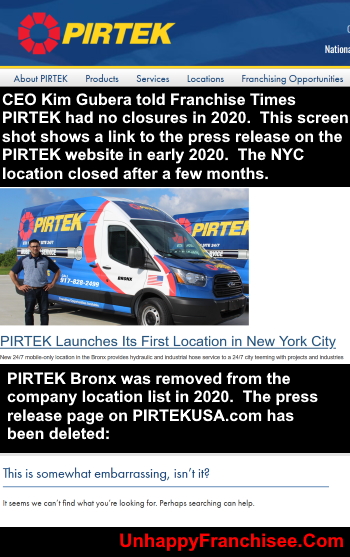 One high-profile 2020 closure is that of Asim Iqbal, the franchisee who opened the first PIRTEK location in New York.
According to the September 23, 2019 press release posted on the PIRTEK website and widely distributed online, Iqbal was a long-time PIRTEK customer who became a franchisee.
Nick Ridgway, franchise development manager for Pirtek USA, called Iqbal's New York franchise opening an "important milestone" for the chain.
Posted on the PIRTEK website and promotional sites like Fluid Power Tips the press release states:
PIRTEK launches its first location in New York City

September 23, 2019

Pirtek USA is tapping into a massive base of construction and industrial activity by opening its first location in New York City. Pirtek Bronx, a new mobile-only service location…

"It's a 24-hour city that needs a 24-hour service like Pirtek," said Asim Iqbal, Pirtek Bronx owner. "There is so much opportunity in this market, not only because we offer high-quality products and service, but also because our service is mobile. With our specially equipped Mobile Service Vehicles, we can go when and where the customer needs us most."

Iqbal has a management background in the trucking industry, where he was a frequent Pirtek customer. "I used Pirtek's service all the time," he said. "I was very familiar with it. After looking into the franchise, I thought it was a great opportunity. The B2B model appealed to me as well as the New York City location."

Pirtek provides onsite hydraulic and industrial hose-replacement service. There are now 90 franchises and a fleet of Mobile Service Vehicles throughout the country…
Nick Ridgeway said the NY franchise was an important milestone:
Nick Ridgway, franchise development manager for Pirtek USA, said that the opening of a location in New York City and in the state are important milestones.

"We've expanded our reach by breaking into this major market," Ridgway said. "It's also our first location in the state of New York, our 25th state, which means we now cover half the states in the union. That presence will help us support our national accounts and growing our brand."
Asim Iqbal's NY Franchise Disappeared Without Explanation. PIRTEK Deleted References From It's Website.  Gubera Claims "No closures" in 2020.
As of January 8, 2020, Asim Iqbal's Bronx location was still listed on the PIRTEK website.
By April 14, 2020 the only PIRTEK location in New York had been deleted from the PIRTEK location list.
While Iqbal's photo remains on the PIRTEK website, the press release has been deleted.
The 2021 PIRTEK FDD Item 20 lists one franchise as having been "terminated" in the state of New York.
Asim Iqbal is included as having left the system during 2020 with the text:
"Reason for Leaving: Voluntary abandonment"
Not a closure?  Voluntary abandonment?
Important Milestone:  PIRTEK's Failed Attempt to Enter the NY Market
Asim Iqbal's PIRTEK Bronx franchise appeared to have ceased operation within months of its celebrated debut.
If PIRTEK's expansion into the New York market was an important milestone, as Nick Ridgway stated, PIRTEK's failed first attempt to establish a NY franchise seems just as significant.
Prospective franchisees being pitched on opening in the New York  or other new, untested markets have a right to know what went wrong.
WE hope that CEO Kim Gubera can be more forthright about the true number of PIRTEK closures moving forward… including "voluntary abandonments."
NOTE:  We invite Kim Gubera, Glenn Duncan, Nick Ridgway and other PIRTEK USA representatives to provide corrections, clarifications, rebuttals or statements regarding the opinions and questions stated on this site.  We research from publicly available sources and post what we find for discussion and debate – all points of view are welcome and will be fairly represented.  Post in comments below or email ADMIN at UnhappyFranchisee[at]Gmail[dot]com.
ALSO READ:
FRANCHISE DISCUSSIONS by Company
PIRTEK USA Letter to Kim Gubera, PIRTEK CEO
DOCUMENTS:
PIRTEK USA 2021 Franchise Disclosure Document (FDD) (PDF)
ARE YOU A PIRTEK USA FRANCHISEE OR CORPORATE EMPLOYEE?  OR INVOLVED WITH FRANCHISE THAT MARKS UP PRODUCTS TO FRANCHISEES?  SHARE A COMMENT BELOW.
TAGS: PIRTEK, Pirtek franchise, Pirtek USA franchise, PIRTEK franchise opportunity, PIRTEK Bronx, PIRTEK New York, PFS, mobile hose franchise, hydraulic hose franchise opportunity, PIRTEK complaints, Kim Gubera, Glenn Duncan, Nick Ridgway, Asim Iqbal,  franchise marketing, unhappy franchisee