Why Smart Franchisees Fail? Getting Rickrolled
Smart franchisees could have done extensive due diligence and research before deciding their franchisor was honorable and trustworthy…  but all that work is out the window when the franchisor company gets sold.   By Sean Kelly
Why Smart Franchisees Fail? They Get Rickrolled.
Prospective franchisees can do in-depth and thorough due diligence, interview current and former franchisees, hire consultants, attorneys and accountants to vet the franchise company and the deal they're signing… and still get rickrolled.
What's Getting Rickrolled?
Getting rickrolled refers to the Internet prank where one is tricked into clicking a link expecting one thing (Like, say Here's the Meaning of Life) and are instead taken to a video of Rick Astley performing his 1987 hit "Never Gonna Give You Up."
Another related (but less fun) term is bait-and-switch.
What Happens When a Franchisor is Sold?
I'm using this term here to loosely describe how the franchise relationship can change dramatically when the franchisor changes ownership and/or leadership during the franchisee's term.
According to a blog post by franchisee attorney Jeffrey Goldstein, "franchisors typically reserve broad rights to sell the system. Franchisors do not need their franchisees' consent to sell, and they are not required to… consider the potential impact on franchisees when they seek to court the highest bidder."
When shipping giant UPS bought the Mail Boxes, Etc., many franchisees felt they were bullied into rebranding their stores to The UPS Store brand. UPS then forced franchisees to stop offering their competitors' services and ship exclusively with UPS. The final betrayal came when UPS made it cheaper for shippers to pay UPS directly, print out their labels at home and consider (in the franchisees' opinion) The UPS Store franchise locations as glorified drop-off boxes. Bitter lawsuits ensued.
Some cautionary tales of are more subtle and happen slowly over time, but are every bit as tragic. Jorge Valdes was a seminary student when he met the principals of Servicemaster, who became his mentors. He was attracted to the way that Servicemaster (literally meaning "Service to the Master") conducted business following Christian values. According to Valdes, the Servicemaster he joined was as much committed to enriching its franchisees and their families as it was to corporate profits.
Over the course of his franchise term, there were several ownership changes and Servicemaster transitioned to being a publicly traded company. References to the original Christian mission and values were removed and, according to Valdes, the corporation became solely focused on money and their stock price, not people.
According to Valdes, the company illegally took back the territories he had spent nearly two decades building. While they were valued at $750,000, they provided him with no compensation, and no money for retirement.
Valdes hired a respected franchise attorney who said he was confident they could win the suit, but Valdes couldn't afford the expensive suit.
"The company that I joined and believed in with all my heart," says Valdes, "Is not the company that took the business I had dedicated nearly two decades building."
The ownership and the leadership team of master franchisee PIRTEK USA changed during Jim Lager's term as a franchisee. Rockledge, FL-based PIRTEK USA is granted master franchise rights from PFS (Pirtek International), an Australian company incorporated in New South Wales, Australia. The leadership of PFS (father and son Peter Duncan and Glenn Duncan) is now also at the helm of PIRTEK USA.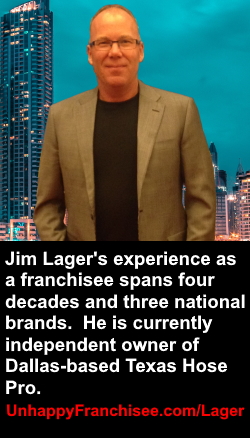 I asked Jim Lager how it felt when he learned that the franchisor he had bought from and developed a close relationship with would have new owners with, perhaps, an altogether different approach to the business and its franchisees.
"At first I was excited and optimistic," says Lager. "I welcomed the idea of new ideas and a new enthusiasm.
"However, I was also very nervous. When you sign a franchise agreement you relinquish a tremendous amount of control to the franchisor. You do your research on them but also go with your gut as to whether you trust that they'll have your best interest at heart."
"One of the scariest things about being a franchisee is that trust plays a huge role… and trust is uncertain and your research is out the window once they decide to sell, or even change executives," says Lager. "You take a deep breath, and hope for the best.
After being a franchisee over 4 decades and 3 national brands, Jim Lager set out on his own as an independent business owner in March, 2020.  He owns and operates Texas Hose Pro in the Dallas and Fort Worth, Texas markets.
#
We want to hear what you think.  Share a comment below, or drop us a line, in confidence, to UnhappyFranchisee[at]Gmail.Com
ALSO READ:
FRANCHISE DISCUSSIONS by Company
Jim Lager: Why Smart Franchisees Fail (Series Index)
Franchise Ownership?  There's No Such Thing
Why Smart Franchisees Fail? Rose-Colored Glasses
PIRTEK USA related:
PIRTEK USA: Not All Leaps of Faith End Well
As Pressure Mounts, Franchisee Associations Push Back
PIRTEK USA Letter to Kim Gubera, PIRTEK CEO
ARE YOU A FRANCHISEE OR FRANCHISE COMPANY EMPLOYEE?  OTHERWISE INVOLVED WITH THE FRANCHISE INDUSTRY?  SHARE A COMMENT BELOW.
TAGS: Jim Lager franchisee, Pirtek USA, Pirtek franchise, Pirtek USA franchise, PIRTEK franchise opportunity, rickroll, servicemaster, UPS Store, Kim Gubera, Peter Duncan, Glenn Duncan, smart franchisees, Sean Kelly, buying a franchise, franchise information, unhappy franchisee