SIGNWORLD claims it is a business opportunity, not a franchise.  Others use a different term to describe SIGNWORLD:  A Ripoff.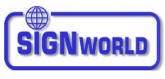 As an alleged business opportunity, Signworld makes bold claims on its website that would be illegal  for a franchise, including lots of attractive earnings claims and promises of "high profit margins" and "high resale value upon retirement" for its $185,000 investment.
But comments on complaint website Rip-off Report are critical of SIGNWORLD, founder Ken Kindt and VP of Sales Jack Werner.  Here are some excerpts:
December 16, 2008, dh from San Antonio, Texas wrote:
…THEY PROMOTE "No previous industry experience is necessary" because SIGWORLD is supposed to reduce the risk of failure. B.S. … It is bad enough that SIGNWORLD sell this lie by building up misleading statements on statistics (never see this in writing though) of low failure rate and cleverly hiding the awful truth of failure. I was told 5% in the 20 year history. I found out it's closer to 40% once I got in and they had my money….

It's a shitty competetive dog eat dog business. Your lucky if your gross profit ends up at 50% with this model…. any one can order the bread and butter business you want online for half the price you can do it for.

One more thing…. CITY REGULATIONS are getting tougher and tougher to put up signs. You basically make a sale and go back and research wether you really have a sale or not…

YOU WILL LOSE MONEY EACH MONTH FOR 2 TO 3 YEARS… it seems about 80% of new owners lose money for 2 or 3 years and they either close up or continue to work without a paycheck. This is true even though you do exactly what SIGNWORLD and Jack Werner said you should do….

MY ADVICE-Rather than wait until your broke……STAY AWAY!!!
December 31, 2008  Anonomous of Ofallon wrote:
They underestimate the capital required for start up. The performa's they provide you with are erroneous….plan on an additional 100k over what they tell you if you want to stay in business. I asked for help trying to sell mine and JW's comment was…"it would be against our best judgement to try and sell a failing business to a perspective client" How ironic!!
January 23, 2009 Rk of Spokane wrote:
…If you feel compelled to spend well over $250K in capital, I recommend that you convert it to dollar bills, pile it up at a camp site, light it on fire, and gather the kids around for a good old fashioned marshmallow roast rather than waste your time with Signworld.

Seriously, if you really want to get into the sign business, just visit a few sign shops and they'll sell to you on the spot. Because the only thing that owner wants, is to get the bloody Hell out of his Signworld mistake…
October 13, 2009 signgirl of newnan wrote:
I work for a signworld company, not saying where, but have been there since the start up…

Ken Kindt sells dreams, and many people have bought it, i wish i could sit down with the man, and ask him how he sleeps at night knowing he has reemed so many people, but you know, people like him would laugh if they read this, because money has taken over ethics and morals.
Be sure to read: SIGNWORLD: VP Jack Werner Fires Back at Critics
ARE YOU FAMILIAR WITH THE SIGNWORLD OPPORTUNITY?  WHAT DO YOU THINK?  SHARE A COMMENT BELOW.
logo: SIGNworld