Jim Lager: Why Smart Franchisees Fail
Jim Lager: Why Smart Franchisees Fail is a writing and publishing collaboration between successful former franchisee Jim Lager and IdeaFarm Press.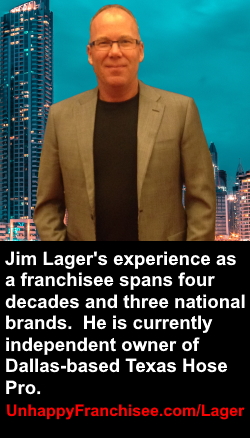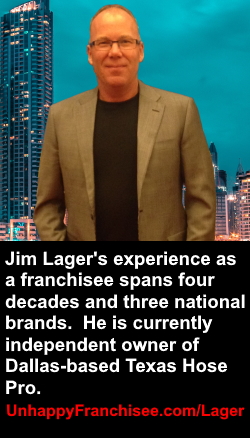 Jim Lager's experience as a franchisee spans four decades and three national franchise brands.
Lager believes that the common wisdom, advice and myths currently promoted to franchisees and prospective franchisees ranges from inadequate and out-of-touch to dangerously false.
Now an independent business owner, Jim Lager wishes to give back by sharing his hard-won insights and experiences gained through his dramatic successes and failures operating franchise businesses.
Jim Lager: Why Smart Franchisees Fail is currently a series of short, mini-articles hosted here and available for download and sharing.  Eventually, Mr. Lager envisions providing these insights in book, video and multimedia formats as well.
Your feedback and topic requests are invited.  Please leave a comment below or on the post page, or email ADMIN at UnhappyFranchisee[at]Gmail.com.
Jim Lager: Why Smart Franchisees Fail Articles:
Upcoming Topics:
Coming Soon (Suggestions welcome)
ALSO READ:
FRANCHISE DISCUSSIONS by Company
ARE YOU A FRANCHISEE, FORMER OR PROSPECTIVE FRANCHISEE?  ARE YOU A FRANCHISOR OR EMPLOYEE OF A FRANCHISOR? 
WE WANT TO HEAR WHAT YOU THINK.  PLEASE SHARE A COMMENT BELOW.
TAGS: franchise, franchise opportunity, franchise complaints, franchise advice, franchise opportunity, how to buy a franchise, buying a franchise, Jim Lager, Texas Hose Pro, Snap-on Tools, AmericInn franchise, Why Smart Franchisees Fail, Why Smart People Fail, unhappy franchisee