Franchise Ownership? There's No Such Thing
"Franchise Ownership? There's No Such Thing."  Veteran franchisee Jim Lager dispels the myth that franchisees are business owners. They own nothing, says Lager. The real value in operating a franchise is education & experience.  

(UnhappyFranchisee.Com)    Jim Lager has been a franchisee of three national brands over the span of four decades. The biggest misconception about franchise ownership, according to Lager, is that it exists. By Sean Kelly
Franchise sellers describe franchising as the safest route to the American Dream of business ownership.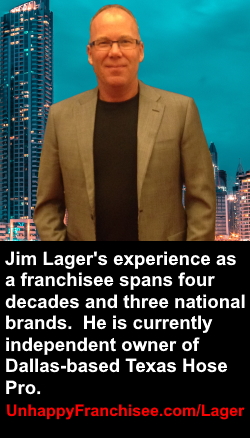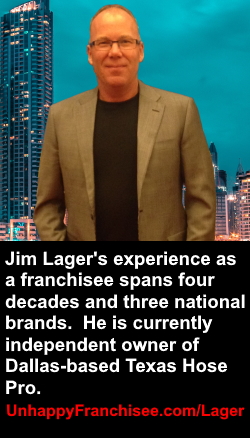 "Nonsense," says Jim Lager. "Franchisees aren't business owners. They are business renters."
"Tell me…" Lager asks. "What do franchisees own?
"The trademarks? No. The trade name they build recognition for over the years? No.
"The goodwill and customer relationships they take years to earn? No.
"Are they free to sell their business to whomever they like with terms that they decide? Definitely not."
Lager says that when one reaches the end of their franchise term, it's like turning over a leased car. You hand over the keys and walk away.
"You own nothing," says Lager.
"You don't OWN a franchise business. You RENT a franchise business."

– Jim Lager
Lager's insights are based on four decades as a franchisee of three national brands: Snap-On Tools, AmericInn lodging and a national mobile hose replacement service.
"There are benefits to renting a business," says Lager. "As long as you know that that's what you're doing and why you're doing it."
"Operating franchise businesses has provided me with a business education," says Lager. "Each franchise system I've been part of provided me with systems, tools and principles to run their business model profitably, and trained me in how to use those tools. They provided support in things like HR, inventory management, marketing and accounting. I have four decades of hands-on experience building multi-million dollar businesses. I could have never received that experience in school or on my own."
"But could I have used that education to open a competing business?" Says Lager.  "No way. The franchise agreement imposes a non-compete clause that makes it virtually impossible to open a competing business and use the experience and education I've acquired.
"A lot of my fellow franchisees are upset when they realize that, after decades building their business, franchisors rarely let a franchisee sell their business for more than the hard assets are worth. I wasn't angry because I understood the business wasn't mine to sell.
"Understand, it's the franchisor's field, their ball, their referee and their ball game. Plus, they made up the rules."
"You won't get rich with a franchised business. But you WILL get educated."

– Jim Lager
"Honestly," Lager says. "Very few franchisees ever get rich operating a franchise business. But if they're smart, they are going to get an education."
"I've owned franchises from three separate brands. I followed their systems faithfully and diligently. Don't get me wrong, I made a good living. But I didn't get wealthy when the franchisors bought out my successful territories. That's not how franchising is supposed to work."
After four decades wearing a franchise brand, Jim Lager is now striking out on his own an independent distributor for Parker Hose Products in Dallas TX.

Sean Kelly is publisher of UnhappyFranchisee.Com and President of IdeaFarm Press, a Relentless, Inc. company.
ALSO READ:
FRANCHISE DISCUSSIONS by Company
ARE YOU A FRANCHISEE, FORMER OR PROSPECTIVE FRANCHISEE?  ARE YOU A FRANCHISOR OR EMPLOYEE OF A FRANCHISOR? 
WE WANT TO HEAR WHAT YOU THINK.  PLEASE SHARE A COMMENT BELOW.
TAGS: franchise, franchise opportunity, franchise complaints, franchise advice, franchise opportunity, how to buy a franchise, buying a franchise, Snap-on Tools, AmericInn franchise, Why Smart Franchisees Fail, Why Smart People Fail, unhappy franchisee