PIRTEK NASCAR Cup Debut Wows Empty Seats at Darlington
PIRTEK founders and Directors Peter Duncan and Glenn Duncan have decades of racing sponsorship experience in Australia.  They claim PIRTEK & PENSKE Racing are "partners on track and in business."  Why, then, are the Duncans wasting the PIRTEK franchisee marketing fund promoting to the empty seats at Darlington Raceway? by Sean Kelly
(UnhappyFranchisee.Com)  Since Glenn Duncan took the helm at PIRTEK USA in 2016, nearly 50% of the PIRTEK franchisee marketing fund has been diverted to racing sponsorships each year.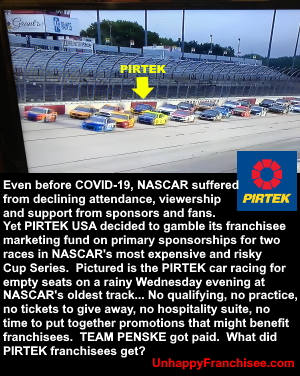 In May, 2020, as PIRTEK franchise owners struggled to maintain sales in the most challenging business environment in recent history, their marketing dollars were spent (wasted?) promoting the PIRTEK logo to the empty seats of a decrepit racetrack.
Last month, PIRTEK CEO Kim Gubera flipped out at the suggestion of a new independent association that would accept PIRTEK franchisees as members. (See As Pressure Mounts, Franchisee Associations Push Back, PIRTEK USA Letter to Kim Gubera, PIRTEK CEO )
Let's hope Ms. Gubera gets as riled up about the irresponsible waste of the PIRTEK franchisees' marketing contributions at a time when they're needed most.
PIRTEK Attempts to Race With The Big Dogs, But Doesn't Get Off the Porch
In October, 2019 PIRTEK USA CEO Kim Gubera announced Pirtek was taking a "huge step" up the NASCAR Cup Series as a primary sponsor Penske Racing's Brad Keselowski for two races during the 2020 season.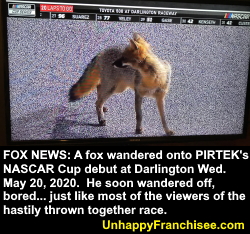 The first race was to be at the "Monster Mile" at Dover International Speedway the first week of May, 2020.
PIRTEK was to "continue to expand its marketing and promotional opportunities through the Team Penske NASCAR program, including at-track hospitality and social/digital engagement with the team."
Due to the CoronaVirus pandemic, the Dover race and 7 other NASCAR events were postponed as the series sat idle for 10 weeks.
NASCAR has been suffering from declining attendance, viewership and interest from sponsors and fans for years.  According to the AP, "NASCAR was facing a financial collapse if live races didn't resume on national television."
Desperate, NASCAR released an aggressive schedule that included 20 races across seven Southern states before June 21.  NASCAR chose Darlington, the oldest speedway on the Cup circuit, as the safest place to restart the season.  Penske likely saw an opportunity to avoid giving PIRTEK a sponsorship refund and swapped out the Dover race sponsorship for the thrown-together, audience-free, depressing Wednesday night race at Darlington.
Pay for a Sunny, Lively Sunday in Dover… Get a Rainy, Desolate Wednesday Night in Darlington
PIRTEK's primary sponsorship of Penske's Brad Keselowski was designated to be for the second of the Darlington races, the Toyota 500.

Instead of a Sunday afternoon at Dover, PIRTEK's first Cup race would be at the ancient Darlington, on a Wednesday night.  It was the first NASCAR race held on a Wednesday since the 1980s.
The Toyota 500 felt rushed, with no practice and no qualifying, no fans in the seats, no tickets and no hospitality promotions available for PIRTEK.
It was a bizarre race.  Adhesive banners came loose from the walls, flew onto the track, stuck to the front grills of cars and prompted the caution flag for debris.
The PIRTEK Ford driven by Keselowski was rarely shown in the FOX broadcast, and when it was the announcers seemed to avoid any mention of PIRTEK (calling it the "#2 car" and "Keselowski's blue and yellow car").  On pit stops, the PIRTEK logo was (intentionally?) obscured from sight.  It seemed like perhaps PIRTEK didn't pay FOX whatever extortive fee they required to mention or show the PIRTEK name.
Occasionally, the in-car camera showed Keselowski and a little PIRTEK logo.  The announcers never mentioned PIRTEK.  Ironically, most of the conversation had to do with a hose that came loose from his helmet.
At one point, a fox wandered onto the track.  Even he soon wandered off, bored.
The lackluster race was put out of its misery 20 laps early due to rain.
And while Keselowski finished in the top 5, he spent most of the race around the 15th position, away from the cameras and commentary.
Team Penske did no favors sticking its partner PIRTEK with the first Wednesday night race in the modern era.  The Sunday Cup race preceding it had 4 million more viewers than the Toyota 500.   The Sunday Cup race following PIRTEK's debut had 2.2 million more viewers.
To add insult to injury, the following Sunday Keselowski won the Coca Cola 600, giving lots of exposure to Miller Lite, Snap-On Tools, Discount Tire, and other sponsors who can actually afford NASCAR Cup sponsorship… but no love for PIRTEK.
Questions PIRTEK Franchisees (& Their Fluid Power Franchisee Association) Should Ask:
Perhaps race sponsorships are ripper in Australia, but the U.S. ain't Australia and PIRTEK is not Miller Lite, Valvoline or even Discount Tire.
PIRTEK franchisees should be asking CEO Kim Gubera and Glenn Duncan:
How much of our Marketing Fund is being spent on these NASCAR sponsorships?
How are the results being measured and evaluated?
What percentage of the overall NASCAR audience are buyers of hydraulic hoses and services, and reside in markets we serve?
Wouldn't our marketing dollars be more effective if they were directed at potential PIRTEK customers?
Wouldn't our marketing dollars be more effectively spent on marketing with measurable results and ROI?
Is PIRTEK USA misusing the franchisee ad fund, as suggested here: Should PIRTEK Franchise Owners Pay for the Franchisor's NASCAR Sponsorship?
Will you please furnish us with the detailed Marketing Fund report offered to us in the PIRTEK FDD?
Can we cancel the rest of the 2020 sponsorship, since Penske cannot provide the audience, tickets, hospitality nor other benefits promised
Questions Prospective PIRTEK Franchisees Should Ask:
Will you please furnish us with the detailed Marketing Fund report offered in the PIRTEK FDD?
Does the marketing fund allocations indicate that franchisee revenue and profit are the franchisor's primary concern?
 What do you think?  Share a comment below.
NOTE:  UnhappyFranchisee.Com welcomes rebuttals, clarifications, corrections or other statements from the companies and individuals discussed here.  We welcome open and respectful dialogue.  Please share a message below or email ADMIN at UnhappyFranchisee[at]Gmail.com.  Threats or legal letters will not be treated as kindly ;) ADMIN
PIRTEK USA related
As Pressure Mounts, Franchisee Associations Push Back
PIRTEK USA Letter to Kim Gubera, PIRTEK CEO
ALSO READ:
FRANCHISE DISCUSSIONS by Company
ARE YOU A PIRTEK USA FRANCHISEE OR CORPORATE EMPLOYEE?  OR YOU FAMILIAR WITH NASCAR OR RACING SPONSORSHIPS? 
WHAT DO YOU THINK?  SHARE YOUR OPINION BELOW.
TAGS: Pirtek franchise, Pirtek USA franchise, PIRTEK franchise opportunity, PIRTEK Racing, Penske Racing, Brad Keselowski, NASCAR sponsorship, mobile hose franchise, hydraulic hose franchise opportunity, PIRTEK complaints, Kim Gubera, Peter Duncan, Glenn Duncan, Roger Penske,  Sean Kelly, Craig Heitkamp, Ken Adair, Carl Jones, Mike McCarthy, Todd Miceli, David Herbert, Eli Dorfman, Sharon Dorfman
The Empty Seats of Darlington Cartoon Series