Why Smart Franchisees Fail? Mark-ups, Add-ons & Kickbacks
Why Smart Franchisees Fail is a hype-free, no-BS series on franchising from an insider's perspective. Many of the insights are extracted from exclusive interviews with Jim Lager, former multi-unit franchisee of three national brands. by Sean Kelly
(UnhappyFranchisee.Com)
If you have researched and absorbed articles and books by franchise industry "experts," much of what you believe about franchising is probably wrong.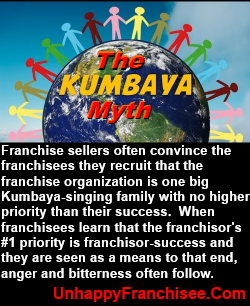 Google "Advantages of Owning a Franchise" and you will find endless articles listing the supposed top 5, 7 or 10 advantages of buying a franchise over starting an independent business.
A favorite trick of franchise industry propagandists is to take a benefit that may have once been true, or may still be true of some franchises, and pronounce that it's a universal benefit bestowed by ALL franchise opportunities on ALL franchisees.
Invariably, those lists will contain "Buying Power" or "Purchasing Power" as a key advantage franchisees have over their independent counterparts.
For example, Franchise Business Review states:
When you purchase a franchise and become part of the franchise system, you'll benefit from your franchisor's established deep-rooted relationships with suppliers. This means that materials will be less expensive because of the franchisor's collective buying power.

Lower costs from the "franchisor's collective buying power" was not an advantage former PIRTEK franchisee experienced. According to Lager, he gained the advantage of low pricing only when he ceased being a franchisee and went independent earlier this year.
If buying power was ever a universal advantage enjoyed by franchisees, that era has now been replaced by the era of Mark-ups, Add-ons & Kickbacks (Oh My!).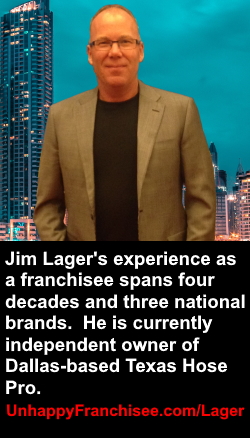 Franchisee Jim Lager Goes Independent… and Gets a Nice Surprise
Jim Lager has been a top multi-unit franchisee of two national chains (Snap-On Tools and, most recently, PIRTEK) and a single unit franchisee of another (AmericInn, now owned by Wyndham). Lager parted ways with PIRTEK in February, 2020 and established his own independent business, Texas Hose Pro, providing the same hydraulic hose sales and repair services in the Dallas, TX market.
Just three months after establishing his independent business, Lager's costs for inventory items and supplies are significantly lower than what he was paying as a franchisee.
"I actually am at a loss to explain it. It's probably the biggest single surprise that I've had since going on my own," says Lager.
"The franchisor has a department staffed with professional buyers. That's what they're trained for, and their only responsibility. The franchisor is able to aggregate the purchases of nearly 90 franchised businesses around the country," says Lager. "How is it possible that I – buying only for myself – am able to get the same exact products at a significantly lower price?"
Lager says he doesn't have any magical connections or supreme negotiation tactics – these lower prices are available to any independent business owner walking in off the street.
"I buy my fittings at a discount price now and pass the savings on my customers. That's why I can offer a lower price for any job involving fittings," says Lager. "I also have the freedom to set my own prices higher or lower as needed. The PIRTEK franchise agreement gives the franchisor the power to dictate the maximum prices Pirtek franchisees can charge."
While Lager didn't specify his exact cost savings, it's easy to see how a pricing difference of, say, 20% – 30% could be the difference between success and failure for many businesses. On top of the cost savings on inventory purchases, as an independent Lager no longer pays a 4% royalty on gross sales to the franchisor every week.
As an independent business owner, he's also unburdened from the supplemental fees listed in the FDD, such as the "Computer System Fee/Data Transfer" fee of $650- $2,675 per month and "GPS Tracking Fee" of $100 per van, per month.
"Looking back," says Lager. "I'm amazed that I did as well as I did."
PIRTEK USA Makes Most of Its Revenue Marking Up Required Franchisee Purchases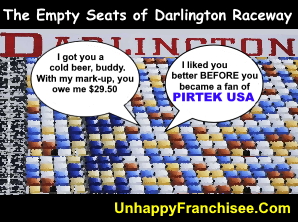 The ongoing franchise industry misinformation campaign that touts "Buying Power" as a standard advantage of being a franchisee is based on the premise that the benevolent franchisor is in service to the franchisee, that only good things flow from franchisor to franchisee, and that the franchisor gets his revenue primarily from the royalty percentage (in this case, 4%) of the franchisee's sale to the customer.
I call that premise the "Kumbaya myth." It paints the picture that the franchisor's and franchisees' interests are perfectly aligned, and the franchisor is only successful when the franchisee is successful.
Unfortunately, that's rarely the case. The franchisor's goal is to make money for the franchisor and its shareholders… the franchisees are a means to that end. There's nothing necessarily sinister about that. They franchised their business to make money and minimize risk by harnessing the investments and labor provided by their franchisees.
A review of the PIRTEK USA FDD reveals that, in 2019, more than $20M of PIRTEK USA's total revenue of $24M was derived from "the sale of Inventory Products and other items" sold to its PIRTEK USA franchisees… many times at prices higher than they could have purchased elsewhere.
In addition to marking up the required products as it pleases, the PIRTEK USA franchise agreement also gives the franchisor the right to charge franchisee vendors fees up to 20%, and to receive rebates from approved suppliers on franchisee purchases.
It's reasonable to assume that if a vendor is socked with a 20% fee from a franchisor, that vendor will compensate by raising the price paid by the franchisee.
Both the PIRTEK USA FDD and FA state: "We derive revenue from the sale of Inventory Products and other non-inventory items to you by charging more than our wholesale purchase price from the manufacturers… In many instances, the cost of the Inventory Products and other non-inventory items to you may be higher than the cost of other hoses or other similar products on the market."
The lesson for prospective franchisees: Understand your franchise agreement, and understand how your franchisor makes its money.
It can sometimes be at the expense of your bottom line.
ALSO READ (PIRTEK USA related):
PIRTEK NASCAR Cup Debut Wows Empty Seats at Darlington
PIRTEK USA Franchise: Not All Leaps of Faith End Well
As Pressure Mounts, Franchisee Associations Push Back
PIRTEK USA Letter to Kim Gubera, PIRTEK CEO
ALSO READ:
FRANCHISE DISCUSSIONS by Company
Jim Lager: Why Smart Franchisees Fail (Series Index)
Franchise Ownership? There's No Such Thing
Why Smart Franchisees Fail? Rose-Colored Glasses
Why Smart Franchisees Fail? Getting Rickrolled
ARE YOU A FRANCHISEE OR FRANCHISOR CORPORATE EMPLOYEE? OR YOU FAMILIAR WITH FRANCHISOR MARK-UPS, ADD-ONS OR KICKBACKS?
WHAT DO YOU THINK? SHARE YOUR OPINION BELOW.
TAGS: Pirtek franchise, Pirtek USA franchise, PIRTEK franchise opportunity, advantages of a franchise, mobile hose franchise, hydraulic hose franchise opportunity, PIRTEK complaints, Kim Gubera, Peter Duncan, Glenn Duncan, Jim Lager, Sean Kelly, franchise mark-up, franchise kickbacks, franchise rebates
The Empty Seats of Darlington Cartoon Series by

Unhappy Franchisee