Autopsy of PIRTEK NASCAR Cup Sponsorship Debut: Expert Opinions Invited
In October, 2019, PIRTEK announced that it had committed to a multi-year sponsorship deal with Team Penske.  For its first-ever foray into the NASCAR Cup Series, the deal would make PIRTEK the primary sponsor of the #2 car driven by Brad Keselowski for two races in 2020 at Dover and Daytona International Speedways.  After the COVID Pandemic caused the Dover race to be delayed, the PIRTEK car was put in a Wednesday night race at Datlington instead.  Despite having been the race leader and earning a top 5 finish, the PIRTEK logo was rarely seen in the broadcast.  We're hoping racing sponsors and other NASCAR experts can help us understand why.  by Sean Kelly  [FOR FULL TOYOTA 500 RACE AT DARLINGTON, SEE BELOW]. 
(UnhappyFranchisee.Com)  PIRTEK USA is a franchised hydraulic hose repair and replacement chain.  With systemwide sales in the tens of millions*, it's a pretty tiny company compared to the many Fortune 500 multi-billion dollar companies participating in NASCAR's premiere Cup Series.  But in its effort to race with the big dogs, PIRTEK USA has committed half of its franchisees' marketing dollars ($500K to $750K maybe?) to sponsoring Team Penske cars… first in the Xfinity Series and now in the big-time Cup Series.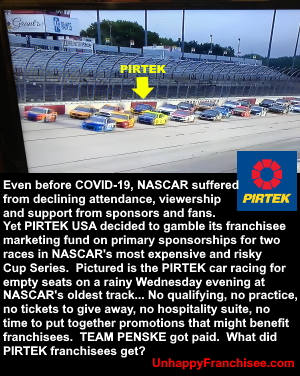 In October, 2019 Team Penske announced that PIRTEK would be primary sponsor of the #2 driven by Brad Keselowski for two races in 2020:  the May race at Dover and a fall race at Daytona.  The pandemic put a halt to NASCAR races for ten weeks and the Dover race was postponed.  When NASCAR racing resumed with a hasty, hurried schedule starting in Darlington, Team Penske fulfilled half its 2-race obligation to PIRTEK by making it the primary sponsor of the 2nd race:  The Toyota 500 scheduled for 7 pm on a Wednesday night… the first mid-week NASCAR race since 1984.
Not only did the race have 4 million fewer viewers than the preceding Sunday's race and 2 million fewer than the following Sunday's Coca Cola 600, FOX FS1 rarely showed the #2 PIRTEK Ford despite having been the race leader at one point, and finishing in the top 5.
See the photos of the pit stops of all cars below.  The logo of the PIRTEK #2 Ford appears to be intentionally blocked.
At PIRTEK's Cup debut, there were no fans, no hospitality suite, no tickets to give away, no time to plan any sort of promotion, and no exciting checkered flag finish… as the race was called 20 laps early due to rain.  Broadcast exposure for the PIRTEK car seemed intentionally minimalized.
Did FOX FS1 Purposely Minimize the Visibility of the PIRTEK Car On-Track and in the Pits?
Brad Keselowski made a respectable showing in the PIRTEK #2 Ford.  While he raced mostly in the 13th to 15th position, he was the race leader for a spell and finished in the top 5.
However, except for the small logo shown by the in-car camera, PIRTEK got minimal exposure and no mentions from the announcers (Who called it the "#2 car" or "Keselowski's blue and yellow Ford.").
The most dramatic indication that someone was intent on making sure PIRTEK got as little exposure as possible were the shots on pit road.
The pit stops are a valuable opportunity for sponsors to get exposure since the car is stationary and visible for 5-15 seconds.
The FOX FS1 broadcast featured 12-15 cars in their pit stops.
All but the #2 PIRTEK Ford was shown from an unobstructed camera angle.
Despite being the race leader at the time, FOX FS1 switched to a camera angle that hid the PIRTEK logo behind the pit signs: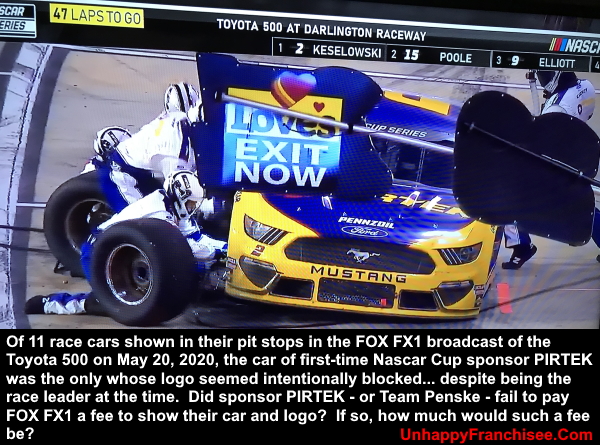 Here is how FOX FS1 showed all of the other cars' pit stops throughout the race.
Note how these camera angles clearly show the sponsor logos for an extended period of time.
.

.

.

Bass Pro Shops Racing

.

.

.

.

Caterpillar Racing

.

.

.

.

ChevyGoods.Com

.

.

.

.

CreditOne Racing

.

.

.

.

FedEx Racing

.

.

.

Spartan Mosquito Racing

.

.

.

M&M Mars Racing

.

.

.

Stanley Tools Racing

.

.

.

.

Victory Junction Racing

.

.

.

Oscar Mayer Racing
NASCAR Racing & Sponsorship Professionals: What Do You Think?
We are hoping experienced racing professionals will address our many questions and help enlighten would-be NASCAR sponsors.
Does FOX FS1 intentionally minimize exposure of certain cars in NASCAR races? If, so, why?
Did PIRTEK likely fail to pay a fee for on-air exposure?  How much of a fee would that be?
As its race "partner," should Team Penske have helped ensure newbie PIRTEK would get broadcast exposure?
Even with the current challenges, was Team Penske being fair when it swapped the Sunday Dover race for the fan-less mid-week Darlington race?
With a specialized niche product, a total marketing budget around $1M+ and maybe $500K to allocate to racing,  is it realistic for PIRTEK to be a primary sponsor in the NASCAR Cup Series?
Feel free to share a comment below or email us at UnhappyFranchisee[at]gmail.com.  We can keep commenter identities anonymous on request.
NASCAR Cup Series Toyota 500 at Darlington Raceway, on FOX FS1 Wed. May 20, 2020 (Full Race)
.
.
Sean Kelly is the publisher of UnhappyFranchisee.Com
In his 30 years in franchising, Sean Kelly has managed many franchisee marketing funds. 
He has also initiated and managed NASCAR car, truck and race sponsorships. 
Sean Kelly is a close personal friend and associate of NASCAR legend Gizzard Coop, pictured here on the infield at the pre-Covid-19 Charlotte Motor Speedway.
PIRTEK USA related:
PIRTEK NASCAR Cup Debut Wows Empty Seats at Darlington
PIRTEK USA Franchise: Not All Leaps of Faith End Well
As Pressure Mounts, Franchisee Associations Push Back
PIRTEK USA Letter to Kim Gubera, PIRTEK CEO 
FRANCHISE DISCUSSIONS by Company
Franchise Ownership?  There's No Such Thing
ARE YOU A PIRTEK USA FRANCHISEE OR CORPORATE EMPLOYEE?  OR YOU FAMILIAR WITH NASCAR OR RACING SPONSORSHIPS? 
WHAT DO YOU THINK?  SHARE YOUR OPINION BELOW.
TAGS: NASCAR Cup Series, Team Penske, Penske Race Sponsorship, Brad Keselowski, FOX FS1,  PIRTEK franchise marketing fund, Pirtek franchise, Pirtek USA franchise, PIRTEK franchise opportunity, PIRTEK Racing, Penske Racing, NASCAR sponsorship, Kim Gubera, Peter Duncan, Glenn Duncan, Roger Penske, Sean Kelly, Fluid Power Franchisee Association, FPFA, Craig Heitkamp, Ken Adair, Carl Jones, Mike McCarthy, Todd Miceli, David Herbert, Eli Dorfman, Sharon Dorfman
The Empty Seats of Darlington Cartoon Series