PIRTEK NASCAR Cup Sponsorship – The Caution Flag is Out
NASCAR Cup Racing Sponsorships for the right company can be fun, rewarding, a great way to build a brand with the most loyal and responsive customers anywhere.  For the wrong company, or without a solid activation strategy and execution,  sponsorships can burn a franchisee marketing fund faster than Sunoco fuel… and leave the franchisor looking vain, inept and/or untrustworthy. by Sean Kelly
(UnhappyFranchisee.Com) If you are considering investing in a particular franchise opportunity, take a hard practical look at how much you'll be required to contribute to a marketing or advertising fund(s ), what benefits franchisees receive in exchange for that contribution, and how the franchisor administers and spends the fund.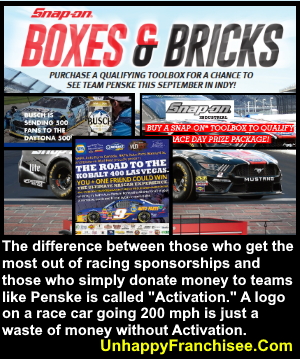 Some very basic information on the franchisee marketing fund and how it's used can be found in ITEM 11 of the franchisor's Franchise Disclosure Document (FDD), which every franchisor must furnish to prospective franchisees.  FDD ITEM 11 will often say that a detailed accounting of marketing fund contributions and expenditures are available upon request.  Request the most recent (and prior) marketing fund reports and spend some time analyzing it.  It can reveal a lot about a franchisor's marketing effectiveness & commitment to driving sales for franchisees.
NASCAR Cup Sponsorships the Right Way… And the PIRTEK USA Way
I have a colleague who is a former top franchisee of both SNAP-ON TOOLS and, more recently, PIRTEK, a niche seller of hydraulic hoses and fittings based in Rockledge, FL.
Both franchisors were involved with racing sponsorships – but with very different results.
Three factors made Snap-On's racing program brilliant, he says.
First, Snap-On is a Fortune 500 company with sales of $4 billion.  It can afford to do it right.
Second, Snap-On customers are professional auto-mechanics in every market of the U.S…. and dedicated NASCAR fans.
Third, Snap-On has decades of experience activating sponsorship benefits from the national to the local level.
The franchisee told me: "Snap-On Tools franchisees experienced the tangible benefits of their race program firsthand with sales contests, ticket giveaways, hospitality events where I could bring customers.  I remember them bringing two Snap-On cars to my market.  We displayed them at my customer's dealership and I invited all my Snap-On customers and prospective customers for the well-publicized event."
Using the sponsorship for creative engagements like that is called "Activation."  Sponsorship without activation is practically worthless… just an unreadable logo on a car going 200 miles an hour.
PIRTEK USA's sponsorship with Team Penske is a different story.  Next to Snap-On, PIRTEK is a tiny company with sales in the tens of millions rather than billions.  PIRTEK does not have full national coverage, it has a very specific mechanical and maintenance-based customer that may or may not watch motorsports.
PIRTEK USA Likely Paid Hundreds of Thousands of Dollars For What's in The Screen Above

PIRTEK USA burned a sizeable portion of its franchisees' marketing fund budget, likely a half a million dollars or more, on a two-race sponsorship of Penske's #2 car, driven by Brad Keselowski.  The first of these races was held on a rainy Wednesday night at NASCAR's oldest track, Darlington.  There were no fans in the seats, no tickets to give away no, hospitality suites, and no time to put together a promotion.
There was also no exciting checkered-flag finish, as the race was terminated 20 laps early due to rain.
Fast forward through this rain-shortened race, shown above.  For fun, count how many times the announcers say the name "PIRTEK" and how many times the PIRTEK logo is readable to viewers.  How many hydraulic hoses to you think this race sold?
You Can't Race With the Big Dogs With a Chihuahua-Sized Budget
PIRTEK USA seems to lack two key resources that made the Snap-On Tools racing successful:  Money and experience.
One thing inexperienced NASCAR sponsors learn the hard way is that the sponsorship dollars you pay a race team or even a track doesn't mean that FOX or whoever else is broadcasting the race will mention your name, or show your car or your logo.
FOX (FS1) is under no obligation to show any particular car or logo, or mention a sponsor by name.
That means sponsors can pay hundreds of thousands, or millions, of dollars for sponsorship of a car or race team and get zero on-air exposure… unless they are willing to work out a deal.
Sponsors can get blindsided even up to the day of the race and if they can't afford to pay their brand will get minimal to no exposure.
This may or may not have been the case with PIRTEK, but the lack of meaningful camera time and the blocking of the logo (see right) during the pit stop makes one wonder.
In Race Sponsorship, "Activation" is Key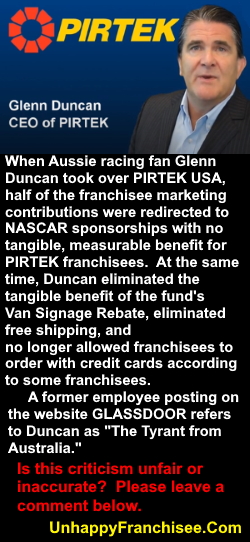 The key to getting value from racing sponsorships is called "Activation."
Activation can take many forms, but think of it as squeezing every bit of benefit from the sponsorship to connect with and reward employees and customers, and promote your brand.
Think in terms of contests where customers can win a chance to watch the race from a hospitality suite, sales contests for employees, driver or car appearances, promotions co-branded with the Team or NASCAR branding, etc.
Sponsorship without activation is just an unreadable logo going around in circles at 200 miles an hour.
I've long argued:  Franchisees get the marketing programs they're willing to settle for.
This very moment seems like the right time for PIRTEK franchisees to to decide and demand a more responsible approach to marketing support than they're currently getting.
[NOTE:  Information about the PIRTEK franchisee marketing fund has been moved to and expanded on here: Should PIRTEK Franchise Owners Pay for the Franchisor's NASCAR Sponsorship?
About the author, Sean Kelly: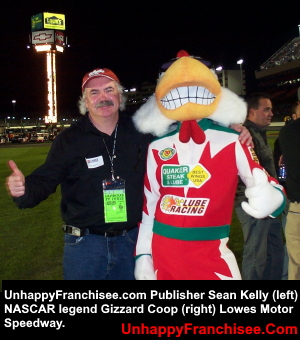 In his 30 years in franchising, Sean Kelly has managed many franchisee marketing funds. 
He has also initiated and managed NASCAR car, truck and race sponsorships. 
Sean Kelly is a close personal friend and associate of NASCAR legend Gizzard Coop, pictured here on the infield at the pre-Covid-19 Charlotte Motor Speedway.
He (Sean, not Gizzard) can be reached at UnhappyFranchisee[at]Gmail.com
 PIRTEK USA related:
PIRTEK NASCAR Cup Debut Wows Empty Seats at Darlington
Autopsy of PIRTEK NASCAR Cup Sponsorship Debut: Expert Opinions Invited
As Pressure Mounts, Franchisee Associations Push Back
PIRTEK USA Letter to Kim Gubera, PIRTEK CEO
ALSO READ:
FRANCHISE DISCUSSIONS by Company
Franchise Ownership?  There's No Such Thing
ARE YOU A PIRTEK USA FRANCHISEE OR CORPORATE EMPLOYEE?  OR YOU FAMILIAR WITH NASCAR OR RACING SPONSORSHIPS? 
WHAT DO YOU THINK?  SHARE YOUR OPINION BELOW.
TAGS: NASCAR Cup Series, Team Penske, Penske Race Sponsorship, Brad Keselowski, FOX FS1,  PIRTEK franchise marketing fund, Pirtek franchise, Pirtek USA franchise, PIRTEK franchise opportunity, PIRTEK Racing, Penske Racing, NASCAR sponsorship, Kim Gubera, Peter Duncan, Glenn Duncan, Roger Penske, Sean Kelly, Fluid Power Franchisee Association, FPFA, Craig Heitkamp, Ken Adair, Carl Jones, Mike McCarthy, Todd Miceli, David Herbert, Eli Dorfman, Sharon Dorfman
The Empty Seats of Darlington Cartoon Series