Robyn & Corey Rivera – Java Jo'z / Cuppy's Coffee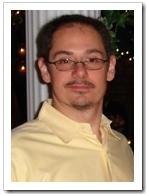 "We have been trying to get our $30,000 deposit back for over a year. How can they get away with this? How do they sleep at night?"
[Please read disclaimer at the bottom of this page]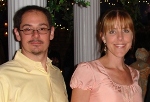 An Interview with Corey and Robyn Rivera: Java Jo'z licensees
Location: Houma, Louisiana
Companies:: Java Jo'z / Cuppy's Coffee, Emerald Coast/ Elite Manufacturing
Time period of ownership: Nov. 2005 to Feb. 2007; Still awaiting refund
Fees paid: $5,000 via wire transfer in February, 2006, hand-delivered $25,000.
Current Status: Ex-licensees. Company refuses to $30,000 deposit
What's your background? What were you doing prior to pursuing this opportunity?
We owned and still own a coffee shop called Gourmet Grind in Houma, Louisiana. We have been owners of this shop for 5 years now. The shop is very successful and has had a steady growth every year since we have become the owners.
We wanted to expand with another location that would accommodate a drive-thru. We researched before deciding on Java Jo'z. We thought "Why invent the wheel when this company has the process all worked out and as licensees we would be able to inject a little of Gourmet Grind into it?"
When did you decide you wanted to own your own business? Describe the process you went through to determine which franchise to buy.

We decided to expand after having a success with our current coffee shop. We had sold our house to get the equity for the down payment. Corey used websites and Google searches to find drive through coffee shops and Java Jo'z popped up. We talked to the owners of a Java Jo'z in Mississippi. We drove over to the office and met the staff, saw the operation, visited some other stores in Florida before deciding to go with this company. We were also attracted to being a licensee which gave us more freedom. This allowed us to put our personalities into it. The start up fees seemed reasonable and the support seemed to be there.
Describe the company's sales process and your interaction prior to becoming a franchisee.
We contacted Java jo'z and in turn a sales rep named Richard called me back. We had a 1 hour phone session, then he emailed me some general information to look over. Then I had a business questionnaire to fill out to see if I qualified and I did. Then they sent me a second package more detailed explaining what to expect from Java Jo'z and what they expected from me.
I found my own site location, which they approved, and I preliminarily obtained my own financing. Next was the money. We first sent them a cashier's check for $5,000. We then visited their operation and facility, and delivered an additional $25,000 for a total downpayment of $30,000. This was downpayment was to be returned to us if we did not obtain financing or find a suitable site.
The only good that come of this is that if we can tell enough people about our experience, maybe it will save a few of them from suffering the same fate. – Robyn Rivera
How was the company's training and pre-opening support. Was it a positive experience?
The $30,000 we put up front was meant to order all the marketing materials, begin construction of the building, help line up financing, help find a suitable site, training and things along this line. We found our own site and lined up our own financing.
We went down to their corporate office for a weekend of training in August of 2006. It was at this point they started pitching the idea of Cuppy's Coffee and tried to talk everyone partaking in the training into giving up our rights as Java Jo'z and re-signing as Cuppy's Coffee. They made a big hoopla, brought in some big shot with international commerce and a representative of the state of Florida trying to show that they were on board with this corporate change and that they were ready to start going international. They would later say that Java Jo'z and Cuppy's Coffee were two different companies, but here we were at Java Jo'z training being pitched by the same people to join their Cuppy's Coffee program.
Except for the pressure to take the Cuppy's brand, the training was otherwise positive. They did say that if we didn't change to Cuppy's Coffee that down the road, not immediately, we may not have the same support as those who changed to Cuppy's Coffee. They only admitted this after I asked them 7 or 8 different ways until I got a straight answer.
When did things start going wrong?

It was taking months for the sellers of the property to do their due diligence to get the property ready to satisfy the bank. Then it turned out that the land had a defect that was not disclosed to us until 6 or 7 months in dealing with the sellers. At this point the bank could not move forward until the problem was fixed.
The property we were going to purchase had a natural gas pipeline running through it and there was no record of right of way in the Town records. Our bank refused to loan the money without proper right of way, so began the process of trying to obtain that from the oil company. 6 months later we still could not get the oil company to respond so our loan time was up and the bank refused to renew with that property. Katrina hits our town in this time and the price of land soared through the roof putting it out of our price range.
The sellers couldn't fix the problem in a satisfactory way suitable to us or our bank, so that deal fell through. This was all coming to a head when we went to Java Jo'z in August for training. We were already frustrated with the whole situation and once Java Jo'z tried to pitch us on this Cuppy's Coffee, we were done. Our contract with Java Joz gave us the chance to withdraw and have our deposit returned:
If we could not find a suitable piece of real estate
If we could not line up financing.
Both of these applied. The bank would not complete the last leg of the loan unless the land sellers fixed the problem. Land sellers couldn't fix the problem, therefore the bank couldn't complete the loan.
Wasn't there another Java Jo'z operating in your town at the time?
Yes. Their situation caused us great concern. Another Java Jo'z owner in our town was not getting the support she needed from Java Jo'z. They were not fixing the problems that occurred with her building, there was a dispute regarding their handling of her lease, and the advertising blitz that was to occur never happened.
So, we were having problems with the bank and land we were trying to buy, we were watching a nearby Java Joz's going down the drain, and were getting pressured to switch from Java Jo'z to Cuppy's Coffee – we had had enough and wanted out.
So you decided to withdraw from the deal?
Just about that time a friend told us about blogs on line concerning Java Jo'z. We saw lots of negative comments from many other people in the same situation, and that is when we knew for sure. I called the company and explained the entire problem we were having and our financial situation had changed (I had lost my job and took one with lower pay) I asked for the deposit back and was told to request it in writing (which I did) and here we are today with no money.
What about the claim that Cuppy's Coffee is a completely different company than Java Jo'z, and that Cuppy's Robert "Morg" Morgan just purchased the assets – and not the prior relationships and liabilities – of Java Jo'z from Roy Snowden?
We never even met Roy Snowden. Our dealings were with Robert Morgan from the beginning and all the way through. We went to Java Jo'z training and the same people were pitching us on switching to the Cuppy's Coffee program. Some emails and correspondence they sent said Java Jo'z, some said Cuppy's Coffee. They were all the same people in the same offices doing the same things. I'm not an attorney, but can tell you that the people that took our money and didn't return it are the same people being accused of taking deposits for Cuppy's Coffee and not giving them back.
Have you tried to resolve your issues with the franchisor? What was the outcome?
C&R Rivera: Yes we tried. There were many Java Jo'z licensees in the same boat. We were offered to be put into a pool they would draw from it every quarter until we got paid back. It was unacceptable. Why not return our money as agreed? We did not go for that deal we hired a lawyer instead, but can't afford to keep racking up legal fees. I called the company and left many messages. When I finally reached someone named Andrea, she hung up on me. What kind of way to run a business is this?
All we want is our $30,000 back. We gave it in good faith and under a written agreement.
What mistakes did you make? Looking back, what would you have done differently?
Our first mistake was being too trusting. I assumed that these nice people were honest, ethical and good to their word. I regret not making sure the money was in a 3rd party escrow account and untouchable until all transactions were completed.
My second mistake was not being more aggressive in fighting for what's right. I let time pass, I let them wear us down and I got tired of fighting. I should have been consistent on calling and demanding my money back; instead I hired a lawyer to do that, which got me nothing but more money down the drain.
Situations like this take an emotional and as well as a financial toll. We have lost all the money that came from selling our home. That was our every bit of savings we had. The only good that come of this is that if we can tell enough people about our experience, maybe it will save a few of them from suffering the same fate.
What advice would you give to prospective franchise owners? What questions should they ask? What warning signs should they look for?
– Dig deep in your research; read all correspondence about a company and the people in it; listen to what is being said. (People are still giving this company money.
– Do extensive research (BBB, Complaint websites, FranchisePick.com, Attorney General, FTC etc.) and see if there are complaints being filed.
– No matter how nice they are, make sure any monies being handed over are set up in a 3rd party escrow account.
– Pay an experienced franchise lawyer overlook the contract CLOSELY, and know what recourse you have if they don't live up to their side of the bargain. We did this, but our lawyer was a friend who had little franchise experience.
Remember, you can't afford to be trusting when you are risking your retirement or your children's future.
For more information, feedback or questions on how you can participate on UnhappyFranchisee.com, email us at unhappyfranchisee@gmail.com
Disclaimer: All personal stories on UnhappyFranchisee.Com are information, claims and opinions are those of their respective authors and do not reflect the opinions of UnhappyFranchisee.com, Relentless, Inc., its owners or the other contributors that appear on this blog. These interviews reflect the opinions and perceptions of the franchisees who provide them, and have not been verified for factual accuracy. If you are investigating a franchise opportunity, we encourage you to do your own due diligence and draw your own conclusions.