PIRTEK USA, Glenn Duncan Asked About 2020 Franchise Closures
PIRTEK USA Chairman Glenn Duncan is asked to clarify CEO Kim Gubera's contention that PIRTEK had zero closures in 2020 despite (seemingly) strong evidence to the contrary.  Is PIRTEK hiding franchise failures?  Is Duncan's fears about growing too fast coming to pass?  by Sean Kelly

(UnhappyFranchisee.Com)  Last November, PIRTEK USA CEO Kim Gubera told Franchise Times editor Beth Ewen that, in 2020, "we've had no closures."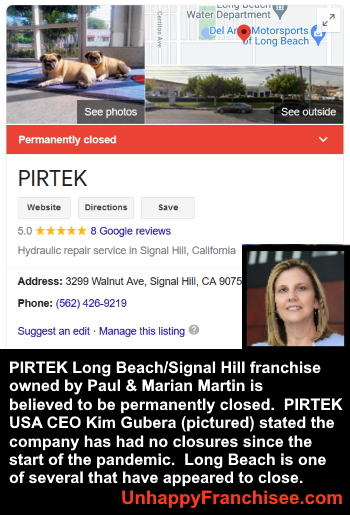 The 2021 FDD seems to contradict Gubera's claim. 
In PIRTEK USA CEO Kim Gubera Claims They Had No Closures in 2020 we cited the company's attempt to erase its previously celebrated Bronx franchise that appears to have closed in 2020.
The Bronx franchise had just been open for a few months.
We hope Chairman Glenn Duncan, Kim Gubera or Nick Ridgway can clarify how PIRTEK Long Beach, PIRTEK Norfolk and PIRTEK Meacham (Fort Worth) as well as PIRTEK Bronx are not "closures."
PIRTEK Long Beach Permanently Closed
Google reviews states that PIRTEK Long Beach / Signal Hill is permanently closed.
PIRTEK Long Beach was listed on the website as open in Spring, 2020 as open, then was deleted some time before Spring 2021.
Franchisees Paul Martin & Marian Martin opened the PIRTEK LONG BEACH location (3299 Walnut Ave, Signal Hill , CA 90755 Phone: 562-426-9219 Fax: 562-426-9261) in 2012.
The latest review for PIRTEK Long Beach on Google was left in October, 2020.
The PIRTEK USA FDD 2021 dated March 26, 2021 still lists the Long Beach location as open.  The FDD does not include the Long Beach closure nor does it list the Martins as having left the system.
2 PIRTEK Franchises in Texas Ceased Operation in 2020.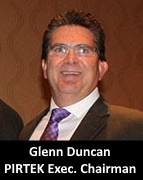 2021 PIRTEK FDD lists locations in Dallas (Love Field) and Fort Worth (Meacham) as "not renewed" in one place and "terminated" in the other.
While there is a new Dallas franchisee, there is no longer a Meacham location. 
At the very least, it would seem that the Fort Worth/Meacham franchise was a closure.
Yet Kim Gubera states that there were been no closures in 2020.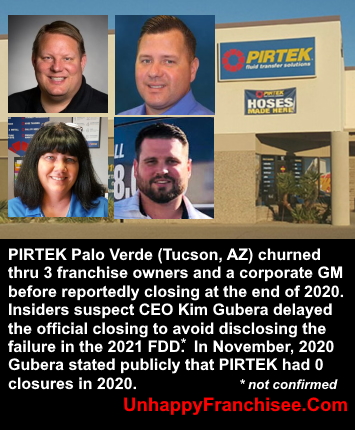 PIRTEK Palo Verde Closed After 4th Owner Failed?
Anonymous sources tell us that the PIRTEK Palo Verde (Tucson AZ) location likely closed at the end of 2020*, but the closure was not announced, even internally, until the 2021 FDD was filed in March 2021.
The troubled PIRTEK Palo Verde was on its 4th owner (Mike (David) Johnson, PIRTEK USA, Paula Meyer, Ron Trombetti) and was consistently ranked among the lowest sales producers in the chain.
Insiders believe that it's likely Kim Gubera would have known about the impending closure when she told Franchise Times they had none for 2020.
* not confirmed.  We have asked PIRTEK USA for closure dates of these franchises
Not Disclosed:  PIRTEK Norfolk Owners Jeff Ohstrom & Debra Ohstrom Exited the System in 2020
PIRTEK FDDs claim that PIRTEK USA sold its Norfolk, VA location in May, 2018 to Jeff Ohstrom.
The 2019 FDD lists Jeff & Debra Ohstrom as the franchise owners.
The 2021 FDD states that the company took back the Norfolk franchise on November 6, 2020.
The 2021 FDD fails to list Jeff & Debra Ohstrom or their contact information, as required, in the LIST OF FRANCHISEES WHO CEASED TO DO BUSINESS UNDER THE FRANCHISE AGREEMENT, OR HAD AN OUTLET TERMINATED, CANCELLED OR NOT RENEWED AS OF DECEMBER 31, 2020.
Churning Alert:  In general, the practice of franchisors selling non-viable locations to franchisees then taking them back and reselling them again is called churning.  It can generate ongoing revenue for franchisors but the failed franchisees don't show up as "closures."
The Need for Transparency from Franchisors Like PIRTEK USA
At present, franchisors have the power to sidestep the intentions of the FTC when it enacted The Franchise Rule.
Rather than the open flow of information available to prospective franchisees, franchisors and their attorneys have used NDAs, confidentiality clauses, legal threats, mandatory arbitration and other methods to hide negative information and, in some instances, perpetuate bad behavior and unethical business practices.
And while their franchisees find themselves hesitant to share their honest opinions and experiences, franchisors seem to be able to make any representation to the press and it will be accepted as fact.
High-level efforts are underway to prompt the GAO and other agencies to do a thorough review of The Franchise Rule and the FTC's enforcement of it. 
Hopefully, Glenn Duncan & Kim Gubera will adopt a new policy of transparency and begin to respond directly to questions and criticism made on behalf of prospective franchisees and their right to true and accurate information.
NOTE:  We invite Kim Gubera, Glenn Duncan, Nick Ridgway and other PIRTEK USA representatives to provide corrections, clarifications, rebuttals or statements regarding the opinions and questions stated on this site.  We research from publicly available sources and post what we find for discussion and debate – all points of view are welcome and will be fairly represented.  Post in comments below or email ADMIN at UnhappyFranchisee[at]Gmail[dot]com.
ALSO READ:
FRANCHISE DISCUSSIONS by Company
PIRTEK USA Letter to Kim Gubera, PIRTEK CEO
DOCUMENTS:
PIRTEK USA 2021 Franchise Disclosure Document (FDD) (PDF)
ARE YOU A PIRTEK USA FRANCHISEE OR CORPORATE EMPLOYEE?  OR INVOLVED WITH FRANCHISE THAT MARKS UP PRODUCTS TO FRANCHISEES?  SHARE A COMMENT BELOW.
TAGS: PIRTEK, PIRTEK USA, Pirtek franchise, Pirtek USA franchise, PIRTEK franchise opportunity, PIRTEK Bronx, PIRTEK New York, PIRTEK Long Beach, PIRTEK Palo Verde, PIRTEK Virginia Beach, Kim Gubera, Glenn Duncan, Nick Ridgway, Asim Iqbal, unhappy franchisee