FRANCHISE BUSINESS REVIEW Promotes Illegal Earnings Claims Disavowed by Client
Franchise buyers should be wary of relying on representations made by "research firm" Franchise Business Review, our research indicates.  FBR appears to be unwilling to correct promotional claims, even when its client or FBR's own CEO acknowledge they are deceptive and/or violate franchise law.  In our ongoing investigation of Franchise Business Review, we have documented two such instances of false and/or illegal financial representations going uncorrected.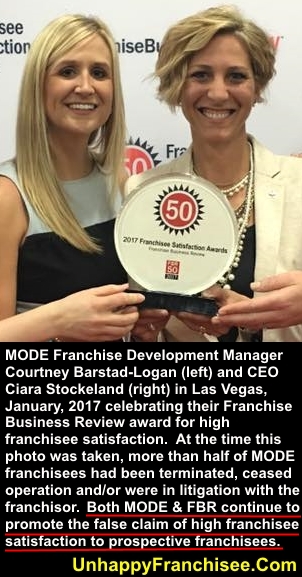 (UnhappyFranchisee.Com)  Eric Stites claims he founded Franchise Business Review (FBR) to provide accurate, objective research to aid prospective buyers conduct effective due diligence and vetting of franchise offerings.
Critics of Franchise Business Review claim that Stites' company is in the business of selling  questionable awards and rankings to franchises without much else going for them, and to provide franchise sellers with a vehicle for skirting state and federal prohibitions against making unsubstantiated earnings claims (aka Financial Performance Representations).
Here are two striking examples, we believe, of Franchise Business Review disseminating claims it knows to be false:  the award for franchisee satisfaction given to the failing MODE franchise and the fabricated success story and illegal earnings claims of the You Move Me franchise.
What do you think?  are you familiar with Franchise Business Review and the companies they provide awards to?
Have you found them to be a legitimate "Research Firm"?  Please share a comment below.
Franchise Business Review Knowingly Promotes False MODE Satisfaction Claim
In previous posts, we revealed how the Franchise Business Review website and online listings continue to promote the MODE retail franchise as a "Top Franchise for 2017 based on Franchisee Satisfaction."
FBR has refused to rescind, qualify or stop promoting this award despite the fact that Eric Stites has admitted that their January, 2017 survey of the company reflects the company's 50% failure rate and extremely high franchisee dissatisfaction.
MODE Franchise Development Manager Courtney Barstad-Logan and CEO Ciara Stockeland are still, as of this writing, promoting the knowingly false representation that MODE franchisees are overwhelmingly happy and successful.
FBR CEO Eric Stites has not only refused to remove the "award" he knows is misleading to franchise buyers, but he has threatened to sue UnhappyFranchisee.Com for questioning FBR's claims.
Related reading:
Struggling MODE Franchise Wins Franchisee Satisfaction Award. Seriously.
FRANCHISE BUSINESS REVIEW: Justify or Retract Your Bogus Franchise Award
FRANCHISE BUSINESS REVIEW, Eric Stites Threaten Defamation Suit Against UnhappyFranchisee.Com
UnhappyFranchisee.com Responds to Eric Stites, Franchise Business Review's Legal Threat
UnhappyFranchisee.Com Exposed FBR's False Success Story & Deceptive Earnings Claims Which Their Client's Legal Department Never Approved
In 2015, UnhappyFranchisee.Com exposed FBR's published account of an Army veteran who supposedly made $1 million dollars as a first-year franchisee as an outright lie.
Our published story prompted an investigation by the Washington State Department of Financial Institutions Securities Division, which contacted the FBR advertiser, You Move Me LLC.
You Move Me General counsel Amy Peck admitted that the story was improper and contained representations that never should have been made.
She immediately instructed the marketing and PR departments to delete any links or references to the FBR "article," and claimed key  employees would receive legal training.
She wrote*:
May 28, 2015

Washington State Department of Financial Institutions

Securities Division

Attn: Martin Cordell

PO Box 9033

Olympia, WA 98507-9033

RE: You Move Me, LLC (the "Company"), File No. 044627

Dear Mr. Cordell:

Our company was made aware of the UnhappyFranchisee.Com article not long before we received your email through our U.S. counsel. Upon receipt of the article, we immediately began an internal investigation into the claims made with respect to the financial performance representation and the company's promotion and the company's promotion of the comments made by Andrew Wilson. The results of our internal investigation revealed that the Entrepreneur Magazine and Franchise Business Review articles in which Andrew Wilson discusses his individual performance were promoted by our public relations department, our marketing department and our franchise department by coordinating the interview(s) with Mr. Wilson, linking to the article from various places on our company website, as well as promoting the story in the franchise press.

Neither the company's assistance in obtaining nor its promotion of Mr. Wilson's story was vetted or approved by internal or external legal counsel, nor would it have been approved had legal counsel been asked. We removed links to the articles in which Mr. Wilson discusses his financial performance and we are in the process of removing references to the articles throughout our website and social media accounts. We are also in the process of retraining certain members of our staff in how to recognize a financial performance representation and the appropriate use of FPRs in advertising and sales.

We currently have one franchisee with territory in Washington: RBT Moving LLC. The principals of that company are Ben Hoskins, who can be reached at (425) 501-4399, and Tom Rypma, who can be reached at (707) 592-3674. We have not made any offers to sell to anyone else in Washington or to anyone who would otherwise require us to delivery disclosure under the Washington Franchise Protection Act.

Please feel free to contact me or our U.S. counsel Shannon McCarthy at Miller Nash Graham & Dunn LLP if you have any further questions.

Sincerely,

Amy Peck

General Counsel

You Move Me

#301 – 887 Great Northern Way

Vancouver, BC V5T 4T5

1-800-926-3900
*emphasis ours
2 Years Later, Franchise Business Review Continues to Promote the Disavowed, False Statements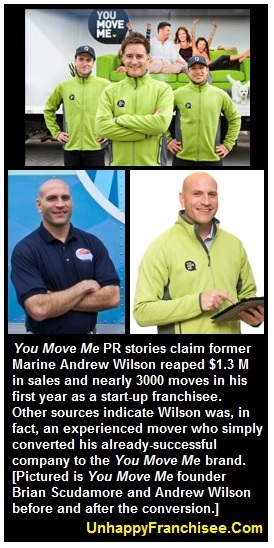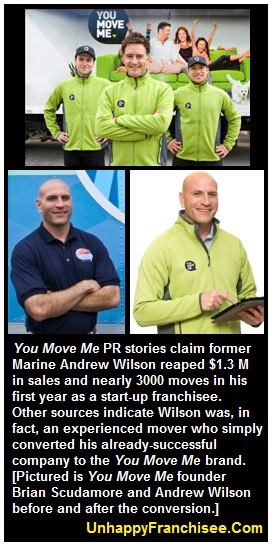 How did Franchise Business Review CEO Eric Stites respond when we notified him by email that FBR was providing prospective franchisees with false representations and illegal earnings claims the advertiser's General Counsel had disavowed?
Stites left all the false and deceptive claims on the FBR website and (easily edited) pdf reports.
He refused to answer our email inquiries, and effectively blocked future emails by unsubscribing from our notification list.
As of 4/2/17, the discredited, bogus story of how a military veteran made $1 million as a first year You Move Me franchisee is still active on the Franchise Business Review website, where it can mislead veterans and other prospective franchisees.
So much for Eric Stites' dedication to providing the truth to prospective franchisees…
RELATED READING:
FRANCHISE BUSINESS REVIEW Pay-For-Praise
FBR Franchise Business Review Promoting Illegal Earnings Claims?
Ciara Stockeland, MODE Franchise: A Fake Success Story?
FRANCHISE DISCUSSIONS by Company
Thanks and Praise for UnhappyFranchisee.Com
ARE YOU FAMILIAR WITH FRANCHISE BUSINESS REVIEW, ERIC STITES, MICHELLE ROWAN, THE FBR50 FRANCHISE RANKINGS?  SHARE A COMMENT BELOW.
TAGS: Franchise Business Review, FBR, FBR50, Eric Stites, Michelle Rowan, You Move Me Franchise, Brian Scudamore,  MODE franchise, Ciara Stockeland, Courtney Barstad-Logan, Amy Peck, You Move Me franchise, Financial Performance Representations, Franchise earnings claims, , unhappy franchisee, UnhappyFranchisee.Com