FRANCHISE BUSINESS REVIEW Pay-For-Praise

Franchise Business Review (FBR) claims that it is a legitimate research firm that provides prospective franchise owners with critical, objective information they need to make a sound investment decision.  Despite threats from FBR CEO Eric Stites, UnhappyFranchisee.Com is continuing to examine the methodology, business model, claims and business practices of franchising's #1 pay-for-praise provider.  This page is an index to our active investigation into Franchise Business Review and the franchise endorsements it promotes.
(UnhappyFranchisee.Com)  Franchise Business Review did not invent the pay-for-praise phenomenon in franchising.
It has, in our opinion, pushed Pay-For-Praise and Endorsements-for-Dollars service to a new and disturbing level.
Franchise marketers have long used important-sounding and near-meaningless franchise awards and rankings to convince wide-eyed business seekers of their credibility.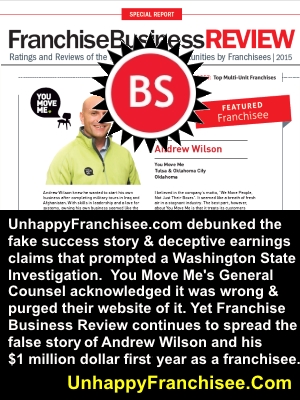 Entrepreneur magazine's Franchise 500 is probably the best-known and longest running annual franchise.
There's the "Franchise Direct List Of Top 100 Global Franchises," and the "Top 100 Franchises of 20__" by the Franchise Gator advertising portal, along with top lists by every advertising category.
For restaurant franchisors, there are the Fast Casual Top 100, the QSR 50 and the Nation's Restaurant News "NRN Power List."
There's a limit, though, to how much credence a fully functioning adult would give to these awards since their promotional purposes and reliance on franchisor ad dollars is so obvious.
However, Franchise Business Review takes it one further.  FBR claims that it is a legitimate and impartial research company, and invites prospective franchisees to use its rankings to make the most important business decisions in most of their lives.
Have you worked with Franchise Business Review or read their reviews?  Share your opinion with a comment below.
So let's take a look the Top 8 Reasons to Scrutinize representations made by Franchise Business Review:
#1  Franchise Business Review Continues to Claim MODE Franchisees Are Among the Most Satisfied Despite an FBR Showing the Opposite is True.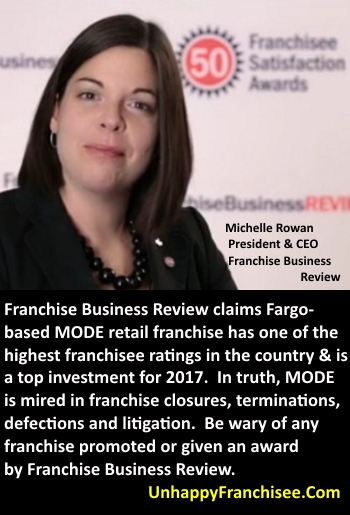 Franchise Business Review continues to promote the struggling MODE retail franchise as a Top Franchise for 2017 based on its supposedly high franchisee satisfaction.
FBR CEO Eric Stites is aware that more than 50% of MODE franchises have ceased operation, and the majority of MODE franchisees are distraught and angry, not satisfied.
Stites has admitted that FBR is ignoring a negative survey taken in January, 2017 and promoting the outdated survey results from a year ago.
With fewer than ten franchisees, MODE does not even meet the criteria to participate in FBR "research," according to its stated methodology.
Why is Franchise Business Review publicly promoting a deceptive claim based on invalid, outdated survey results?
When asked how much MODE paid for the false accolades its received from Franchise Business Review, President Michelle Rowan said "we do not feel obligated to share any information about who has, or has not paid, for the service. It's not relevant to our lists or reports."
Read more about the MODE franchise and its FBR "Top Franchises for 2017" award:
Struggling MODE Franchise Wins Franchisee Satisfaction Award. Seriously.
Ciara Stockeland, MODE Franchise: A Fake Success Story?
*  *  *  *  *
#2 FBR  Continues to Spread  the False and Unlawful Franchisee Success Story of  You Move Me's Andrew Wilson.
UnhappyFranchisee.Com debunked the fake success story and prompted a Washington State Investigation of its unlawful earning's claims.  You Move Me Corporate Counsel admitted it was improper and ordered it removed from the company website.  Why does Franchise Business Review still promote the story on their website?
YOU MOVE ME Franchise Brian Scudamore Making Illegal Earnings Claims?
FRANCHISE BUSINESS REVIEW Promotes Illegal Earnings Claims Disavowed by Client
*  *  *  *  *
#3  Franchise Business Review's Eric Stite's Attempts to silence criticism & prevent scrutiny through threats and intimidation.
FRANCHISE BUSINESS REVIEW, Eric Stites Threaten Defamation Suit Against UnhappyFranchisee.Com
*  *  *  *  *
UnhappyFranchisee.com Responds to Eric Stites, Franchise Business Review's Legal Threat
*  *  *  *  *
#4  Franchise Business Review Appears to be Helping Clients Violate the FTC Franchise Rule's Prohibition Against Illegal, Undisclosed Earnings Claims
YOU MOVE ME Franchise Brian Scudamore Making Illegal Earnings Claims?
FBR Franchise Business Review Promoting Illegal Earnings Claims?
*  *  *  *  *
#5  Franchise Business Review's Endorsement of the Our Town America franchise.
FRANCHISE BUSINESS REVIEW: Hype For Hire? Credibility for Cash? Our Town America Getting Its Money's Worth
*  *  *  *  *
*  *  *  *  *
#6  Franchise Business Review's Endorsement of the QUALICARE franchise.
QUALICARE Franchise Providing Illegal Earnings Claims?
# 7  Franchise Business Review's Endorsement of Happy & Healthy Products Franchise
Can the Happy & Healthy Products franchise truly have one of the highest franchisee success rates in the country when it has 42% franchisee turnover?  Full story coming soon...
# 8  Franchise Business Review's Methodology – A Closer Look
Coming soon… A closer look at the Franchise Business Review "Research" methodology.  Is it scientifically sound?  And does Franchise Business Review really follow it?
ALSO READ:
FRANCHISE DISCUSSIONS by Company
Thanks and Praise for UnhappyFranchisee.Com
ARE YOU FAMILIAR WITH FRANCHISE BUSINESS REVIEW, ERIC STITES, MICHELLE ROWAN, THE FBR50 FRANCHISE RANKINGS?  SHARE A COMMENT BELOW.
TAGS: Franchise Business Review, FBR, FBR50, Eric Stites, Michelle Rowan, Fake Franchise Awards, Fake Franchise News, Franchise marketing, franchise public relations, franchise pr, MODE franchise, Ciara Stockeland, Brian Scudamore, You Move Me franchise, Qualicare franchise, Our Town America franchise, IFA, International Franchise Association, unhappy franchisee, UnhappyFranchisee.Com