Dickey's Barbecue Pit: The Musical
Dickey's Barbecue Pit:  The Musical is the satirical, unauthorized response to the Dickey's Barbecue Pit franchise success story.  It features Chris Kelley, the Dancing Dean of Dickey's Barbecue University.  Just in time for Oscar season!  Please watch, hare, repost and add your review below.
About

Dickey's Barbecue Pit:  The Movie:
(UnhappyFranchisee.Com)  DBRI, the Dallas-based franchisor of Dickey's Barbecue Pit, sells families and individuals the dream of joining their "franchise family" and investing their futures into a Dickey's Barbecue Pit franchise.  They portray themselves as having a passion for barbecue, a technologically advanced restaurant system, and a support team that really, really cares about franchisee success.
Dickey's Barbecue Pit:  The Movie is our response to DBRI's aggressively promoted Dickey's Barbecue Pit success story… told using the sweet dance moves shown in the training videos Dickey's publicly posts daily on YouTube.  Dickey's training videos have no copyright verbiage or confidentiality warning… in fact they include links to social media with a gracious invitation to share.
Help Spread the Truth About the Dickey's Barbecue Pit Franchise
Whether to invest in a Dickey's Barbecue Pit franchise is a personal and family decision.
However, the Federal Trade Commission (FTC) enacted The Franchise Rule so that prospective franchise owners would have access to information necessary for making an informed decisions.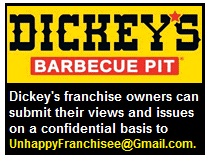 The FTC intended for franchisees to have access to the experiences and candid opinions of both current and former franchisees; that is why Dickey's is required to provide contact information for them.
In our opinion, Dickey's management, its in-house legal department and its highly paid franchisor attorneys have effectively deprived prospective Dickey's franchise owners  from hearing the experiences and opinions of current and former franchise owners – especially those who have failed.
Dickey's franchise owners and employees, past and present, have expressed their fears of retaliation and litigation if they share their opinions with the media or prospective franchise owners.
(Ironically, DBRI does not hold itself to the confidentiality standards of most franchisors, as it posts operational manuals and internal training videos on publicly accessible sites without confidentiality notices or password protection.  See DICKEYLEAKS Dickey's Barbecue Pit Confidential Material Available Online)
It's up to us to warn our fellow citizens so that they can make informed decisions:
Please post links to this page or

Dickey's Barbecue Pit:  The Musical

on Facebook, Twitter, and your social media accounts
Please urge anyone considering purchase of a new or existing franchise to visit UnhappyFranchisee.Com
Please urge the media to stop spreading the fake Dickey's success story and print the truth
Consider a contribution to our informational campaign here:  Support UnhappyFranchisee.Com.
Support your local Dickey's franchise.  The food is good… and they need all the help they can get!
ALSO READ:
FRANCHISE DISCUSSIONS by Company
Dickey's Barbecue Pit on UnhappyFranchisee.Com
WHAT DO YOU THINK OF "DICKEY'S BARBECUE PIT:  THE MUSICAL?"  IS IT AN EFFECTIVE WAY TO EDUCATE THE PUBLIC ON THE DICKEY'S BARBECUE PIT FRANCHISE?  SHARE A COMMENT BELOW.
TAGS: Dickey's, Dickey's Barbecue Pit, Dickey's franchise, Dickey's Barbecue Pit franchise, Dickey's franchise opportunity, DICKEY'S BARBECUE PIT:  THE MUSICAL, Dickey's franchise parody, Dickey's franchise satire, Dickey's closed stores,  Roland Dickey Jr., Roland Dickey Sr., Laura Rea Dickey, Maurine Dickey, DBRI, Dickey's Chris Kelley, Barbecue University, Unhappy Franchisee