Joe Lieberman Sues Huntington Learning Centers Franchise
Joe Lieberman is suing Huntington Learning Centers and top executives Dr. Ray Huntington, Anne Huntington, Eileen Huntington, Jim Emmerson and Marilena O'Neill. In the suit, Lieberman claims that Huntington uses fraud, misrepresentation and deception to sell its flawed franchise investment to trusting individuals.
(UnhappyFranchisee.Com) Huntington Learning Centers aggressively markets its franchise opportunity (with an initial investment of $120K – $270K) using claims such as "highest grossing tutoring franchise," "immune to recession," "unparalleled franchisee support," and "over 40 years of proven success and leadership…"
Sounds too good to fail, right?
They even use the tagline "Huntington Helps" in the URL of their website.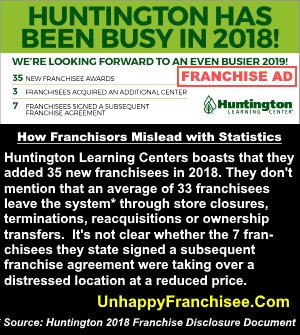 Some former franchise owners think a more accurate tagline would be "Huntington Helps Themselves."
They feel that Huntington Learning Centers, including founders Dr. Ray Huntington and Eileen Huntington, helped themselves to their savings, their 401Ks, their home equity and their family's financial futures.
They feel that Huntington exploited their dreams of business ownership and misled them into buying into a system with one of the highest franchisee turnover rates in the country.
And when the system they were sold had fully drained them… the helpful Huntington franchisor sued them to extract their last bit of equity, dignity and willingness to warn others.
Warning About The Huntington Learning Center Franchise since 2012…
We first posted about the disconnect between Huntington Franchise Hype and Huntington Franchise Reality back in 2012 with this post on the disturbingly high SBA loan default rate at that time*:
HUNTINGTON LEARNING CENTERS Franchise Complaints
In 2016, an Anonymous ex-franchisee posted a comment:
Huntington is fabulous at the marketing but they are nothing but a complete scam and are very good at blaming franchisees for any problems. Purchasing a Huntington franchise gives you the worst of all worlds. You have the added expense and headaches of a franchise with none of the support or experience that could be a benefit.
In 2015, we looked in on Huntington to see if things had improved. The Huntington FDD still revealed disturbingly high franchisee turnover, shared here::
HUNTINGTON Franchise: Is it a Great Business to Own?
In fairness, we also pointed out that Huntington isn't alone, or even the worst, when it comes to tutoring franchise turnover. The whole tutoring segment is problematic:
Tutoring Franchise Failure Rates of the Top Education Brands
When we came across the court filing of a Huntington Learning Center lawsuit against a former franchisee in Kansas who is trying to battle back without an attorney, we decided to revisit Huntington Learning Center franchise one more time.
* The current default rate may be different.
Franchisee Joe Lieberman Fires Back… And His Countersuit is Revealing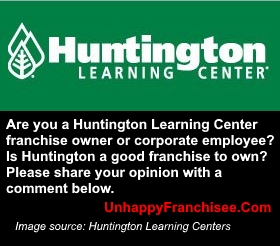 One can deduce from the court documents that franchisee Joe Lieberman, of Overland Park, Kansas, followed the Huntington Learning Center system, and had the benefit of what Huntington calls "unparalleled franchisee support."
Yet Mr. Lieberman allegedly struggled to keep his franchise open and "worked for three years for only one salary payment of $6,000."
According to Lieberman's court filing document: "Because of Huntington's improper interference with Defendants' operations, Defendants were unable to make any profit with their franchise and had to shut down in October 2018 after running out of money. Defendants may be forced into bankruptcy as a result."
Suffering purported losses of more than $280,000, Joe Lieberman apparently had no choice but to close the doors of his learning center, the Huntington franchise that had once been his dream.
On October 25, 2018, rather than sending a fruit basket and a condolence card, Huntington Learning Centers, Inc. and Huntington Learning Corporation (HLC) hit their former franchisee with a lawsuit filed in the Superior Court of New Jersey, Bergen County.
The company that promises owners a "strong emotional return on investment" now demanded more than $20,000 in damages, the attorneys fees and litigation costs they incurred suing him, and interest of 18% per year or the "highest legal rate of interest permitted by law" sums due.
Huntington Learning Centers, Inc. retained attorney David E. Worthen of powerhouse Washington law firm Quarles & Brady, LLP and Phillip C. Bauknight of Fisher & Phillips LLP, Murray Hill, NJ, to tag-team and legally crush their nearly bankrupt former franchise owner – apparently the second Huntington owner to fail in the same territory.
Apparently unable to afford an attorney to stand up to Huntington's legal enforcers, Joe Lieberman filed a countersuit, by himself, against the arguably predatory Huntington Learning Centers.
And his counter suit is revealing.
Franchise Owner Alleges Fraud by Huntington Learning Center, Ray & Eileen Huntington, Others
Huntington Learning Center franchise owner – and litigation target – Joe Lieberman drafted and filed his own Answer, Counterclaims & and Third-Party Complaint in response to the franchisor's lawsuit.
In Lieberman's lawsuit, he named Huntington co-founders Dr. Ray Huntington and Eileen C. Huntington, HLC's VP of business Development Anne Huntington, HLC's CFO Jim Emmerson, and HLC's Director of Franchise Operations Marilena O'Neill.
According to Lieberman's Counterclaims and Third-Party Claims:
Huntington induces prospective franchisees to enter into Franchise Agreements with Huntington through false, misleading, and deceptive statements and without disclosing facts known to Huntington that are material to a prospective franchisee's decision to enter into such Franchise Agreements. These false, misleading, and deceptive statements and material omissions are part of Huntington's standard pitch to prospective franchisees.
Half of All Huntington Learning Franchise Owners Fail – Lieberman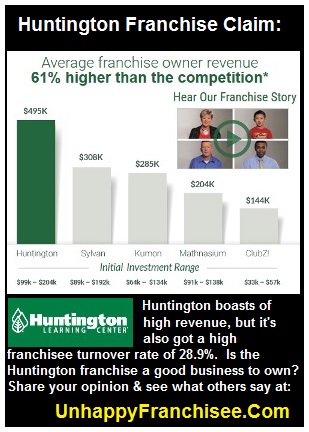 In his counterclaim document, former franchisee Joe Lieberman claims that Huntington tricked him into investing in their franchise program by providing gross sales numbers that were inflated by a single franchise location that had huge government contracts unavailable an ordinary franchisee like himself.
Lieberman claimed that later he realized the "truth": that the Huntington Learning Centers franchise is unprofitable and unsustainable for as many as half of its franchise owners.
His counterclaim states:
Huntington also failed to advise Lieberman that half of all franchisees in the Huntington system generate less than $300,000 in annual sales… [and] are unable to make a reasonable profit.
Lieberman also claims that Huntington never told him that a previous franchise location had opened – and failed – in the same franchise area they had sold him.
Lieberman claims that part of the reason for his (and assumedly others') demise was the support Huntington franchise marketing materials describe as "unparalleled."
Lieberman claims that Huntington advised him to use a marketing tactic that turned out to be illegal in his market, and directed him to spend $5,000 per month on marketing efforts that provided "no material benefit."
Judging by his complaint, Joe Lieberman has chutzpah. Despite being up against two well-funded corporations and their two highly paid law firms, Lieberman is asking the court for compensatory, incidental and consequential damages, punitive damages, reasonable expenses and costs, pre- and post- judgement interest, and other relief the Court deems appropriate.
Judging by the fact that he is refusing to roll over without a fight, Huntington Learning Centers former franchise owner Joe Lieberman obviously believes that Truth is on his side.
We don't know if it will be enough for him to prevail as a self-represented underdog in our skewed legal system.
But his relentless determination to stand up to legal bullies is enough to earn him an UnhappyFranchisee.Com Chutzpah Award.
NOTE 1: Some characterizations of the parties' situations and intentions are conjecture based solely on the court filings, and may be incorrect or mischaracterized. We invite Huntington Learning and franchisee Joe Lieberman to correct us where we've erred.
NOTE 2: It is the policy of Unhappy Franchisee.Com to invite companies and individuals discussed on this site to provide corrections, clarifications, rebuttals and/or statements of their points of view. They may post messages in the comment section or email us at UnhappyFranchisee[dot]com. We will attempt to reach out to Plaintiffs, Defendants and their attorneys and invite them to join the conversation regarding these important issues.
ALSO READ:
FRANCHISE DISCUSSIONS by Company
Huntington Learning Center Franchise Posts
WHAT DO YOU THINK? ARE YOU A HUNTINGTON FRANCHISE OWNER OR FORMER FRANCHISEE? SHARE YOUR OPINION BELOW.
TAGS: Huntington Learning Center, Huntington Learning Center franchise, Huntington Learning Center franchise opportunity, Huntington Learning Center franchise complaints, Huntington franchise, Huntington franchise opportunity, Huntington complaints, Huntington franchise failure rate, Huntington Learning Center Closed, Joe Lieberman, Dr. Ray Huntington, Eileen Huntington, Anne Huntington, Jim Emmerson, Marilena O'Neill, unhappy franchisee