SIGNARAMA Franchise Complaints
SIGNARAMA franchise opportunity:  Are you familiar with it?
If so, please share your experience, opinions or insights with a comment below.
The SIGNARAMA franchise brand is part of the United Franchise Group (UFG).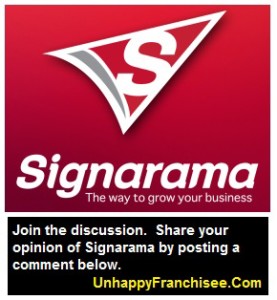 According to the United Franchise Group website: "The experts at UFG have used their over 25 years of franchising experience to grow the franchising giant into a $500 million dollar success story with approx. 1400 franchise locations in 50 countries.
"The company includes franchise industry giants SIGNARAMA, the world's largest sign franchise; EmbroidMe, the world's largest embroidery franchise; Billboard Connection, an incredibly successful out-of-home advertising franchise; Transworld Business Advisors, for people to research business opportunities before investing and Plan Ahead Events, a home-based corporate event planning franchise."
According to the SIGNARAMA website: "Your Success is Our Business – When you invest in SIGNARAMA, you gain access to one of the largest support staff in franchising, in addition to our resources and knowledge base… With nearly 1,000 stores in more than 50 countries, you can become part of an international brand that puts you ahead of the competition."
However, data released by the Small Business Administration (SBA) indicates that SIGNARAMA franchise owners who qualified for SBA-backed franchise loans have an disturbingly high loan failure rate of 26%.
That qualifies SIGNARAMA for inclusion in UnhappyFranchisee.com's list of WORST FRANCHISES IN AMERICA (by SBA loan defaults)
SIGNARAMA franchise owners have an alarming 26% SBA default rate.
The apparent drop in SIGNARAMA franchises in recent years is also a franchise red flag.
| | |
| --- | --- |
| SIGNARAMA Franchise | |
| SIGNARAMA U.S. franchises in 2008: | 597 |
| SIGNARAMA U.S. franchises in 2011: | 485 |
| Growth in franchise units 2008 – 2011 (#) | -112 |
| Growth in franchise units 2008 – 2011 (%): | -19% |
| SBA loans granted since 2001: | 107 |
| SBA loan failure rate: | 26% |
| Sources: Entrepreneur (growth), Coleman report (SBA) | |
The inability to repay an SBA-backed loan (or any franchise loan, for that matter) indicates a serious situation for the franchisee.
It's likely that SIGNARAMA franchise owners who received SBA loans may have collateralized their franchise loan with their homes or other personal assets, and many were unable to repay those franchise loans… despite the serious incentive to do so.
Are you familiar with the SIGNARAMA franchise opportunity?
What do you think accounts for the SBA loan failure rate of SIGNARAMA franchise owners?
What steps should SIGNARAMA be taking to stop further franchise failures?
Has SIGNARAMA taken serious action to address the problems that led to these loan failures?
Please share a comment (anonymous is fine) or Contact UnhappyFranchisee.com.
If you are a SIGNARAMA franchise representative or employee, please feel free to leave a comment or email us at UnhappyFranchisee[at]gmail.com.
ARE YOU FAMILIAR WITH THE SIGNARAMA FRANCHISE OPPORTUNITY?  ARE YOU A CURRENT OR FORMER SIGNARAMA FRANCHISE OWNER?  PLEASE SHARE A COMMENT BELOW.
SIGNARAMA, SIGNARAMA franchise, SIGNARAMA franchise complaints, SIGNARAMA complaints,  SIGN-A-RAMA franchise, SIGN A RAMA franchise, sign franchise, signage franchise, start a sign shop, business service franchise, franchise failure rates, SBA franchise loans, worst franchises, United Franchise Group, UFG