CANDY BOUQUET Franchise Representations Questioned
Is the CANDY BOUQUET franchise a good – or even viable – opportunity?  Are the representations made on the Candy Bouquet franchise website accurate?

(UnhappyFranchisee.Com)  According to the company website, Candy Bouquet is a "delicious small business franchise opportunity" that is "ranked as one of the top franchises in the U.S."
The company website prominently features the "success story" of founder Margaret McEntire, its many (somewhat dated) industry awards and accolades, its low investment and low franchise fee (starting at $10,500).
But the company website also includes some questionable, outdated, and/or possibly deceptive statements.
For this reason, we are reaching out to those familiar with the Candy Bouquet franchise to ask whether Candy Bouquet is a good, or even viable, franchise opportunity.
Are you familiar with the Candy Bouquet franchise opportunity?  What do you think?  Please share a comment below.
Are Candy Bouquet Franchise Claims Outdated or Deceptive?
Here are some of the statements on the company website we find questionable.
The company website states:  "Candy Bouquet consistently ranks in the Top 500 Franchises and Top 20 Home-Based Franchises as tracked by Entrepreneur Magazine."
According to Entrepreneur.com, Candy Bouquet has not been ranked in the Franchise 500 since 2011.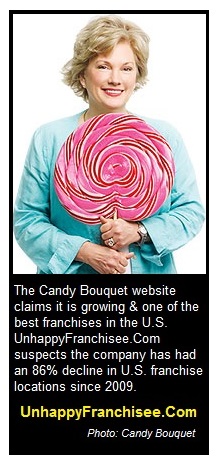 The company website states:  "Our Growing Candy Franchise… We continue to be one of the fastest-growing candy franchise companies in the United States."
Candy Bouquet does not appear to be growing at all.
In fact, it appears to be in serious decline.
According to the company's 2012 Franchise Disclosure Document, Candy Bouquet had 554 franchise locations in the U.S. and Puerto Rico at the beginning of 2009.  Despite having opened an additional 122 franchises, the number of open locations had declined to 228 by the end of 2011.
That's a decrease of 59%.
Today, the company website lists just 77 U.S. locations.
That's a decline of 86% since 2009.
The company website states:   "Today, Candy Bouquet International, Inc. has over 300 locations in all 50 states and in 31 countries around the world…Candy Bouquet International has over 300 locations throughout the United States, Canada, and around the globe."
Candy Bouquet does not appear to have anywhere near 300 locations.
In fact, U.S. locations have declined at least 86% to just 77 U.S. locations.
Some unhappy franchisees commenting on BlueMauMau.org dispute that there are even 77 U.S. locations, alleging that many of the franchises listed on the website have since closed.
The company website states:  "Candy Bouquet is the largest candy franchise in the world!"
This does not appear to be true.  At least one candy franchise, 300-unit Rocky Mountain Chocolate Factory, is larger.
An April 7, 2012 press release on The Candy Bouquet website states: 
Stepping into office as President and CEO of Candy Bouquet International in November 2011, Dr. Jim Wheeler was ready to dive in and communicate with the backbone of the company – the franchisees.

Dr. Wheeler personally contacted every franchisee, either by email or telephone, over the past few months… Dr. Wheeler reported many [franchisees] had minor problems… Several had major problems, e.g. marketing and business plan, for which he referred for major consultation with staff.

Dr. Wheeler has been taking strides to devote his time and energy to he and his wife's (owner Janet Wheeler) new endeavor. He  is keeping records of franchisee feedback, which will be posted at a later date, once more emails and responses have been received by CBI.
That was pretty much the last of the "Tasty News" updates on the company website.
Since 2012, the website gives no indication whether the Wheelers are still running the franchise company, whether Margaret McEntire has taken back over, or whether there's no one at the wheel.
We are reaching out to franchisees, former franchisees, Jim Wheeler, Janet Wheeler and Margaret McEntire as to whether it is still a viable franchise, or whether it's our next addition to the Franchise Graveyard.
ARE YOU FAMILIAR WITH THE CANDY BOUQUET FRANCHISE OPPORTUNITY?  DO YOU KNOW ITS CURRENT STATUS OR THE REASON FOR ITS DECLINE? SHARE A COMMENT BELOW.
TAGS:  Margaret McEntire, Dr. Jim Wheeler, Janet Wheeler, James Wheeler