CLUBSTORE OUTLET: Chris Conner, Franchise Marketing Systems (FMS) Success Story?
Christopher Conner & Franchise Marketing Systems (FMS) point to the franchise development strategy and lead generation program they designed and implemented for the Clubstore Outlet franchise chain as an example of their fine work in action.  It's one of the FMS' celebrated case studies meant to represent the dramatic outcomes Franchise Marketing Systems clients can expect if they follow this company's recommendations.  Now that Clubstore Outlet franchise chain, just three years in to its franchise development intitiative, is sinking into a quagmire of lawsuits, bankruptcies, and financially devastated investors, Chris Conner's case study may be right on the money.  by Sean Kelly
(UnhappyFranchisee.Com) In 2016, Christopher James Conner and his Franchise Marketing Systems (FMS) consulting and marketing company were hit with an unprecedented enforcement action by the California Department of Business Oversight.
Chris Conner and FMS were banned from selling or marketing franchises in California for 5 years for violating regulations against lying in applications or reports, and against altering or destroying documents submitted to the Commissioner.
In an interview with franchise site Blue Mau Mau, Department spokesman Tom Dresslar cited Chris Conner and Franchise Marketing Systems (FMS) as one of a number of irresponsible franchise consultants who encourage unqualified and undercapitalized franchisors to attempt to grow beyond their abilities.
In the 3/9/16 Blue Mau Mau article, Janet Sparks wrote:
Spokesman Dresslar also explained that in the bigger picture, one of the problems the Department sees, not just in this case but others, is that franchise consultants are encouraging and convincing businesses to form franchises before they are ready.

"In the end, that hurts both the franchisors and the franchisees. Companies should have a viable business plan, and should be adequately capitalized," he said. He added that some consultants, in their effort to make a buck, dismiss those requirements. "They don't properly acknowledge those best business practices," Dresslar said.
Chris Conner and FMS Celebrate the Disastrous Clubstore Outlet as an FMS Success Story
Yesterday, we posted TAPP PALMER, Clubstore Outlet Franchise: What Happened?
We included our working list of 21 Clubstore Outlet franchise locations that opened since the formation of the franchise program in 2015.
Of the 21 franchise locations, it appears that more than half (11) have already closed.
Of the 9 that are still operating under the Clubstore Outlet name, we've been told that 0% receive purchasing or other assistance from the franchisor, Clubstore Outlet LLC, or founder Tapp Palmer.  (We are seeking to confirm this – and also whether any of these stores were conversions from a previous Tapp Palmer non-franchise venture) The remaining stores, we've been told, are operating as independent businesses… but with the initial costs for services they never received.
Additionally, FMS claims that Clubstore Outlet sold franchises to 30 new franchise investors… so there may be ten or more who paid $40,000 franchise fees to Tapp Palmer but never opened a store.
In less than three years, more than half the Clubstore Outlet stores have closed, the franchisor is reportedly on the verge of bankruptcy, franchisees are suing for fraud while trying to save their homes… and Franchise Marketing Systems has a full page on its website that states:
ClubStore Outlet's team of consultants implemented the model and executed the franchise sales platform to perfection.

During the first two years of expansion, the organization sold 4 new Master Franchise owners and over 30 new franchise owners who invested in single store operations.
In case the FMS Clubstore Outlet franchise case study page is removed after this post is published, here's a PDF version we preserved: Franchise Marketing Systems Clubstore Outlet (PDF)
What do you think?  Please share corrections, opinions, clarifications in the comments below, or by emailing us in confidence to UnhappyFranchisee[at]gmail.com. 
Clubstore Outlet "Executed the Franchise Sales Platform to Perfection" – Franchise Marketing Systems
Chris Conner & Franchise Marketing Systems (FMS) take credit for the Clubstore Outlet strategy of utilizing franchise brokers to sell Master franchises:
ClubStore Outlets hired Franchise Marketing Systems to initiate the franchise development process and start defining the growth channel for the retail model…

ClubStore had a unique position and strong value proposition.  Franchise Marketing Systems worked with ClubStore Outlets to define the model and create a franchise strategic plan which focused on several Key Performance Indicators.

When the Clubstore Outlet franchise was launched, the marketing program was split into two categories, one focused on recruiting the single unit franchisee and the other on selling Master Franchise models.  In defining the marketing strategy, Mr. Conner's team developed an internet lead generation program to recruit new franchise store operators and a franchise broker sales model focused on recruiting new Master Franchise investors.  ClubStore Outlet's team of consultants implemented the model and executed the franchise sales platform to perfection.  During the first two years of expansion, the organization sold 4 new Master Franchise owners and over 30 new franchise owners who invested in single store operations. 

What made the Clubstore model so attractive was the potential for an absentee owner to invest in the business and see impressive returns with a retail franchise model that had amazingly low cost of goods and impressive top line numbers. Today, with solid management and operations-focused leadership, the Clubstore brand has an opportunity to scale nationally and even globally.
Franserve, The Franchise Explorer, IFPG Members Also Cashed In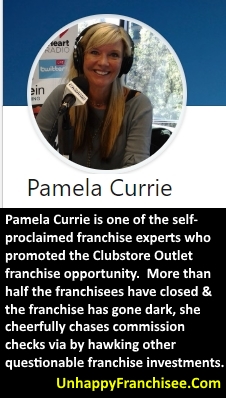 Who makes money when a flawed, undercaptialized, non-franchiseable or otherwise doomed franchise opportunity is launched?
Which individuals and companies count on the lost investments and ruined lives left in their wake to quietly fade away as they continue to call themselves "experts" and troll the IFA shows and Internet for the next franchise illusion they can promote and exploit?
Christopher Conner, Alan George, Charles White and the rest of the gang at Franchise Marketing Systems (FMS) seem to have been paid… and proud of their involvement with Clubstore Outlet.
There's Franserve and its franchise brokers,  such as Jerry Rieder and Dennis Martineau.  Jerry Rieder says he feels bad that his clients lost half a million on his recommendation, yet hasn't, to my knowledge, offered to donate his commission to offset their losses and legal fees.
Franserve broker and owner of Franchise Advisors International LLC, Dennis Martineau told prospects that Clubstore Outlet would open 50 stores in 2016 and was "the most exciting concept in retail."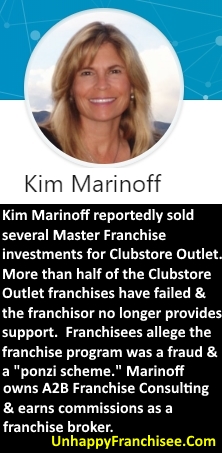 There's Kim Marinoff of The Franchise Explorer, A2B Franchise Consulting of Broomfield, CO who got high fives from her IFPG franchise broker's organization for closing multiple commissionable Master Franchise sales.  On her LinkedIn profile, Kim Marinoff boasts that she sold 202 Quiznos Sub franchises in 2002… She does not mention how many of those franchisees failed.
It's likely that the cheerful, blonde-haired girl next door Pamela Currie, franchise advisor to Tapp Palmer since 2015 and owner of Franchise Intellect, got paid.  According to Pamela Currie's LinkedIn profile, she's a Certified Franchise Executive, host of the Franchise Business Radio show, and a consultant who will "help you through the process of making an educated and informed decision on franchise selection…" just like she did for Clubstore Outlet franchise investors!
There are the real estate "consultants" and brokers, like Shary Thur of Thur Retail, who help lend credibility to operators like Tapp Palmer, who help create urgency and move along the process, and who extract fees and commissions and are far down the road when the franchisees fail and are getting sued by the landlord for the lease they got locked into.
Others Who Assisted Clubstore Outlet LLC & Tapp Palmer
Attorney Pete Dosik of Atlanta-based franchise law firm Shipe Dosik Law LLC took over state registration filings for Clubstore Outlet, LLC around or before September, 2016.
Clubstore Outlet franchise victims:  Please share a comment below or email us at UnhappyFranchisee[at]Gmail.com to share who made money off your investment.
And of course, there are the franchise lead generation portals such as Franchise Gator, Franchise Clique, Biz Buy Sell… many of whom still display the Clubstore Outlet ads they used to lure in franchise investors.
And there are the lenders, the lending consultants, loan brokers and the SBA specialists who are more than eager (as long as they get their fees or commissions) to help franchise investors put their 401Ks and family homes on the line for an untested, unproven franchise concept destined to fail.
Tragic stories like those of Clubstore Outlet continue to happen year after year with concept after concept.
The franchise "experts" continue with their seminars and radio shows, never showing remorse, regret or any indication that they have learned from the failures of the past or taken steps to prevent the next franchise disaster.
The reason for that is simple:  All the money these franchisees (and sometimes franchisors) lose has to go somewhere.
As long as there is money selling hopes and dreams of being part of the next hot franchise, there will be con-sultants, brokers, ad sales reps, and other smiling franchise experts ready to help trusting franchise investors step off that financial cliff.
NOTE:  Companies and individuals discussed on UnhappyFranchisee.Com are invited to provide corrections, clarifications, rebuttals and alternative points-of-view by posting a comment below or emailing us in confidence at UnhappyFranchisee[at]gmail.com.
SHARE YOUR THOUGHTS ON TAPP PALMER & CLUBSTORE OUTLET FRANCHISE BELOW.
ALSO READ:
FRANCHISE DISCUSSIONS by Company
TAPP PALMER, Clubstore Outlet Franchise: What Happened?
READ The Series "Dr. John Hayes' Franchise Fraud School & Pay-For-Praise Emporium!": Dr. John Hayes' Franchise Fraud School
TAGS: Christopher Conner, Franchise Marketing Systems, FMS, Tapp Palmer, Tapp Palmer Clubstore Outlet, Shary Thur, Kim Marinoff,  Clubstore Outlet, Clubstore Outlet franchise, Clubstore Outlet franchise opportunity, Clubstore Outlet franchise complaints, Christopher Conner, Franchise Marketing Systems, FMS, Alan George, franchise, Pamela Currie,  Jerry Rieder, Dennis Martineau, Franserve, Franserve franchise brokers, IFPG, International Franchise Professionals Group,  franchise opportunity, franchise complaints, unhappy franchisee