TAPP PALMER Clubstore Outlet: Where'd the Money Go?
Tapp Palmer extracted millions of dollars from Clubstore Outlet franchise investors who signed long-term leases, cashed in their retirement accounts and secured business loans with their family homes and assets.  In less than 2 years, more than half of the franchise stores closed, franchise owners are still on the hook, and Tapp Palmer claims he's tapped out.  Where did the millions go? by Sean Kelly
(UnhappyFranchisee.Com)  Tapp Palmer and Clubstore Outlet LLC collected $3,000,000 in franchise fees and royalties from franchisees in 2015-2016 alone, and continued to collect franchise fees and royalties throughout 2017.
We have derived these figures (and those that follow) from the audited financial statements submitted with the Clubstore Outlet 2016 Franchise Disclosure Document and the Clubstore Outlet 2017 Franchise Disclosure Document.
We invite those familiar with the Clubstore Outlet LLC to share (in confidence) what they know about the fees collected in 2017 and other additional revenue, as well as what expense items would account for such high expenditures as $275,000 in meals and travel in a single year.  You may post anonymously below, or email us in confidence at UnhappyFranchisee[at]Gmail.com.
Did Tapp Palmer Have a $275,000 Meal & Travel Spree on Franchisee Money?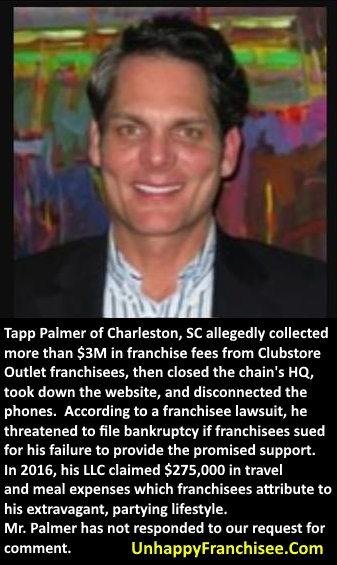 One line item we'd like to get clarification and input on is the $274,783 expenditures on meals and travel for 2016.
How did Tapp Palmer and his Clubstore Outlet team spend what amounts to $23,000 per month of the franchisees money?
Most of the Clubstore Outlet stores needing to be supported were in the Eastern half of the United States, with no International locations that might drive up travel costs.
With a very small number of employees needing to travel, what sort of expenditures could account for such an exorbitant expense?
Franchise Brokers, Consultants & Attorneys Seemed to Make Out Like Bandits
Where else did the franchise investors' money go?
The Clubstore Outlet LLC (CSO) financial statements list $2,185,405 in expenses and sales-related costs in 2015-16.
Professional and Consulting expenses were $21,671 in 2015 and 371,103 in 2016, for a total of $392,774.
Professional and consulting fees could have gone to con-sultants like Christopher Conner and Franchise Marketing Systems (FMS), franchise advisor Pamela Currie (Franchise Intellect, Inc., Atlanta, GA), and/or franchise attorneys like Pete Dosik of Atlanta-based Shipe Dosik Law, and others.
The 2016 $1,232,892 "Cost of Sales" figure is not itemized, but one would assume that this would include the broker's commissions and other sales commissions that incentivized those who convinced franchise investors that they should place their trust and financial futures into the hands of Tapp Palmer and the Clubstore Outlet franchise team.
Sharing in the $1M+ spoils may have been IFPG broker Kim Marinoff (A2B Franchise Consulting & CSO Chief Development Officer), Franserve franchise brokers like Jon & Kathy Hylton (Franchise Plus Consulting, Springfield, IL), Dennis Martineau (Franchise Advisors International Seguin, TX), and Jerry Rieder (Rieder Franchise Consulting, De Pere, WI).
Is There Good Money in Bad Franchises?  Who Ended Up With the Franchise Investors' Money?
What happened with Clubstore Outlet is dramatic, tragic and by no means uncommon.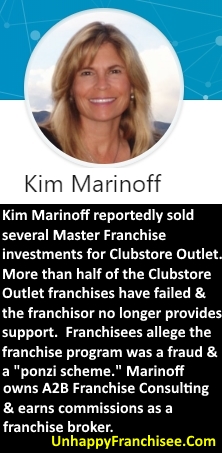 "Hot new franchise" concepts appear every year, are hyped by the cloud merchants, snake oil-peddling franchise brokers, salespeople, lead generators, ad sales reps until the failures become to widespread to hide, then they fade from view as the next hot new commission-generator takes their booth space at the franchise expo.
Clubstore Outlet LLC and Tapp Palmer seem to have distinguished themselves in at least two ways from the others in the Franchise Hit-and-Run category.
First was the speed with which Clubstore Outlet went from hype to hell-in-a-handbasket, and from the illusion of the American Dream in action to franchise investor nightmare.
Second is what appears to be the blatant and open greed of Tapp Palmer and franchise sellers like Kim Marinoff and Kathy Hylton.
Tapp Palmer doesn't seem to put a lot of effort into even faking concern or feigning a sense of responsibility for the plight of the franchise owners whose lives have been devastated because they trusted him and believed in the Clubstore Outlet franchise.
And the franchise brokers like Kim Marinoff were clearly still convincing franchise investors to invest hundreds of thousands of dollars long after all or nearly all of the early franchises had failed… just so they could extract their commissions and move on to the next hot concept and the next unsuspecting family.
So help us understand who profited from the hype and sale of Clubstore Outlet franchises… and where millions of franchise investor money was spent.
NOTE:  Companies and individuals discussed on UnhappyFranchisee.Com are invited to provide corrections, clarifications, rebuttals and alternative points-of-view by posting a comment below or emailing us in confidence at UnhappyFranchisee[at]gmail.com.
WHERE DID ALL THE CLUBSTORE MONEY GO?  HOW MUCH MORE WAS COLLECTED THAN REPORTED HERE?   SHARE YOUR THOUGHTS ON TAPP PALMER, CLUBSTORE OUTLET FRANCHISE & THOSE WHO PROFITED BELOW.
ALSO READ:
FRANCHISE DISCUSSIONS by Company
TAPP PALMER, Clubstore Outlet Franchise: What Happened?
CLUBSTORE OUTLET: Chris Conner, Franchise Marketing Systems (FMS) Success Story?
READ The Series "Dr. John Hayes' Franchise Fraud School & Pay-For-Praise Emporium!": Dr. John Hayes' Franchise Fraud School
TAGS: Tapp Palmer, Clubstore Outlet, Kathy Hylton, Jon Hylton, Christopher Conner, Franchise Marketing Systems, FMS, Kim Marinoff,  Clubstore Outlet, Clubstore Outlet franchise, Clubstore Outlet franchise opportunity, Alan George, franchise, Pamela Currie,  Jerry Rieder, Dennis Martineau, Franserve, Franserve franchise brokers, IFPG, International Franchise Professionals Group,  Pete Dosik, Shipe Dosik Law, Franchise Disclosure Document, unhappy franchisee